There is no question at this point that the Pittsburgh Penguins are severely underachieving in the 2013 Stanley Cup Playoffs. They are the Eastern Conference's number one seed, and were the overwhelming favorite to win the Prince of Wales Trophy and represent the East in the Cup Final.
Fans, myself included, are lining the bridges of this city, preparing for the seemingly inevitable: another Penguins first round playoff exit.
The reality of the series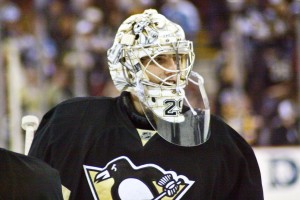 The New York Islanders are yet another bad first round matchup for the Penguins. Their speed is deadly. To complicate things, Marc-Andre Fleury has imploded for the second straight playoff series. All of the trade deadline acquisitions for the Penguins are coming up woefully empty. Evgeni Malkin and Kris Letang have resembled pond hockey players instead of the reigning League MVP and a current Norris Trophy candidate respectively. And Brendan Sutter, the centerpiece for the Penguins in the Jordan Staal trade, was demoted to fourth-line duties last night in Game Four. And one last reality for you: this series is inexplicably tied at two games apiece.
Glass half full
The Penguins have been embarrassingly outplayed in the past 188:44. They've blown two separate 2-goal leads (Games 2 & 3) and last night had two 1-goal leads before finally being disposed of. Yet somehow, they've managed to win back home-ice advantage and knot this series.
Every Islander player, coach, staff member, and fan has every right to feel like their team should be up three game to one over the "mighty" Penguins. But the Islanders can't stay out of the penalty box, and the Pens power play has been stellar. On the flip side of that coin, the Penguins penalty kill has been all but lights out, while the Islanders' power play has struggled mightily.
As I stated above, the Penguins have taken back home-ice advantage by virtue of their 5-4 overtime win in Game Three Sunday afternoon. Simply put, the Pens will have three chances, starting tomorrow night, to clinch this series. Of those three opportunities, two are at Consol Energy Center.
Glass half empty
Clearly you can see the reasons for pessimism. Beyond what is listed above, add to this Dan Bylsma's unwillingness to eliminate the stretch pass out of the zone against the Isles' 1-3-1 defensive setup, along with forcing either Jarome Iginla or James Neal to play his off wing, which neither of whom is comfortable playing.
The defense has been miserable. Douglas Murray, for as hard as it is to knock him off his skates, his lack of speed has been exposed in these past three games. Matt Niskanen is constantly being abused, and has been so since the thumping he took from Kyle Okposo in Game Two. Kris Letang, while being their most talented defenseman, has been making awful plays at every turn. Mark Eaton has been unusually unaggressive and timid in his own end. Derek Engelland has been prone to too many dumb penalties, and Simon Despres just looked lost in Game Three. Paul Martin, as he has been all season, is the Penguins best defenseman so far, and Brooks Orpik just returned from injury last night.
The defense, along with Fleury's poor play, are the components of this series having a feeling of being nearly over, yet somehow miraculously being tied.
A solution?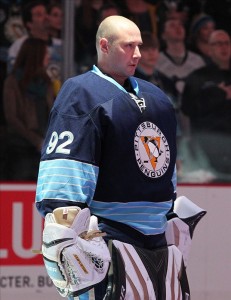 Earlier this afternoon, Dan Bylsma announced that Tomas Vokoun will get the start in net in Game Five tomorrow night. This is a step in the right direction for a coach who has to be fighting for his livelihood. But other changes are needed. Vokoun will not win this series on his own for the Penguins.
For starters, reunite Chris Kunitz with Malkin and James Neal. This line was magic last season, and had shown signs of that same magic in the few times they were put together. Move Iginla to Sidney Crosby's right (his natural position and where he is most comfortable), and put Pascal Dupuis on Sid's left. Duper is a guy who can play any forward position, and with Crosby, will excel no matter where he is.
Play a more defensive style. Like last season against the Flyers, the Penguins just wanted to run and gun. "Go ahead and score four goals. We'll just score five" was the attitude that that team had taken (reminiscent of 1993). Now, all of a sudden, that mantra seems to be back. It's not what propelled them to a 15-game winning streak during the entire month of March, or a 7-game winning streak towards the end of the season. Heck, if need be, utilize a trapping system. It's not glamorous, but then again no team ever finessed their way to a Stanley Cup.
Make no mistake about it: the only player on this team NOT playing for his career in Pittsburgh is Sidney Crosby. Everyone else, should this series go south, will be on the chopping block come July. It's time to watch some game film from earlier in the season, and figure out to win these next two games.
Keep up with all of my work on Twitter. Shame on you for six weeks if you're not already following me. You can do so here: Follow @TDT_Pens4Life
Series is tied at two. It's a race to two victories now. Which means…
"Its a great day for hockey!!"
Pittsburgh, Pa. Class of 2000 graduate from Robert Morris University with a B.A. in Mass Communications. Full-time objective sports fan.