Trade rumors can be tricky business. The rumor mills are a hotbed for sparking controversy and debate among hockey fans. In this weekly piece, I look at the current marketplace and what rumors are circulating both with the Pittsburgh Penguins and the NHL abroad. Unless otherwise noted, these discussions are strictly rumors and not information from inside sources.
The Penguins looked certain to be very active in an attempt to bolster their struggling blue line. Recently though, the addition of Trevor Daley has been far more successful than most anticipated and a healthy Kris Letang has helped make this group at least resemble a legit NHL defensive corps. Things have slowed quite a bit on the rumor front in Pittsburgh but I don't believe for one minute that Jim Rutherford isn't actively working the phones.
Trades in general have been more difficult this season, with so many teams concerned about cap issues. The biggest roadblock seems to be term, which means individuals like Dustin Byfuglien will likely be highly sought after considering his pedigree and expiring contract. Contenders will surely appreciate his ability to contribute without worrying about long-term commitment. He isn't the only player in that category but definitely the one that stands out the most, especially from a Penguins perspective. First, let's take a look at what's circulating around the league.
NHL Rumor Mills
This weekend paved way to two large reports of youngsters wanting a change of scenery. Jonathan Drouin has requested a trade out of Tampa Bay, adding even more to General Manager Steve Yzerman's plate. Yzerman, who already has his hands full with the Steven Stamkos contract situation, now has to figure out what to do with the promising 20-year old Drouin, Tampa's first round pick in 2013. Drouin is a very skilled forward that was off to a solid start to 2015-16 but digressed to the point in which Yzerman assigned him to the AHL.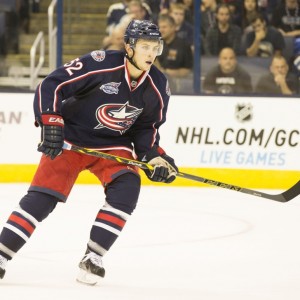 Also breaking this weekend were reports that Kerby Rychel had asked to be traded out of Columbus. The 21-year old forward was also a first round pick in 2013, selected 19th overall by the Blue Jackets. Rychel, who's listed at 6-foot-1 and 213-pounds, has appeared in 11 games for the Blue Jackets this season and tallied three assists.
Travis Hamonic, despite his request to get traded earlier this season, is unlikely to be moved anytime soon. With Johnny Boychuk potentially out long-term, the Islanders will need Hamonic to help fill those minutes. Some believe that the market for defensemen has been slow while most were waiting for the Hamonic domino to fall. If that was indeed the case, there could be increased talks occurring now that it's unlikely he'll be going anywhere for the foreseeable future.
Pittsburgh Penguins and the Shaping Market
Jim Rutherford, shortly after acquiring Daley from the Chicago Blackhawks, stated that he planned to let Mike Sullivan settle in with this roster before making any further moves. No matter what your opinion of Rutherford is, there's no denying that he's normally very honest and up front, so it isn't surprising that he hasn't made a move over the last few weeks. However, he has had plenty of time to assess things with Sullivan and it's clear that the Penguins can still use another legit top-four defender.
It also wouldn't surprise me if Rutherford has at least some interest in either Drouin or Rychel. Interestingly enough, I mentioned both of these youngsters this past summer when discussing possible offseason targets for the Penguins at PensLabyrinth.Com. And, while Drouin has proved that he can play at the NHL level and carries a ton of skill, I believe Rychel is the better fit in Pittsburgh. He's a power forward that plays a physical game and still offers the ability to contribute offensively. Considering the lack of confidence in Derrick Pouliot among the Penguins' management team, would it make sense for Pittsburgh to explore the possibility of swapping him for Rychel? Columbus needs blue-liners as well, so the deal could work. Of course, this is purely speculation but it makes a lot of sense.
I expect things to heat up over the coming weeks. As we make our way through January, it will become more and more clear who has a shot at contending and who will begin selling off assets to prepare for next season. The Penguins still see themselves as contenders and should be right in the middle of most talks, especially considering the cap relief they received from Pascal Dupuis' retirement. I'll visit this topic every week here at TheHockeyWriters.Com and of course, follow me on Twitter at @Michael29Angelo for continued discussions around the Penguins and everything NHL.