This past Friday, Team USA announced their World Cup of Hockey roster. One of the omissions from Team USA is Pittsburgh Penguins All-Star forward Phil Kessel. That's not a misprint folks, Kessel was indeed left off of Team USA's roster.
Whether you like him or not, Kessel is one of the best American-born forwards in the game of hockey. I don't get it, when your home country is playing for a world championship, wouldn't you want your countries' best players on the ice? That's why Kessel's snub by team USA management doesn't make any sense.
For the most part, the hockey media is also perplexed by this move, too. This is almost as shocking as All-Star defenseman P.K. Subban being left off of the Team Canada's roster. But that's for another discussion.
Adding Kessel Seems Like a No-Brainer
Adding Kessel to the Team USA roster seems like a no-brainer. The two-time Olympian is having a fabulous postseason.
He has had extensive international experience and was a member of the 2014 US Olympic hockey team that played in Sochi, Russia. Kessel was one of the few bright spots on a team that finished fourth. Kessel led the tournament with five goals and eight points and was named the best forward of the Olympics.
Of course, Team USA gave a canned answer on why certain players weren't selected for Team USA.
"When it came right down to it, it was very difficult to settle on a final roster," U.S. general manager Dean Lombardi said. "That's a testament to how far we've come in hockey in our country."
What to Make of the Kessel Snub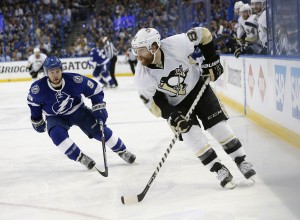 So what are Team USA fans to make of the Kessel snub? For most of us, the move is rather puzzling and it doesn't make a lot of sense. Kessel is a very talented, fast skating forward with a deadly shot. Looking at the other players on the Team USA roster, I don't see a reason why Kessel couldn't help team USA.
This past season, Kessel finished third on the Penguins in scoring with 26 goals and 59 points. During the 2016 Stanley Cup Playoffs, it appears that Kessel has found another gear. After three rounds, Kessel is leading the Penguins with nine goals and 18 points. Kessel scored four of his nine goals during the Eastern Conference Finals.
Team USA head coach John Tortorella is a fiery, no-nonsense coach who is also known for coaching a heavy style of hockey. I guess one could also conclude that Tortorella either wanted to go with more grit or players that he's familiar with.
This is definitely a John Tortorella-coached team. Six players on the 23-man roster have played for Tortorella in the NHL: Dubinsky, Callahan, Jack Johnson, forwards Ryan Kesler and Derek Stepan and defenseman Ryan McDonagh. (USA News)
In conclusion, no matter what the reason is, Team USA will miss Kessel's presence on the ice when the World Cup of Hockey begins.
Eric is a 1996, 1999 graduate of the University of North Dakota. Eric covers the University of North Dakota Hockey and Division I college hockey. Eric is the Contributing Editor for Inside Hockey.