When fight night broke out in Toronto on Sunday night (The Good, The Bad, and The Ugly), Leaf fans and fantasy owners not only saw their leading scorer from last year – Phil Kessel – finish off his preseason thanks to a three-game suspension [article link], but they also saw the team's biggest offseason acquisition make a decision that will cost him 10 regular season games.
We all know that David Clarkson came over the boards to join the brouhaha. We all know that this kind of illegal line change is accompanied by an automatic 10-game suspension. But how often can we look at this kind of punishment in a positive light?
Open Door for Carter Ashton
With Clarkson out of the lineup, the Toronto Maple Leafs coaching staff has one more decision to make when they open the season on October 1 in Montreal.
With their farm system growing, Toronto's preseason has – so far – demonstrated their ability to fill holes in the lineup in the event of an injury or suspension.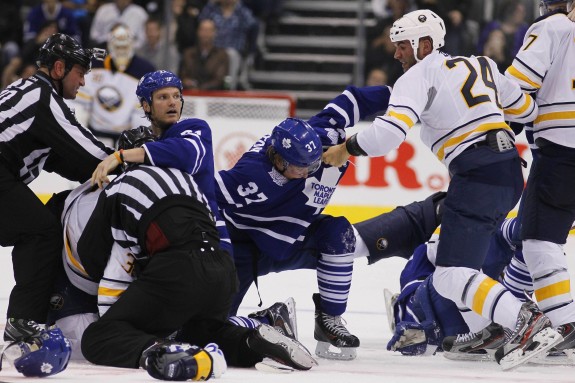 One player that has certainly impressed the Leafs' staff to this point is Carter Ashton – a young right winger out of Manitoba. Although Ashton hasn't put up any points through his first 15 NHL regular season games, he has brought a physicality to the team's offense that has led to opportunities for the Leafs in their opponents' end.
"I'm trying to be more physical," said Ashton in an interview with Toronto Star sports reporter Kevin McGran. "I see myself as a power forward."
And that could be just what the Leafs are looking for in the absence of David Clarkson – a young fast talent who's not afraid to throw his body around. Ashton, along with Joe Colborne, will look to capitalize on the opportunity that has presented itself with the suspension.
However, not only is it an opportunity for these two young players to get some National Hockey League experience, but it will allow the team to see what they have in their young players. The Clarkson suspension has opened doors both for the players and the management team to see what they have moving forward.
In fact, with injuries to Frazer McLaren and Colton Orr, it's quite possible that both Ashton and Colborne could see some significant time in the first few weeks of the season – a decision that will certainly give the two young players a chance to improve at a professional level. It's a move that should fair well for the team both now and as these players reach their prime.
Clarkson Suspension Demonstrates Unity
It's something that has started to grow more in Toronto over the past couple of seasons. With the younger generation of players moving into the Maple Leafs dressing room, there has been a growth in terms of team unity. Tyler Bozak, Phil Kessel, and Joffrey Lupul have shown a closeness in post game interviews and through twitter conversations, while James Reimer, Nazem Kadri, and James van Riemsdyk have also joined the newly unified mentality of the blue and white.
When Clarkson left the bench on Sunday, many questioned his thought process. Why commit an act so costly to your new team? What was going on inside of his head?
But what Clarkson explained, in his first interview with the media since the incident, was that he was joining this brotherhood. He was stepping up for a younger brother that was put in – what Leaf players are describing – a defenseless situation.
Certainly missing 10 regular season games is not ideal for the newly acquired Leaf forward. There's no question that had he thought about it, he probably wouldn't have stepped over the boards.
But Clarkson – as he admits in the interview – made an emotional decision. It's one that will cost him and the team. But it's a decision that comes with small glimmer of light. He's proven to fans, teammates, and management that his team comes first – and that he's willing to protect his comrades. But is camaraderie worth 10 games or one-eighth of a season?
Some would argue that it isn't. Some might argue that it's good for the team. But the reality is that Clarkson signed a 7-year deal in the offseason. That's 574 regular season games. That's less than two percent of the games he's expected to play in a Leafs jersey.
Whatever the case, his teammates know that he's there to protect them, which should bring more confidence and unification to a team that will need it to make multiple playoff runs in the coming seasons.
Clarkson Still a Fantasy Threat
Now with Clarkson missing 10 games to open the season – and not eligible to return until October 25 in Columbus – fantasy owners might be quick to dismiss the former 30-goal scorer. But why not look at it as a positive for your fantasy team?
Of course, it depends on how the pools are run – stats, bench players, maximum spots on injured reserve – but don't give up on Clarkson as a threat in your fantasy hockey pools just yet. Place him on the bench until his return in late October and open up a spot on your active roster.
This is an opportunity for fantasy owners to look at other players – to add depth to their team while Clarkson is out of the lineup. Remember, he's playing for a new team – his home town team – and alongside more talent than what he played with in New Jersey.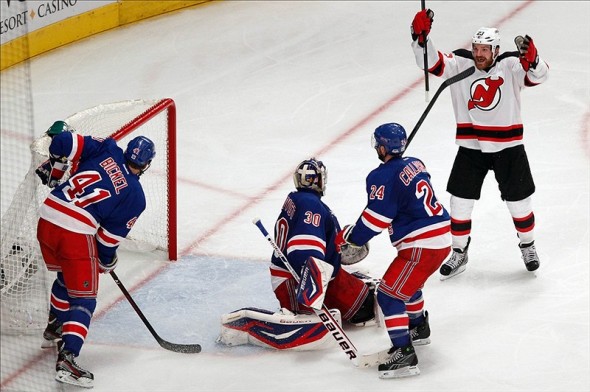 Although he won't put up 30 goals this season – especially with only 72 games – he will still put up relatively good numbers to make him a worthy candidate in any fantasy pool. But drafting him, and putting him in an inactive role, will give fantasy owners one open spot to play with in the interim. It could be used as a platoon spot for role playing right wingers or use it to draft a sleeper right wing.
Whatever the case, Clarkson absence from the Leafs allows fantasy owners to take a chance on players they may not have had room for in the first place – a bright spot to a long suspension. But as I said, don't turn a blind eye to the 29-year-old Toronto native. He will come back with something to prove.