The NHL seems to be moving, as a whole, in the direction of skill over size. While being big, strong, and defensively sound used to be an important characteristic for a defenseman to succeed in the NHL, the successes of high-octane puck moving blueliners such as Torey Krug, Tyson Barrie and John Klingberg has paved the way for defenders who lack strength and size but possess elite offensive tools to succeed at the next level.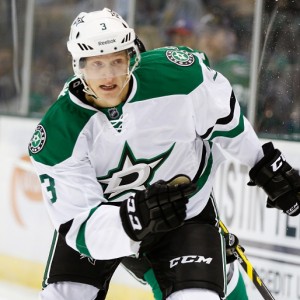 Despite seeing several offensive defenders fall in the latest draft (2015), several small but talented defenders still went in the top three rounds. Potential power play quarterbacks such as Jeremy Roy, Travis Dermott, Vince Dunn, and Oliver Kylington were all off the board before the end of the second round. All four of these players stand 6'0″ or shorter and weigh in at less than 190 pounds, but the offensive numbers they were putting up justified their lofty draft positions.
There will always be NHL interest in a defenseman who possesses the offensive skills and the skating ability needed to excel in today's fast-paced and skill-oriented NHL. With the premium on scoring in the NHL never higher than now with the decline of scoring, defenders who can effectively move the puck up the ice and set up their teammates with authority will always be of value. Here are four defensemen eligible for the upcoming 2016 Draft that have the potential to develop into elite offensive defensemen for an NHL club that falls in love with them. Each player's draft rankings is taken from the biggest four international scouting services – Hockeyprospect.com, ISS Hockey, Future Considerations, and McKeen's Hockey.
Jake Bean, LHD, Calgary Hitmen (WHL)
Jake Bean came into the WHL as an undrafted rookie, but has quickly improved his game and is a potential first-round prospect for the upcoming draft. After two strong seasons as the offensive leader on the blueline for the middling Hitmen, Bean has proven he is more than an offensive specialist by improving his defensive game and building off of last season's 2 penalty minutes with 18 already this campaign. However, Bean weighs in at just 172 pounds despite his 6'1″ frame, raising questions about his strength and ability to play effectively in his own end.
Despite his improvement in other facets of his game, Bean's offensive ability is his ticket to a high draft position and future NHL success. After tallying 5 goals and 39 points in just 51 games in his rookie season, Bean has posted a head-turning 13 goals and 31 points in just 34 games so far this season. Bean is one of the strongest skating defensemen available in the draft, and his speed and agility gives him an advantage in all three zones. His passing ability is outstanding and he excels on the power play, where he has notched 5 goals this year. He is currently ranked between 11th overall and 24th by the four main scouting services, but it wouldn't be surprising to see a scoring-needy team drafting in the top 10 fall in love with the offensive potential Bean offers from the back end.
Samuel Girard, LHD, Shawinigan Cataractes (QMJHL)
Samuel Girard, unlike Bean, was taken with a high draft pick, third overall in the 2014 QMJHL Draft. Like Bean, however, Girard could be considered undersized and could stand to gain strength before attempting to make the jump to professional hockey. Standing at just 5'9″ and just 165 pounds, Girard is among the smallest defensemen available in 2016. His offensive ability is among the best of all defensemen available in the draft, however, as he has tallied 35 assists and 40 points in just 35 games.
Despite being one of Canada's most impressive defenders during the Ivan Hlinka tournament in August, Girard has been criticized for both his lack of size and strength and a lack of consistency in his own end. He remains one of the fastest skaters from the back end in the draft, but could stand to improve his play in the defensive zone. However, his ability with the puck and his vision from the blue line is summed up by Steve Kournianos of The Draft Analyst: 
… when you lead the CHL (that's all three leagues combined) with 24 assists, we think you're deserving of significant praise. Girard does everything hard, and can whip a pass with accuracy off his back leg. He's also one of the best draft eligibles at handling a bouncing puck.
Girard possesses the talent to become one of the best power play specialists in the entire draft, and his passing and skating ability could help an NHL team lacking mobility on their back end. However, concerns over his size and defensive play leave Girard as one of the biggest boom or bust prospects among defensemen in the 2016 Draft.
Dante Fabbro, RHD, Penticton Vees (BCHL)
Committed to Boston University, Dante Fabbro took an unconventional route for a top Canadian prospect. Opting for the BCHL over the more well-known WHL, Fabbro has impressed with the Penticton Vees and has proven himself to be one of the best defensemen, if not best players, in the entire league. Using his elite skating and passing abilities, Fabbro has tallied 7 goals and 38 points in just 21 games to begin the season, leading the Vees atop the BCHL standings. He possesses the skating ability and offensive instincts to be a force at the next level, but the lower level of competition he has faced this season has led to a lower ranking than his talent level would indicate.
Fabbro failed to post good point totals in his first big tournament against the best players in his age group, posting 0 points in 4 games playing for Canada in the Ivan Hlinka Tournament. Despite this, his strong play earned him rave reviews from SB Nation's Chris Dilks:
… I was most impressed by Fabbro, who looks like the complete package on defense. Everything was smooth, calm and poised… As of today, I think Jakob Chychrun is likely the top defenseman available in the draft with Fabbro and recent BU commit Chad Krys neck-and-neck for the second-best D in the Draft.
His offensive ability has drawn him comparisons to elite NHL puck-moving defensemen such as Kevin Shattenkirk and Alex Pietrangelo. Given his impressive puck skills and high point totals at every stop in his career, Fabbro could be one of the first defenders off the board in the first round come June 2016.
Chad Krys, LHD, US National Development Program (USDP)
Chad Krys, another undersized defender, with offensive skills, is a divisive prospect in the draft. One of the offensive leaders from the blueline for the US National Development Team, Krys lacks size (5'11", 183 pounds) but makes up for it with a high hockey IQ and strong skating ability. His ability to run a power play was on full display at last year's Under-18 World Championships, where he posted 4 assists and 5 points in 7 games in USA's run to the gold medal.
Despite his impressive pedigree and hockey bloodlines (his father was a Boston Bruins draft pick), Krys has been mentioned as a fringe first round prospect. His size deficiencies lead to problems dealing with bigger and stronger forwards, as well as shortcomings in his own zone. Despite his ability to slow down the pace of the game and make positive plays in the offensive zone, Krys' lack of high-end production paired with his small stature makes him a risky prospect. However, his defensive deficiencies aren't enough to offset his offensive potential, and his skating and passing abilities scream first-rounder. Krys' hit or miss potential makes him one of the most intriguing prospects in next year's draft.