2015 was a landmark year for the Chicago Blackhawks and their fans. Beyond winning the team's third Stanley Cup in six seasons, Duncan Keith set the gold standard for all defensemen with his 2015 playoff performance, and Patrick Kane has already set the record for the longest point streak by an American-born player so far this season. But the whole year was full of dynamic performances by players throughout the lineup.
Teuvo Teravainen has stepped by his game significantly this season to build on a ten-point postseason, Niklas Hjalarsson has proven to be a true shutdown defender, and Scott Darling continued to beat his battle with alcoholism en route to winning three crucial postseason games against Nashville. While those players undoubtedly stood out from the crowd in 2015, the following five players did even more to earn their spots on my list of the top five Blackhawks of the 2015 calendar year.
1. Duncan Keith
Joel Quenneville's iron man absolutely dominated 2015 in every discernable fashion. His 2015 postseason is still occasionally hard for me to comprehend when I really look at the numbers he posted. Beyond playing over 31 minutes per game (an incredible 31:06 to be exact) for Chicago, Keith also recorded 21 points with a +16 rating and three game-winning goals, while posting a 54.38 CF% according to war-on-ice.com. It was easily the best postseason performance by any defenseman in recent memory and might be memorable enough to secure Keith a spot in the Hall of Fame one day – although his two Norris Trophies will help his case there as well. Even though he missed ten games to start this season, his 18 points still put him in the top 20 for NHL defensemen, so Chicago fans should expect to see more of the same exceptional play in 2016 from their biggest star of 2015.
2. Corey Crawford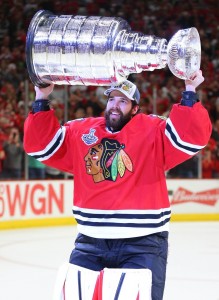 Anyone who saw Crawford allow a horrendous goal to Jason Spezza the other night in Dallas might have a tough time swallowing this ranking, but Crawford is the clear number two behind Keith in my mind. After finishing the 2014-15 regular season with a .926 save percentage from January onwards, Crawford shut down the impressive offenses of Minnesota, Anaheim, and Tampa Bay before winning his second Stanley Cup. To top off his epic year, the Canadian-born goaltender has carried his team through Keith's injury, played the most games of any NHL goalie, and currently leads the league in shutouts. The tremendously underrated goalie just keeps silencing his doubters, and 2015 was no different.
3. Patrick Kane
Perhaps the only reason for Kane's appearance in the third spot – as opposed to the top one – is the devastating injury he suffered near the end of the 2014-15 regular season that appeared to put his season in doubt at the time. Prior to that injury, Kane was leading the entire league in points and seemed to be primed for his first Hart Trophy nomination. Kane would have to settle for posting 23 points in 23 playoff games for the Hawks before breaking the record for the longest point streak by an American-born player when he posted 40 points in 26 games over roughly two months. He is currently on pace for well over 100 points and should win his first Hart Trophy if he can stay healthy for 82 games. But even with the final results of this season still in question, Kaner's 2015 was pretty sweet for him on the ice.
4. Brent Seabrook
I have to admit, after Seabrook posted just 31 points and some pretty poor possession numbers during the 2014-15 regular season, I began to worry that the veteran's game was falling off considerably. Thankfully for 'Seabs' and the Hawks, it turned out that he was just saving himself for the postseason, where he would score an impressive seven goals and anchor the blue-line against the power of Anaheim and the speed of Tampa in the final 13 games. Seabrook has carried that strong play over to the first 36 games of this season as well, putting up 21 points and leading the team's defense through Keith's injury in the first 36 games. Instead of declining, it appears that the 30-year-old has hit his prime, ensuring that Stan Bowman doesn't suffer from buyer's remorse following the huge contract he handed Chicago's newest alternate captain this offseason.
#Blackhawks reward defenseman Brent Seabrook with big deal, a blockbuster eight-year, $54.8 million contract,… http://t.co/M4TnugQrXR

— Daily Herald (@dailyherald) September 27, 2015
5. Jonathan Toews
Any list involving top Blackhawks players would be incomplete without mention of their captain and leader in Toews. Despite getting off to a slow start in 2015-16 with just 21 points through 36 games, 'Captain Serious' has still been seriously clutch while scoring five game-winning goals and maintaining his spot as the top faceoff man in the world while winning 59.8% of his draws. Toews' two-way brilliance has long been the driving force behind the success of the Blackhawks, and he deserves as much credit as anyone for the team's third Cup win in six seasons. Fans should rest easy knowing that Toews will be the one leading the charge once again in 2016.