Everyone on the Blackhawks knew that an injury to star defenseman Duncan Keith would require the whole team to increase their level of play. And while most of the pressure to step up seemed to fall upon fellow defenders such as Trevor van Riemsdyk and Trevor Daley, Corey Crawford has been the biggest reason for the Hawks' success since Keith's injury. By posting back-to-back 1-0 overtime shutouts over rivals Tampa Bay and Anaheim, Crawford is once again proving his elite status by playing his best when called upon the most.
Regular season success
Crawford has long been one of the league's most underrated goalies because he plays for perhaps the best team of the past decade in the Blackhawks. Joel Quenneville's squad is known for playing responsible defense and executing a smooth transition game that turns into goals in the offensive zone. And while the team in front of him has been nothing short of fantastic, Crawford's play has also had a large impact on the success of the team as a whole.
The best example of this can be seen during a two-year stretch from 2011 to 2013. During the 2011-12 season – his second as a full-time pro – Crawford struggled to maintain the kind of consistency and composure he displayed during his freshman campaign in which he recorded 33 wins and a 2.30 goals against average. And after posting a .903 save percentage in the 2011-12 regular season, his Blackhawks were bounced in the first round by the Phoenix Coyotes. Crawford's ineptitude between the pipes was one of the biggest reasons for the early playoff exit and even brought on rumors that the team was looking to trade for former Canuck Roberto Luongo.
Amid the most intense pressure of his career to date, Crawford responded with one of his finest seasons, capturing the William Jennings trophy and leading his team to a Stanley Cup championship. Doubts about his job security were erased and Crawford became entrenched as the team's unquestioned number one in net.
Playoff success
Fortunately for the Blackhawks, Crawford's excellent play under pressure has also extended to the postseason. This was evident from the very start of his career in Chicago when he was the team's best player in the 2010-11 series against Vancouver that saw the Hawks overcome a 3-0 series deficit before losing in overtime of game 7 to the eventual Western Conference champs. He then proceeded to deliver his best postseason to date by recording a .932 save percentage en route to his first Stanley Cup in 2013 – a performance that Patrick Kane thought should have earned him the Conn Smythe.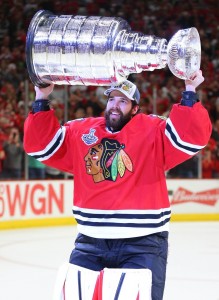 Finally, after being benched for poor performance at the start of Chicago's first round series against the Predators in 2015, Crawford eventually regained his starting position in time to earn his second Cup in three seasons. He did so by posting two shutouts over his 13 wins and limiting the NHL's highest scoring team in Tampa Bay to just 10 goals over their six game series. His combined postseason experience has seen him record 45 wins and a .921 save percentage over 76 games. His high save percentage is a sign of the consistency he has displayed when it matters most and is on par with the numbers posted by Jonathan Quick and Henrik Lundqvist during their playoff careers.
Keith's Injury
With all of this in mind it should come as no surprise that Crawford has stepped up his game considerably since Keith underwent surgery to repair his torn meniscus. He is one of the NHL's most underrated goalies who has consistently managed to silence his doubters with outstanding play. Despite winning two William Jennings trophies for allowing the fewest goals in the league, he has never been given the credit he deserves as one of the NHL's elite goalies.
Hopefully that will begin to change after he recorded 60 saves in consecutive 1-0 shutouts against elite offenses in the Lightning and the Ducks. The fact that those performances came without the services of his top defenseman and with limited offensive support should come as no surprise to fans who have watched him earn a well-deserved spot amongst the core of the Chicago Blackhawks.