When the Edmonton Oilers signed Benoit Pouliot to a five-year, $20 million deal in July 2014, they were expecting him to fill in admirably as a top-six winger. He was a darling of the advanced stats community and a member of the New York Rangers' dangerous trio that also consisted of Carl Hagelin and Mats Zuccarello. Nonetheless, the contract amount was always a questionable number.
In his first two injury-plagued seasons in Edmonton, he totaled 70 points in 113 games and a 0.62 points-per-game average (the equivalent of two 51-point seasons). Now in his third year, Pouliot is on pace for not only his worst year with the Oilers, but arguably the worst season of his career.
| | GP | G | A | PTS | +/- | PIM | PPG | SHG | GWG | TOI | S | PTS/PG |
| --- | --- | --- | --- | --- | --- | --- | --- | --- | --- | --- | --- | --- |
| YTD | 25 | 5 | 1 | 6 | -1 | 22 | 0 | 0 | 1 | 15:23 | 35 | 0.24 |
| On Pace | 78 | 16 | 3 | 19 | -3 | 69 | 0 | 0 | 3 | 15:23 | 109 | 0.24 |
Reading into Pouliot's performance, he's in the midst of a terrible swing that's seen him score just two points in his last 19 games dating back to Oct. 28. Part of that includes a pointless November, during which the Oilers went 5-8-2.
Reading Between the Lines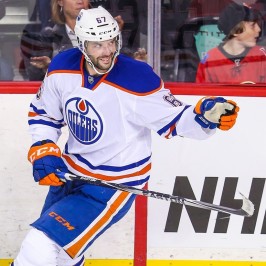 The 30-year-old has been scratched four times this season already and when he's been in the lineup, he's been given equal opportunity to succeed but the results just haven't been there.
He's currently playing on the Oilers' second line with Ryan Nugent-Hopkins and Jordan Eberle, in which he has two points in his last four games.
There are a few factors working against him. One of those factors is the struggles of linemate Ryan Nugent-Hopkins, who has just four points and is also on pace for the worst year of his career with 36 points (a 0.45 points-per-game average).
RNH currently has just four goals and 13 points this season and a lowly 42.3 percent in the faceoff circle.
Corsi

(EV)

Fenwick

(EV)

PDO

(EV)

Season

Age
Team
GP
CF%
CF% rel
FF
FA
FF%
FF% rel

PDO

14-15

28

EDM

58

50.7

3.1

542

571

48.7

1.2

100.5

15-16

29

EDM

55

51.9

3.5

519

491

51.4

3.4

98.2

16-17

30

EDM

24

50.5

-3.4

208

201

50.9

-3.0

99.4

Career
558
52.0
1.7
4815
4483
51.8
1.5
101.1
The Oilers simply are just starting too many times off a stoppage without possession of the puck, something that hurts a player like Pouliot who's suited for a puck-possession style of hockey.
Another factor is that Pouliot simply isn't shooting the puck. He currently has just 35 shots on goal this season, which is on pace for 109 shots on goal this season.
That number would be fine if it was last year and it was over the 55 games he played before a shoulder injury effectively ended his season. That 109 shots in 78 games this season, however, is a dismal number.
McLellan's Doghouse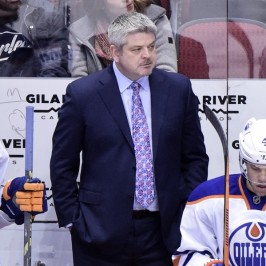 Head coach Todd McLellan has made some very public statements regarding Pouliot and his penchant for ill-advised offensive zone penalties.
He's just four minor penalties from tying the total he had last year (30 PIM in 55 games), and is on pace for 69 PIM. That would be the highest total he's had since recording 79 PIMs as Montreal Canadiens property in 2010-11.
McLellan has dropped his ice-time from the 16:20 TOI he's averaged with Edmonton to 15:23 TOI this season. The message is simple; keep putting your teammates in a tough spot having to kill off your stupid penalties, you won't play.
There have been times the message hasn't resonated and if Pouliot doesn't start producing like a top-six forward, he's going to lose his spot completely to some upstart players like Patrick Maroon and Drake Caggiula. In the Oilers 3-2 OT win against the Anaheim Ducks on Dec. 3, McLellan replaced Pouliot with Caggiula on the left side and the rookie scored a timely power-play goal.
If you go back and read the box score, Caggiula had more PP time than Pouliot by over a minute, and in the Oilers' 6-5 loss to the Flyers yesterday, the 22-year-old completely replaced Pouliot's PP minutes.
Where Do We Go Now?
The Oilers have a pending cap crunch in the next few years with the looming Leon Draisaitl and Connor McDavid contract renewals. It's safe to suggest that with Draisaitl on pace to score a career-high 70-plus points, he'll likely get over $5 million on a long-term deal, and McDavid will get at minimal $8 million annually.
The Oilers can't afford to have too many players onboard the ship with bad contracts. Oilers general manager Peter Chiarelli has done a better job at managing the contract situation, but his work hasn't even started in reality.
The Oilers must address their needs for a top-four offensive defenseman and another scoring forward in their top nine. Pouliot has the abilities to do so, but with just two seasons left, there is the possibility Chiarelli and company could cut bait and buy him out at two-thirds ($5.33 million spread over four seasons). But is that really a viable option?
Another option is to trade Pouliot in a negative value deal that sees Edmonton retain salary. Lastly, the Oilers can stand by and let this rectify itself by having Pouliot and his linemates turn this around.
At the end of the day, Pouliot is in the midst of the worst season of his professional hockey career.