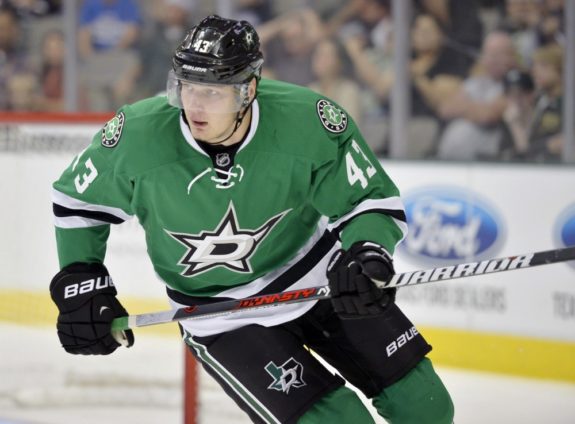 The Winter Olympics aren't usually the time for breakout performances from young players. Given the best-on-best format and the size of the stage, it's rare to see a teen or early 20-something crack a roster, much less play enough to make an impact. The international landscape could change soon though, giving young stars more chances to shine on the biggest of stages.
Gary Bettman and Bill Daly both recently stated that the World Cup of hockey could return soon. If the NHL, NHLPA and IIHF can get together on this one, it means that we'd be seeing a lot more exciting international puck in the near future—a scenario where everyone wins.
Including the rising young stars of each participating nation.
Our purpose here is to look beyond 2014 and into the future. In upcoming tournaments, whether it be a World Cup or the 2018 Winter Games, young players will slowly start to take over for the old guard. Who will be the face of each Olympic nation's squads in the coming years?
Russia – Valeri Nichushkin
The 6'4″, 205 pound 18-year old has received nothing but praise since reaching the pro-level last summer. Dallas Stars head coach Lindy Ruff spoke to KTCK-AM 1310 The Ticket about Nichushkin after the NHL season was only a few games old and said that "he's been able to handle a load, which is pretty impressive for a young man… I like his awareness and his respect for the game away from the puck, which is really important."
The praise didn't stop there though.
Jagr on Nichushkin: "Maybe it was his best 3 games I watched, but I said, 'This guy is going to be the best in the world one day.'"

— Tom Gulitti (@TGfireandice) December 20, 2013
For a Russian national team that seems long on talent but short on effort sometimes, Nichushkin is exactly the kind of player that is needed to lead the squad in a different direction. With due respect to Vladimir Tarasenko, the current Star will eventually be the go-to guy whenever Russia takes part in international play.
Austria – Mathias Lange
At 28-years-old, calling goaltender Mathias Lange "young" is a bit of a stretch. Goalies take longer to develop than forwards and defensemen in general though, so we're willing to bend the rules for the Austrian netminder. He was considered the third-string goalie coming into the Olympics, but he snagged the starting role by the second contest of the tournament.
He was thrown to the wolves against Canada in Austria's second game, but held arguably the top team in the tournament without a goal in the third period.
So happy and proud to see Mathias Lange get to play against Canada today and to come away unscathed. Way too cool.

— Joe Yerdon (@JoeYerdonPHT) February 15, 2014
Odds seem good that this isn't the last time we see Lange in international play for the Austrians.
Czech Republic – Ondrej Palat
The days of Jaromir Jagr and Patrik Elias being the top players for the Czech Republic are coming to an end. No other nation counted on aging veterans more in this tournament, and the Czechs made several interesting choices when piecing their Olympics roster together. Jiri Hudler and Radim Vrbata were left at home, but those exclusions speak volumes about Ondrej Palat's future with the national team.
He only has 72 games of NHL experience, but made a very old-guard team while the likes of Hudler and Vrbata were left off the squad. The former is a top-50 scorer for the Calgary Flames right now, while Vrbata sits inside the top-75 point producers. Yet they watched the Olympics from home while Palat averaged more than eight minutes of playing time for the Czechs.
The Tampa Bay Lightning forward will only get more dangerous as he ages, and by the time 2018 rolls around he could be one of the top players for the Czech Republic.
Slovakia – Tomas Tatar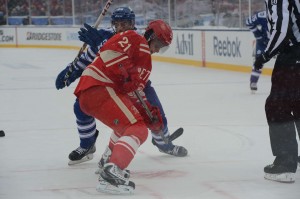 Pavel Datsyuk is one of the best two-way players in the NHL. There was a special and strange moment when Slovakia took on Russia in the preliminary round though. The Detroit Red Wings veteran had the puck and was trying to skate it out of trouble and into the neutral zone—something that the three-time Selke Award winner does quite well.
Suddenly a Slovak player lifted Datsyuk's stick, stole the puck and turned the play back around, creating a dangerous chance for Slovakia. That player was Tomas Tatar.
Tomas Tatar just Datsyuk'd Datsyuk. Stripped him and went the other way.

— Cörey Masisak (@cmasisak22) February 16, 2014
Through multiple periods of Slovakia's Olympic run, Tatar was the top player out on the ice for the team. At 23-years-old, the feisty Red Wing will help form the nation's international identity as he sees his role increase.
Canada – Alex Pietrangelo
It's tricky to name the upcoming face of Canadian hockey because every player representing the defending Gold-medal winners is an established superstar.
The closest that they have to a breakout player would be Alex Pietrangelo of the St. Louis Blues, if for no other reason than exposure. Fans of Pietrangelo's NHL team know that he's an outstanding two-way defender with a keen sense of when to pinch, but that might be a surprise to some folks around the league.
I understand some think PK should be playing. But which RH shot wud he play ahead of? Pietrangelo, Weber, Doughty all excellent so far.

— Damien Cox (@DamoSpin) February 17, 2014
Latvia – Zemgus Girgensons
If Zemgus Girgensons of the Buffalo Sabres wasn't on your radar before the Winter Olympics, he should be now. He was far and away the best player for the Latvians during the tourney, and he's going to be the face of their hockey program for a long while.
Lastly, congrats to a player that impressed me both on and off the ice in his draft year @zemgus94 – thought he was great today. #Latvia

— Mark Edwards (@MarkEdwardsHP) February 19, 2014
As Girgensons stormed up and down the ice against Canada in the quarterfinal, it was easy to forget that 20-year-old only has 56 games of NHL experience. He looked calm and poised with the puck and seemed to make something happen every time Latvia entered the offensive zone—an important tendency since the squad didn't force offensive pressure all that often.
Slovenia – To Be Determined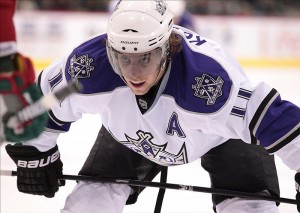 This might seem like a cop out, but Anze Kopitar is already the face of Slovenian hockey and they really don't have anyone coming down the pipeline yet. The "to be determined" represents the interest that Slovenia whipped up in their homeland by getting father in the Olympics than any other national team before them.
Who knows how many youngsters fell in love with the game as Kopitar lead the fearless Slovenians to victory over Slovakia and Austria. You can bet that we'll see at least a small pop in interest in hockey around Slovenia moving forward.
Finland – Mikael Granlund
If things had gone a bit differently for Finland, these Olympics could have seen Teemu Selanne pass the torch to Aleksander Barkov as the new face of Finnish hockey. With the Florida Panthers center forced to leave the tournament early because of a bad knee injury, the Finnish Flash had to find a different fresh face, and did so while playing with Mikael Granlund.
The Minnesota Wild forward has been a rockstar in his native country since before he made it to the NHL—his top-end performance against Russia all but sealed his fate as the Finland's leader of men for the next decade-plus of international play. Barkov will bounce back within the next month or so to continue his development in Florida, and Olli Maatta of the Pittsburgh Penguins has been phenomenal as well.
There's just something special about Granlund. Wild fans and Finnish fans haven't seen the best out of him yet, and that's exciting.
Sweden – Gustav Nyquist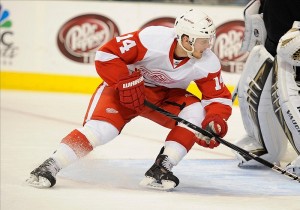 The Detroit Red Wings are among the best teams in the league when it comes to developing young and raw talent into bona fide go-to players. They've brought Gustav Nyquist along slowly, and this season can only be viewed as an eruption for the 24-year-old forward. After developing his skills for two seasons in the AHL, the former fourth-round draft pick finally fought his way onto Detroit's veteran-laden roster.
He's literally made it impossible for the Red Wings to demote him to Grand Rapids again, and Nyquist was the first replacement that Sweden called when it was revealed that Johan Franzen wouldn't be available. For the Halmstad native, the 2014 Winter Games have been a chance to learn from some of Sweden's best players.
By the time 2018 rolls around, don't be surprised to see Nyquist leading the charge for the Swedes.
United States – Cam Fowler
Like Canada, the United States took a well-known roster to Sochi. Players like David Backes, Phil Kessel and Zach Parise are all young and have the face of the team on lock-down for the next several international contests. Still, Cam Fowler has made quite a name for himself this year. Between his seemingly rapid development for the Anaheim Ducks to his inclusion on the Olympic roster, Fowler is the closest thing that the Americans have to P.K. Subban.
The Ducks defender has a colorful personality and is easy to cheer for.
He's played more than 15 minutes a night for the US despite the fact that head coach Dan Bylsma is more comfortable with Brooks Orpik and Paul Martin. If you can earn your coaches trust as a young player on a stage like the Olympics, then you're doing something right. No defenseman on the team has a higher plus-minus rating than Fowler heading into the semifinal matchup with Canada.
Norway – Mats Zuccarello
The closest thing to a no-brainer on this list, Mats Zuccarello is Norway's best player right now and will likely hold that title for quite some time. His speed is gamebreaking and he'll only continue to improve as he gains more experience with the New York Rangers.
Norway didn't look like the same team after Zuccarello was unable to play after sustaining a fractured hand, and bowed out to Russia without his presence. While the Blueshirt didn't post a point, he's visibly a better forward than just about anyone else Norway can roster. Sochi was his second Olympics, and won't be his last touch with the international scene.
Switzerland – Roman Josi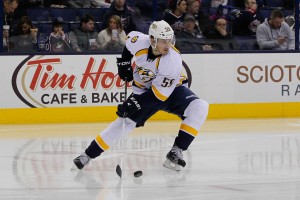 Is there any team in the NHL that is better at finding and developing young defensemen than the Nashville Predators? Say what you will about Barry Trotz and his struggles to turn forwards into gold—he makes no mistake with his blueliners.
Case in point: Roman Josi.
The 23-year-old is already having a career year with the Predators, and will be a minute-munching force on Switzerland's blue line for years to come. With 2014 probably being the final year that Mark Streit is able to suit up for the Swiss, Josi will become the squad's No. 1 defender in any and all situations.
He played more than 21 minutes a night for Switzerland, and logs even bigger minutes in Nashville. Without a doubt, he'll lead Switzerland into the next stage of their international evolution.
Franklin Steele has been publishing hockey columns online since 2011 and has been watching and playing since the age of six. More than six million people have read his work, and he has more than 3,500 bylines to his name. He joins The Hockey Writers after five years with FanRag Sports, and his work also appears on WingsNation.com and ChicagoSportsColumn.com.
Feel free to follow him on Twitter @FranklinSteele or to drop him a comment.