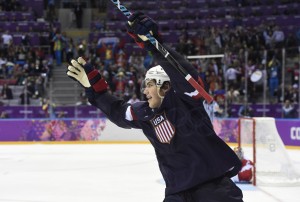 On February 28, 2010, Sidney Crosby fired home a goal that sliced through millions of American hearts. Most people remember where they were when it happened. Canada defeated the United States in the Men's Ice Hockey Gold Medal Game 2-1, leaving the United States with an empty feeling. Sure a silver medal is great, but as my good friend Ricky Bobby once put it, "If you're not first, you're last."
On Friday, February 21, 2014, the United States men will have a shot at redemption and a chance to return the favor back to the Canadians. While they won't be competing in the gold medal game due to the way seeding was set up, they still get the opportunity to send the Canadians back home with the same empty feeling of no gold medal.
Canada will head into Friday's battle shortly after dodging a bullet against a Latvian team that may have been more of an underdog against Canada than the 1980 US Men's Hockey Team was against the Soviet Union. Canada outshot Latvia 57-16 but only managed to beat them 2-1 on a late blast from Shea Weber in the third period. Latvia's goaltender stood on his head for practically the entire game, while their forwards could barely muster any action in Canada's zone.
With all of the talent on this Canadian team, it's the blue line that's been producing for them. Shea Weber and Drew Doughty have combined for seven of Canada's 13 goals in these Olympics. Nothing should be taken away from the play of the two star defensemen, but it's pretty clear that the forwards have been struggling to put together chemistry that Canadians were expecting to see. Whether or not the chemistry will be there on Friday remains to be seen.
On the other end of the spectrum, the United States come in having scored 20 goals while only allowing six. Phil Kessel alone has nearly as many goals as Canada's forwards do with the five he's tallied in just four contests. Kessel's eight points lead all Olympic Skaters. Aside from the offensive barrage that the Americans have been able to put together, their ability to lockdown defensively has probably stood out most.
In the United States' 5-2 victory over the Czech Republic on Wednesday, the grinding forward line of David Backes, Dustin Browne and Ryan Callahan did an unbelievable job of locking down the Czech's top line that included Jaromir Jagr and Thomas Plekanec. The three Americans aren't lacking offensive talent either, as Backes and Browne each scored in the game.
It's this same line combination that will play a crucial role in making sure history doesn't repeat itself on Friday. Canada has four really strong lines of extremely talented forwards, but Backes will likely be on the ice to make sure Crosby leaves Sochi without netting home any goals. To this point, the leading point getter in the NHL has managed just two assists in four Olympic games.
The one thing American fans may have to worry about is Canada unleashing all of their frustrations out on this one game. Even though they are undefeated at 4-0-0 in Sochi, Canada has not played like the gold medal favorites that they were heading into this tournament. I mean, they've got to get it going at some point right? Well, the USA may have something to say about that.
Like Crosby, fan favorite Patrick Kane has yet to register any goals for the Americans. He is tied for the Olympic lead with four assists as he's known for his quick hands and insane ability to read the ice. Kane will need to play a huge role offensively to ensure he doesn't leave Russia without at least getting a chance to play for the gold medal.
Keys for the United States to Knockout Canada and Advance to the Gold Medal Game:
1. Continue to Crash the Net
The majority of the goals scored by the USA have come from gritty work in front of the goaltender. Guys have been fearless went it comes to getting in the shooting lanes and making it difficult for the goalies to see pucks come in from the point. In doing so, the goalies have given up juicy rebounds that US forwards were in position to put home. This will need to continue on Friday.
2. Take Away Shooting Lanes on Defense
On the other side of the ice, practically every player on the USA has been willing to step in front of slap shots and do whatever it takes to ensure fewer pucks find their way past Jonathan Quick. We all know Canada isn't afraid to let them rip, so guys like Ryan Callahan, Ryan Kessler, and Ryan McDonough are going to have to continue to sacrifice their bodies in order to move forward in the tournament.
3. Be Physical and Win the Board Battles
The USA has done a terrific job of getting the puck deep and creating from behind the net. They've been able to create due to their stellar physical play and ability to gain possession of the puck off of boards battles. Canada doesn't lack physical talent by any means, so it's going to be a matter of who wants it more. With how the US has been playing in this tournament and how heartbroken they were leaving Vancouver with a Silver Medal in 2010, I have no doubt that the US will be the more physical team on Friday.
Prediction:
It will be a tough fought battle, but ultimately in the end the USA will dictate the pace of the game and come out on top. The Americans have unbelievable chemistry going and it doesn't seem that anyone will be able to interrupt it.
USA 5, Canada 3.
USA's Goal Scorers: Patrick Kane, Phil Kessel, Cam Fowler, David Backes, and Joe Pavelski
Canada's Goal Scorers: Corey Perry, Jonathan Toews, and Drew Doughty
Matt Schreiber is the Florida Panthers Lead Writer for The Hockey Writers. He grew up just outside of Washington, DC before moving to Boca Raton, FL, where he currently resides. He also covers the NHL for Bleacher Report.