The news none of us wanted to hear is a reality- John Tavares, Islander captain and team Canada star, is out for the rest of the Olympics. Newsday's Athur Staple broke the news on Twitter. He suffered the injury against Latvia in the second period of Canada's 2-1 victory over the European nation. It was not made clear if the Mississauga native would be healthy in time for the NHL season to restart.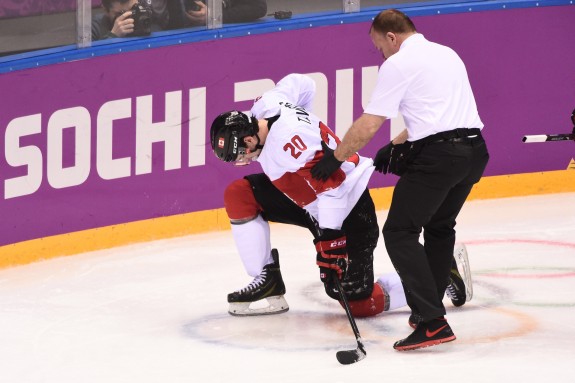 This also follows the news that Ranger forward Mats Zuccarello also would miss time due to injury after suffering a non-displaced fracture in his hand.
John Tavares: The Olympian
John Tavares has appeared in every game for the Canadian national team so far this Olympics. He was also the lone Islander left in the Olympics, since Michael Grabner, Thomas Vanek and the Austrians were eliminated from play in the group stages. John has only logged an average of about 10:30 of ice time in Sochi, after getting bounced around to several different lines.
He also had not scored a point in the Olympics to this point, but was playing well in his many roles as both a winger to Sidney Crosby, a 4th line center, and power play specialist. He'll be missed for his versatility, hard work and nose for the net.
John Tavares: The Islander
If you're reading this, you likely understand the impact John Tavares has on the New York Islanders and the type of season he's having. But, in the off chance you don't, let me tell you- he's third in the league in points scored with 66 in 59 games played (which means he's on pace for about 98 points in total). He captains the team and gets at least 22 minutes of ice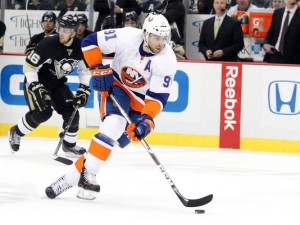 time per game. Tavares' production is the pretty much the sole reason the Islanders aren't where the Sabres are at this point.
Tavares was drafted first overall in 2009 by the Islanders and was named the savior of the franchise by fans. He's become a huge component to the teams moving forward, but the team has yet to take that next step behind him.
Alright, So What Comes Next?
What comes next? I wish I knew, but with the loss of Frans Nielsen to another injury, it appears the Islanders are going to be in dire straits if this injury does in fact carry over to the NHL season. According to TSN's Bob McKenzine, it just might:
Extent of John Tavares' Olympic-ending knee injury won't be known til MRI/re-evaluation on Thursday but sense out of Sochi is it's not good.

— Bob McKenzie (@TSNBobMcKenzie) February 19, 2014
Unless the Islanders make a trade before the season restarts, they would have Brock Nelson, Ryan Strome (who will likely be recalled once he's able to), and Casey Cizikas as their centers. The trade deadline is fast approaching as well and with names like Vanek and MacDonald likely on the move, the team might find some assurance at the forward slot that can play both the wing and center in order to avoid issues like this in the future.
With the season in doubt already, it may be a good time to sit the captain down and see what's in the pipeline for next year. Ryan Strome is obviously going to come back and play, and Brock Nelson will get some extended time at center especially since Frans Nielsen will be down for a few weeks. Guys like Sundstrom, Lee, and others will likely be called upon to lessen the blow and to find out if there's a diamond in the rough down in the Bridge.
Frans Nielsen is slated to return in only a few weeks as well, so it won't be too long that the Islanders will be without the Danish center, but being without your number one or two centers will hurt literally every single part of the team.
Any way you cut it, this is bad and there's no good that comes out of it anywhere. If the injury is in fact an MCL or ACL injury, the best you can do is hope that it doesn't become a long term issue and Tavares is able to bounce back quickly enough to be 100% for next season.
Lifelong Islander fan who spends way too much time playing NHL 15. Student at Hofstra University currently studying broadcast journalism. Generally can be found tweeting about hockey or whatever he's watching on Netflix.