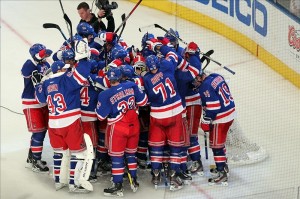 The New York Rangers were among the top in the league, sending seven players to Sochi. For the most part, this can be seen as a point of pride. The teams that have accounted for the most Olympic athletes are among the best in the league, including Chicago, St. Louis and Pittsburgh. Considering the juncture where the Olympics fall within the season, this stretch of four to seven games can be full of telling developments that play out in the final stretch of the season.
International play can help a player get into a good zone on the ice that they carry back for the playoff push. Sending a player to the games also runs the risk of injury to a player while he is not even contributing to the teams pursuit of points. Both scenarios have played out numerous times, the latter potentially dooming the New York Islanders remaining season.
With seven players in Sochi slated to return to Madison Square Garden thursday night for a showdown with the defending champions, There are several takeaways for the Rangers, both positive and negative, from their time in Sochi.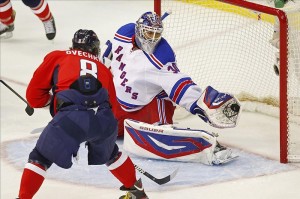 King Henrik is Back in Form
Henrik Lundqvist first made a splash in international play with his breakout performance at the 2004 World Hockey Championships. After stealing the show in the Czech Republic, Lundqvist made his NHL debut after a Kevin Weekes injury and the rest is Vezina Trophy history.
In this years games the king has been on top of his game since the puck first dropped on February 2, leading Sweden to an undefeated semifinals run by performing in the top five in goals against average and save percentage. The numbers look even better when you consider that he has played significantly more hockey then every goalie ahead of him.
Lundqvist's stand out performance only reassures what New York Rangers fans were hoping when he seemed to rediscover his top notch game in the weeks leading into the Olympics. After a slow start to the season, by Lundqvist standards, he had returned to top form as the winter approached. His renaissance has spanned two continents with only five goals allowed in four complete games. It seems safe to say that Henrik got his groove back which is great news for the New York Rangers.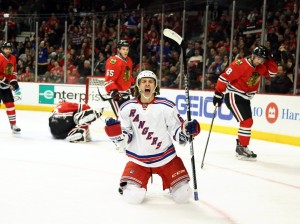 Hagelin has High Upside
Carl Hagelin has served as a spark plug and a highlight reel for the Rangers over the past two seasons. Using his unmatched speed and eye for open ice, he has put together some dazzling goals. His career thus far has been streaky, with points coming in bunches and then quiet games following. This has been the same case for his point production in Sochi. He has been among the teams leaders in shots on goal and stepped up in the absence of key stars Johan Franzen, Henrik Sedin and Henrik Zetterberg.
Hagelin's ability to not only keep up but stand out on a talented despite injuries Sweden team has served as another case for his tremendous upside. He seems to serve great worth as a long term role player who will contribute to the teams success going forward.
His strong play finally paid off in the quarterfinals with two goals in a 5-0 rout of Norway. As has been his calling card in New York he has continued to skate hard and over time that has paid off. It will be interesting to see if he can find a hot spell during the season final most important weeks.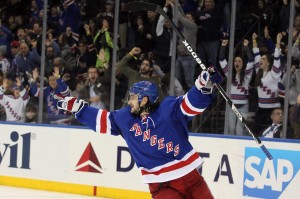 Zuccarello is a Key to Success
It is staggering when you look at the stats sheets for the New York Rangers and find that Mats Zuccarello is leading the Rangers in points. It must be said that a piece of his success has been the great line combination he has thanks to Alain Vigneault. That being said, Zuccarello has far surpassed any reasonable expectation of his ability.
Going into the Olympics, Zuccarello was slated to be the only NHL player on the Norwegian team and he struggled to get any production as the star of the show. It seems he is better suited as the gritty overachiever on Broadway than the lone NHL talent in Sochi.
A disappointing olympic showing is nothing to lose sleep over, especially when it comes from someone playing with less talent than he is used to. The stress started when Zuccarello took a puck to the hand and suffered a non-displaced fracture, triggering Rangers fans everywhere to look at the stats and realize how important this 5-foot-6 Norwegian is to the teams success. If Zuccarello is 100 percent than this won't be a major development but if his game is at all effected it could be a huge hit to the blueshirts.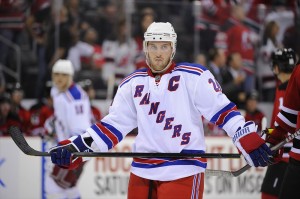 Callahan and McDonagh are Invaluable Pieces
The United States has had a fantastic showing thus far at the Olympics and it has been in no small part to the efforts of two of the Rangers most coveted pieces.
Ryan McDonagh is a household name and an elite defenseman who has gained league wide recognition for his efforts. This season his offensive game has improved greatly and he has become a complete two way player. The Olympics have only showcased his talent as he has played important shifts alongside Ryan Suter on the top unit. It is no major surprise that McDonagh's play in Sochi has only reassured the New York Rangers what they already know, Ryan McDonagh is a stud who is luckily signed through the 2018-19 season.
The Ranger's captain has made his mark for the United States in typical Ryan Callahan fashion. Statistically he has been quiet but the eye test has shown the gritty, hard-nosed play that has been his hallmark. He is going to be one of the biggest stories in the NHL when the games come to a close as the Rangers attempt to resign their captain and trade rumors swirl before the March 5 trade deadline.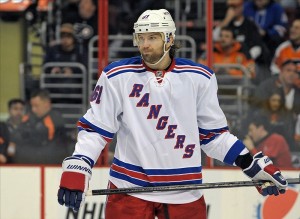 Has Anyone Seen Derek Stepan and Rick Nash?
Both of these goal scorers teams have been successful and that is the good news. The bad news is that their performances thus far at Sochi have been forgettable. As was mentioned earlier, a lackluster performance in the Olympics is rarely cause for concern but when you contextualize it with Stepan and Nash it could be a different story.
Derek Stepan has been having a season marred by his questionable hold out decision. After missing camp he had a slow start to the season and despite a respectable 35 points to date the eye test has shown a sniper who seems an inch off and half stride behind for most of the season. Stepan has sky high upside and that is why he was a surefire pick for the United States team but whether we will see his potential shine this year is up in the air. His Olympic play has probably elicited more skeptics than believers.
Rick Nash has been a roller coaster this season. A prolonged injury was the main story of his early season and that was followed by an out of control stretch where he seemed near unstoppable. That pace slowed a bit before the Olympic break and all together the number point to a wildly streaky season and his time in Sochi has been a slow streak. The New York Rangers can hope that this mean he will be due for a hot streak upon return to the NHL.
Check out our partners at TiqIQ for the best deals on New York Rangers tickets for all 2013-14 games.