Imagine for a minute that your father is an NHL player. Now imagine he's also a Stanley Cup champion — his name is etched on the legendary trophy forever. Oh yeah, and he also scored the game-winning goal (in sudden-death, double overtime) to win that Stanley Cup that a franchise's fan base will never forget. In addition to all of that really cool stuff, your dad is also a great dad and a role model to not only you, but also thousands of other people.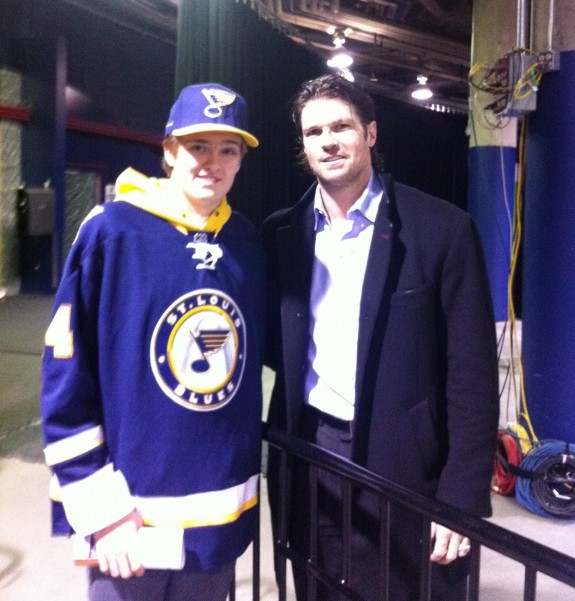 Meet Draven Arnott — 18-year-old son of recently retired NHL player Jason Arnott, a veteran of 1,244 games who won the 2000 Stanley Cup with the New Jersey Devils and proudly played for six different franchises. Through the power of friendship and modern technology we were introduced to Draven a few months back and he was kind enough to do an interview via email with The Hockey Writers.
The Hockey Writers: When is the first time you can remember realizing the enormity of the goal your dad scored to clinch the 2000 Stanley Cup?
Draven Arnott: Well I was really young when it happened so at the time it wasn't as crazy to me as it was to others. Not until I was older a few years down the road did I realize its impact. It was a huge goal and I know my Dad is very proud of that moment and so am I.
Devils fans will NEVER forget this goal that Jason Arnott scored in Dallas:
THW: We've all seen who Jason Arnott the player is, but what kind of dad is he?
DA: Jason has been a great father to my brother, sister, and I. It's hard for him to always be around for all of us and with me living with my Mom in Alberta but he has done a great job in being there for all of us and trying to be as much a part of our lives as any other parent (Jason & Draven's mom were never married). I know that for me I don't see him as an NHL player, I see him as a Dad and that's great to have. He's been my biggest role model and I try to be like him as much as I can because of how great a Dad he is & how great he is as a person with his family and fans.
THW: Your dad played for a few different teams, which NHL team is your favorite and why?
DA: Probably the Nashville Predators, when he went to Nashville is when I started to realize who my Dad was and that he was among the greatest in the world at his profession. I grew attached to the team; the guys that I met who played for the team were always very nice to me and I looked up to a lot of them. It was a cool place and to this day I'm still a fan of the Preds.
THW: Who's your favorite player and why?
DA: Other than my Dad I'd have to say Pekka Rinne from the Predators. I became a goalie around the time he started playing for Nashville and I love watching him play. Seeing him move his way from Milwaukee (in the AHL) up to the starting position in Nashville was inspiring for me to work hard. On top of his play, he is one of the nicest people I've had the privilege to meet and he never made me feel like a fan when we talked, he always made me feel like a buddy. That was great for me and it's always awesome to see guys like that who don't grow a huge ego from their (star) status.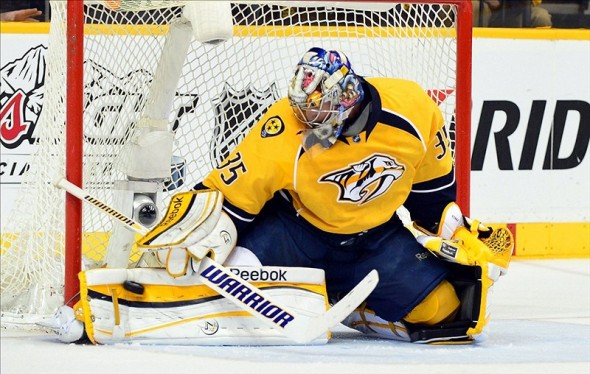 THW: Did you live in any of the cities your dad played in? If so which did you like best?
DA: I've lived just outside of Edmonton my entire life and it's been all right (haha). It's not a place I would like to stay in the future; although it has been my home for so long it would be great to get away especially from the terrible weather. Of the places I've visited my Dad I'd have to say Washington D.C. was my favorite. Seeing places like the White House, The Lincoln Memorial, and the Pentagon to name a few was surreal to me and very cool. It was also a great atmosphere around and inside of the Verizon Center and even the Kettler Iceplex (where the Washington Capitals practice).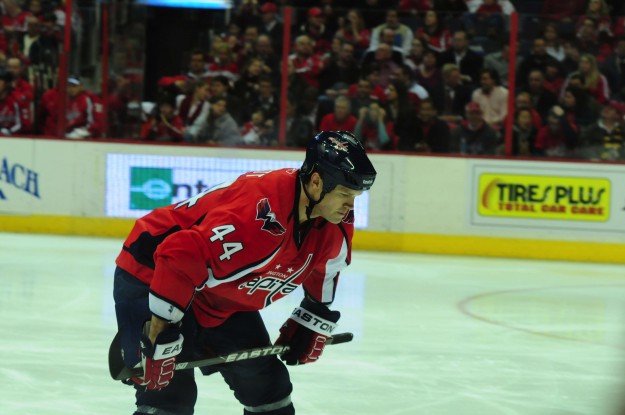 THW: I know you're going to school, what are you majoring in & was playing hockey as a career ever a thought for you?
DA: Right now I'm upgrading to get into Radio & Television at NAIT in Edmonton. Since I was little my dream has always been to play in the NHL; I slowly started to realize that it was a goal that wasn't as realistic as I had imagined and just continued to play for fun & the love of the game. I figured I'd give a shot at broadcasting to still have a chance to be a part of professional sports, just from a different viewpoint.
THW: How often do people ask you about your dad & what's the coolest thing about being his son?
DA: I try not to tell a lot of people, but especially from high school things get out and spread around so people find out & there's always some people who don't believe you. People ask some questions, but never anything really personal, which is nice. They just think it's cool — but a lot of people can be mean and disrespectful about it; that's funny to me because it doesn't bother me. The coolest thing about having Jason as a Dad is that he's such a great guy off the ice and knowing that he's such a role model to not only me, but also tons of others.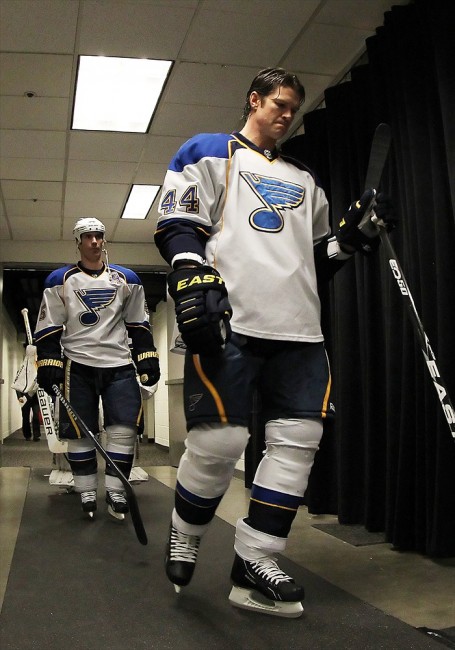 THW: What are some of your interests besides hockey?
DA: Not a whole lot right now; I just started watching the television show Shameless with William H. Macy and that's keeping me entertained, haha. I also like taking my basset hound Shiloh to the dog park and playing with him. Just hanging out with family and my girlfriend is great and takes up a lot of time; it keeps me busy alongside school and work. And I've always got time to squeak in a game of NHL14 or Call of Duty on Playstation.
I'd like to thank my good friend Michelle Drinnenberg for introducing me to Draven.
They are both great people & hockey fans; you can follow both of them on Twitter: @m_drinnenberg & @Draven_Arnott
Dan Rice can be reached via Twitter: @DRdiabloTHW or via Email: drdiablo321@yahoo.com
Dan Rice is in his 9th year of reporting for THW & has covered NJ Devils home games for 15+ years at various websites. He began his journey working for legendary broadcaster/writer Stan Fischler from 2002-04 & completed an internship at the ECHL; he also has been writing features for the NWHL (nwhl.zone) website since 2016.