The 2014 Winter Olympics in Sochi, Russia will wrap up on Sunday.
NHL teams will promptly get back to work next week with practice, and games return in full force next Thursday (although the first post-Olympic game is Tuesday between Carolina and Buffalo).
Along with the resumption of games, the NHL's annual trade deadline is Wednesday March 5, at 3pm eastern time. Which means that the next month and a half will certainly be a busy one. Think of it as the sprint to the finish for many teams.
The Pittsburgh Penguins however may not be sprinting. With 25 games left on this season's docket, the Pens find themselves sitting pretty atop the Metropolitan Division with a comfortable 16-point cushion on the second-place New York Rangers. What's more, they're also tops in the Eastern Conference, leading the Boston Bruins by six points.
To what, you ask, does this translate? The answer is simple. The Penguins; barring a catastrophic collapse (one even more epic than that of the 2011 and 2012 Pirates, the Pens Pittsburgh baseball brethren), are in the Stanley Cup Playoffs. These games are important for seeding purposes only. Not their playoff lives.
Don't misunderstand me, these final 25 games are not to be overlooked. The Penguins have a few very pressing issues heading forward out of the Olympic break; and these issues need addressed if the flightless fowl are to be competing in late May and early June for Lord Stanley's silver chalice.
The Kris Letang Matter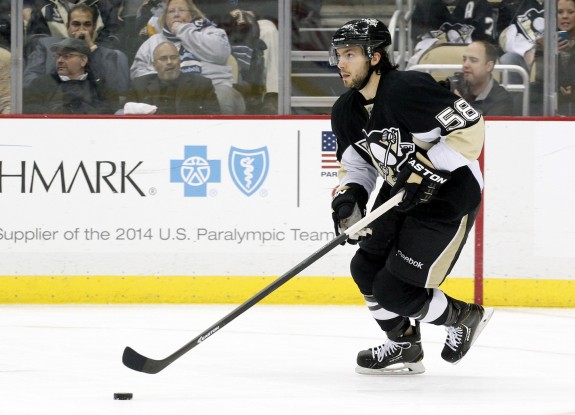 First off, allow me to say that my thoughts and prayers are with Kris Letang and his family. What he is dealing with is much more important than hockey. He is a father and a husband-to-be in the coming months. Taking care of himself is obviously priority number one.
Word broke late yesterday that the Pens don't expect Letang to be back this season, having not ruled out potential surgery to repair the hole in the lining of his heart.
I'm not a doctor, nor do I play one on TV or the internet, so I cannot speak intelligently on the recovery period for such a surgery. Suffice it to say that the best the Penguins' can offer up in terms of Letang's status is he out indefintely.
So now, the prospect of entering the playoffs without your most talented defenseman is very real, and in all likelihood a fact. This opens the door for Brian Dumoulin, a piece of the Jordan Staal trade to Carolina that Ray Shero was adamant about having included.
At present, the Penguins still have seven defensemen on the roster – including Deryk Engelland – who has been splitting time playing right wing on the fourth line. Although it would seem likely that the Pens would recall Simon Despres – due to his experience in the playoffs – that's just not a move that seems imminent. My money is on Despres being dealt by the deadline, probably to Edmonton in exchange for a draft pick at the very least.
Recalling Dumoulin now allows head coach Dan Bylsma to perhaps pair him with Letang's old running mate, Rob Scuderi. And I can think of no one better to mentor the young Boston College product than arguably the NHL's best purely defensive d-man.
And Dumoulin played admirably in his brief time spent up in the NHL earlier this season. By all accounts, he is the top dog in terms of defensive prospects for this team. I keep hearing about how untouchable Olli Maatta is, but I suspect that Dumoulin is not that far behind. He's a Ryan Suter type, big, can skate very well, and has plus offensive ability. He won't light the lamp to the degree that Letang does, but he's defensively better than Letang, and that's what you want in the playoffs.
Finding that Ever-Elusive Winger for Crosby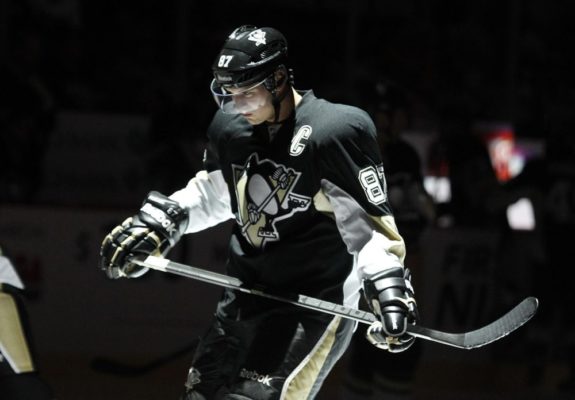 It's no secret that over the years the Penguins have searched high and low for the scoring winger who can not only play – but produce – alongside captain Sidney Crosby.
And with Pascal Dupuis now sidelined until training camp of NEXT season at best due to knee surgery, that need is ever more apparent.
Dupuis did an admirable job playing alongside arguably the best in the world, and that can be attributed to the way he thinks the game; a lot like Crosby.
But now, with perhaps the Penguins' best trade chip in Letang gone, finding that player who can produce at the rate of – if not better than – Dupuis will become a more daunting task.
Many names had been thrown around in the month or so leading up to the NHL's Olympic roster freeze on February 7th. Blake Wheeler and Evander Kane of the Winnipeg Jets, Thomas Vanek of the New York Islanders, and Matt Moulson of the Buffalo Sabres to name a few.
But the asking prices for any one of those players was through the roof. In order for Pens' GM Ray Shero to pry Wheeler or Kane out of Winnipeg, nothing less than Letang would've done. Giving up what the Sabres and Islanders are asking for for Moulson or Vanek respectively simply isn't (in my opinion) a good hockey move.
Sure the Penguins could enter their fifth Stanley Cup Playoffs since winning the Cup in '09 with Brian Gibbons on Crosby's right wing. But does anyone, including Bylsma and Shero, really feel comfortable with that? I doubt it.
Shero will most likely have to make some very unpopular decisions in the next few weeks to plug this hole going forward. And make no mistake, the hole needs plugged.
The best part of acquiring Kane or Wheeler would have been that they both came with team control. In other words, they aren't rental players for this season. Shero has made it abundantly clear that he much prefers players who are under team control, opposed to those who are dubbed "rentals."
The Situation Behind M.A.F.
There are those out there who firmly believe that Marc-Andre Fleury has been over-played this season by Dan Bylsma.
If that's true, it doesn't bode well for the Penguins come the middle of April.
Jeff Zatkoff, in taking over for Tomas Vokoun when Vokoun was diagnosed with a blood clot, has played well since his first two career NHL starts. But again, I bring up the comfort level.
But Zatkoff has never even sniffed the Stanley Cup Playoffs. And we are well aware of Fleury's less than stellar play in the postseason for the past 2 years.
Vokoun has started skating in recent weeks, but there is still no timetable for a return. And even if he does return, what can realistically be expected out of him.
There is a name out there on the trade market, and I'm not saying that this is even a possibility; especially now considering Letang's condition, but by all accounts Ryan Miller is available. And if there were ever a rental player that Shero SHOULD at the very least inquire about; despite what he has said about not wanting a rental, it's Miller.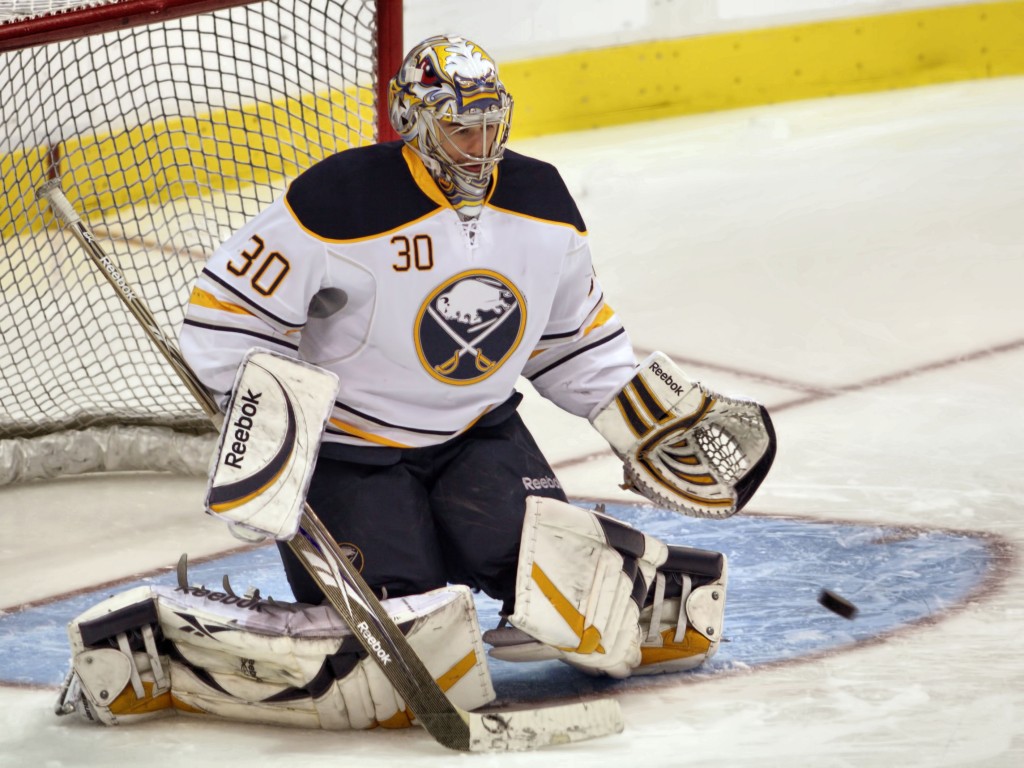 The bottom line here is that the Pittsburgh Penguins continue to be a very good regular season team. I fully expect them to (knock on wood) win the Metro Division and at worst finish 2nd in the conference behind Boston.
Truth be told, I actually think they could win the East with the team they have right now and play for the Stanley Cup in June. Winning the Cup against Anaheim, Chicago, or St. Louis would be an entirely different hill up which to climb.
A mountain, actually. A mountain of which they'll never sniff the top against the West. Not without focusing on and solidifying these three areas.
Feel free to comment here, or my inbox at:
TDTorraoTHW@Gmail.com
And of course I can always be reached on Twitter
On a Personal Note, if I May
I have not posted anything over the past few weeks; not due to my best friend's passing, but rather in dealing with my grief over it.
Her name was Khobi, and she was my Chocolate Labrador. I can truly say that this is by far the hardest thing I've ever had to deal with in my life. We always had dogs when I was a kid growing up, but they were family dogs.
Khobi was my dog. And her loss stings so very much. For those of you who have dogs now, or have had them in the past, you can relate. If you have never known the love of a dog, trust me it is the very definition of true and unconditional love. I urge any of you who have the ability (time, space, etc. Just like hockey) to please adopt a dog. There are so many who need good homes, and hockey people are some of the best people I know.
With that in mind, I'd like to dedicate this article to my dearest friend, the one who was always there for me when I needed a hug. Or just a smile to let me know that I was loved, and someone was happy to see me:
For Khobi.