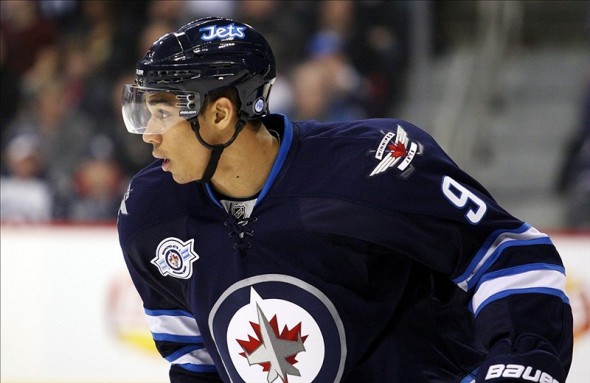 I was starting to develop an unhealthy reliance on the pixelated version of Evander Kane. The Winnipeg Jets left-winger has been, to me, one of the last barriers to full blown insanity brought on by hockey starvation.
Kane, who is the cornerstone of my franchise in EA Sports' NHL '13, has slowly become more valuable to me than doing laundry, buying groceries and even getting to work on time (unless my boss is reading).
I'm sure I haven't been alone in relying on NHL '13 to get my hockey fix at a time when real-life NHL teams should be battling through the first few weeks of the season. This version of the game is an anomaly in a franchise that's made it's name by (basically) replicating the same gameplay and features with every release. Skating and shooting are now more authentic while goaltenders now position themselves at realistic angles when a sniper is bearing down the wing.
The improvements couldn't have come at a more important time. Lately, sadly, instead of watching the real-life Kane score top shelf or walk out on Winnipeg restaurant bills, I've been reduced to pretending to be him in a video game. Using Kane as a battering ram against the video game New Jersey Devils in the conference finals (a series in which my team was seriously jobbed by the officiating) has replaced my desire to shave. Even if this has all just been a desperate attempt to stave off watching the KHL, it's hard not to be a little bit ashamed.
I'm surprised at how badly I've missed actual hockey. Instead of coming home and opening a cold beer just in time to see the puck drop, I wander aimlessly through my neighborhood scowling at small children while rarely wearing pants that don't have a waistband.
Until now.
The news Tuesday afternoon that the NHL owners had submitted a proposal that the NHLPA didn't reject outright could a strong enough ray of hope that my lockout beard can at least be trimmed up. I'm not sure how the 50/50 affects the real Evander Kane and won't pretend to but I do know that the one on my Playstation could be seeing some extended time on the bench. Even if the NHLPA doesn't accept the capped long term deals or the age to be eligible for unrestricted free agency being pushed back, we have hope.
Like the rest of the hockey world, I'll be refreshing Twitter, hoping I can trade in a controller for a couple tickets.