The Chicago Blackhawks and Minnesota Wild are in a dead heat at the top of the Central Division standings. Both teams are playing every game with everything they've got to try and maintain their position in the continued race to the top. For both teams, the goal of each game is to earn points and create separation within the division. This is the case for most teams in the NHL, but with the Wild holding four games-in-hand on the Blackhawks, it's even more concerning for Chicago. Tied at 59 points in the standings, both teams have made legitimate claims to the top. As a result, both teams will play their hardest to make sure they don't slip up in what could be the most important series within the Central Division this season.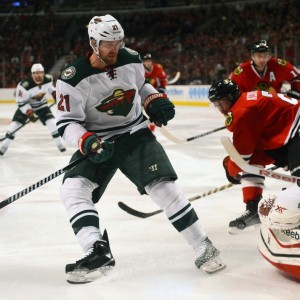 As it stands, the Blackhawks have been winning very close games. It's rare that a game is ever out of reach for an opponent, and as a result, stellar goaltending play has been crucial to the success of the team. This will remain true when the Blackhawks and Wild face off as both Corey Crawford and Devan Dubnyk look to do battle and lead their teams to a win. Crawford has been amazing this season. Minus the hiccup that occurred Friday when he allowed five goals on 30 shots to the Washington Capitals, he's been as reliable as ever.
The Wild, however, have seen one of the best performances from a goalie in recent memories with Dubnyk shining this year. It's hard to when games when the opposing team has a goaltender allowing less than two goals per game, but that's exactly what the situation will be Sunday night with Dubnyk sporting a 1.77 goals against average
The Blackhawks have the firepower to beat Dubnyk – and the Wild have the firepower to beat Crawford. Both goalies will need to be on their game in the matchup, though that hasn't been an issue at this point in the season for either netminder.
---
Minnesota Wild at Chicago Blackhawks
United Center – 6:00 p.m. CT on Sunday, Jan. 15
Broadcast channels – NBCSN
2016-17 Season Series: 
First Matchup of the Season
Minnesota Wild – 27-9-5 – 59 points
Away Record: 13-5-5
Hot Players: Devan Dubnyk, Eric Staal
Key Injuries: Zac Dalpe
Projected lines:
Forwards:
Zach Parise-Eric Staal-Charlie Coyle
Jason Zucker-Mikko Koivu-Mikael Granlund
Nino Niederreiter-Erik Haula-Jason Pominville
Chris Stewart-Tyler Graovac-Jodan Schroeder
Defense:
Ryan Suter-Jared Spurgeon
Jonas Brodin-Christian Folin
Marco Scandella-Mathew Dumba
Starting Goaltender:
Devan Dubnyk
[irp]
Chicago Blackhawks – 27-13-5 – 59 Points
Home Record: 17-4-4
Hot Players: Artemi Panarin, Duncan Keith, Patrick Kane, Ryan Hartman
Key Injuries: Marcus Kruger
Projected lines:
Forwards:
Artemi Panarin-Artem Anisimov-Patrick Kane
Vinnie Hinostroza-Jonathan Toews-Marian Hossa
Ryan Hartman-Tanner Kero -Richard Panik
Andrew Desjardins-Nick Schmaltz-Dennis Rasmussen
Defense:
Duncan Keith-Trevor van Riemsdyk
Michal Kempny-Brent Seabrook
Brian Campbell-Niklas Hjalmarsson
Starting Goaltender:
Corey Crawford
---
Game Notes
[miptheme_dropcap style="normal" color="#222222″ background=""]1)[/miptheme_dropcap]Since returning from injury, Corey Crawford has continued to show that he is one of the best goalies in the world. He's a big part of Chicago's success, and though the team did well with Scott Darling in the lineup, there's no denying Crawford's influence on the team when he mans the crease. No player is perfect, and though Crawford allowed five goals against the Capitals on Friday, he looks primed for a strong rebound game.
[miptheme_dropcap style="normal" color="#222222″ background=""]2)[/miptheme_dropcap]Devan Dubnyk has been one of the best goalies in the NHL over the last three seasons. In 32 games this year, he's posted a 22-7-3 record with an astounding 1.77 goals against average and a .940 save percentage. He's been the backbone for Minnesota since arriving and always gives the Wild a chance to win.
[miptheme_dropcap style="normal" color="#222222″ background=""]3)[/miptheme_dropcap]The Blackhawks have won four straight games at home and will look to continue that hot streak when they welcome the Wild to the United Center on Sunday. After a stretch against some of the bottom teams in the standings, the Blackhawks are playing in back-to-back games against top-five NHL teams in the Washington Capitals and now the Minnesota Wild. While their first game – on the road, against the Capitals didn't go quite as planned, they have a chance to bounce back with a win against the Wild.
[miptheme_dropcap style="normal" color="#222222″ background=""]4)[/miptheme_dropcap]Ryan Hartman has stepped up for the Blackhawks as of late and has shown no signs of slowing down. With a tendency to hover around the net and go to the dirty areas of the ice, he figures to continue being an impact player.
[miptheme_dropcap style="normal" color="#222222″ background=""]5)[/miptheme_dropcap]The Minnesota Wild have been just as good on the road this season as they've been at home. While playing in their home arena, the Wild sport a 14-4 record. On the road, they've gone 13-5-5. Though they've ultimately lost 10 games to 3 wins, they've earned points in 18 of 23 games played on the road. In general, those are successful totals. In the end, Sunday's game against Chicago should be a close one.
[miptheme_dropcap style="normal" color="#222222″ background=""]6)[/miptheme_dropcap]The Blackhawks recalled forward Nick Schmaltz as a precaution for Artem Anisimov not being able to play. He's currently projected to play on the fourth line with Anisimov looking ready to go for the game, bumping Jordin Tootoo out of the lineup for at least tonight. Schmaltz has scored one goal and four points in 26 games in the NHL this season. In the AHL with Rockford, he's scored six goals and nine points in 12 games.
---
With the Blackhawks and Wild tied in the standings, and with Minnesota holding games in hand, this game will be one of the most meaningful for Chicago in quite a while. The Blackhawks did play in a divisional matchup against the Nashville Predator last week, but the game didn't hold such a strong impact on the standings as this one will. The Wild have been one of the NHL's best teams this season. With a strong effort, they will look to create separation from the Blackhawks for first place in the division. They have a chance to make a statement with a win tonight to show that they are exactly the team that the standings show them to be. With a strong goaltender matchup set to take place between Crawford and Dubnyk, the game could go either way.