The Vancouver Canucks play a game on Saturday night. However, trade chatter and a recent mumps outbreak is overshadowing that storyline.
The Canucks announced Friday that Troy Stecher has been diagnosed with mumps. Chris Tanev, Nikita Tryamkin, Michael Chaput, and Markus Granlund have also gone in for blood work after showing symptoms.
Mumps was a major storyline in 2014, when 14 different players, including Sidney Crosby, were diagnosed with the symptoms. The Minnesota Wild were hit the hardest during the outbreak when five of their players came down with mumps, including former Canuck Keith Ballard.
This puts the Canucks in a precarious position facing the Sharks on Saturday night. They already have a vastly inferior roster compared to San Jose, and this outbreak could turn this into a David vs. Goliath-type matchup. If all five players do miss Saturday night's matchup, it would wipe out the Canucks' entire right side on defence.
Only in Vancouver would a trade deadline where the Canucks need to sell, would the team break out in mumps. Hockey Gods are sick and twisted

— Wyatt Arndt (@TheStanchion) February 24, 2017
The Canucks have recalled Alexandre Grenier, Joe LaBate, Jordan Subban and Evan McEneny to fill up their roster. Only Stecher is guaranteed to miss Saturday night's game at the moment.
Although this is a huge blow, it really doesn't affect the Canucks in the bigger picture. With the Calgary Flames' recent surge, the Canucks now sit eight points out of a playoff spot. This all but ends the unrealistic playoff dream that management has preached since day one of the regular season.
https://twitter.com/Dignooi/status/834974234430451712
Every night, Willie Desjardins gets this team ready to compete. The Canucks always battle, but the glaring lack of talent up front, along with a novice blue line, has pushed this group out of the playoff picture. With the playoffs out of reach, the trade deadline is now on everyone's mind, including the players.
This time of year is tough for players like Alex Burrows, Ryan Miller and Jannik Hansen, who will constantly be asked about the trade deadline leading up to March 1. Miller and Hansen have reportedly both given their list of teams that they will accept a trade to. Saturday night's game will be their second-last audition before the gauntlet falls on trade talks.
Hansen has submitted his list & Benning is taking offers.

Where will he end up & what can #Canucks get back: https://t.co/NLxwUo6rEO #THW pic.twitter.com/T1StUzv9Kg

— Trevor Connors (@tconnors83) February 23, 2017
About that other team, the San José Sharks: They smoked the Canucks 4-1 when they were in town earlier this month. The Canucks looked completely outmatched in that contest, where Patrick Marleau scored his 500th career goal. It was a reminder of how far the Canucks have to go before they can become an elite team again.
The Sharks have gone through a weird stretch where they have lost four games in a row, but three of those losses have come after 60 minutes. In total, they are 4-1-5 in their last 10 games. Thankfully for the Sharks, the Anaheim Ducks and Edmonton Oilers have failed to capitalize on the Sharks' losing streak. The Sharks still hold a three-point lead in the Pacific Division with games in hand, and they will look to build on that lead Saturday night against the woeful Canucks.
San José Sharks at Vancouver Canucks
Saturday, Feb. 25, Rogers Arena, 7:00 p.m. PST
Broadcast Channels: CBC, SN1, CSN-CA
2016-17 Season Series: Feb. 2: Sharks 4 – Canucks 1
San José Sharks: 35-18-7, 77 Points, 3rd in Western Conference
Hot Players: Brent Burns (13 points last 10 GP), Joe Pavelski (10 points last 10 GP)
Key Injuries: Joonas Donskoi, Dylan DeMelo
Projected Lines
Forwards
Kevin Labanc – Joe Thornton – Joe Pavelski
Patrick Marleau – Logan Couture – Mikkel Boedker
Nikolay Goldobin – Tomas Hertl – Joel Ward
Micheal Haley – Chris Tierney – Melker Karlsson
Defence
Paul Martin – Brent Burns
Marc-Edouard Vlasic – Justin Braun
Brendan Dillon – David Schlemko
Starting Goaltender
Martin Jones
Vancouver Canucks: 26-28-6, 58 Points, 11th in Western Conference
Hot Players: Bo Horvat (8 points last 8 GP)
Key Injuries: Sven Baertschi, Anton Rodin, Erik Gudbranson, Derek Dorsett MUMPS: Troy Stecher (confirmed), Chris Tanev, Nikita Tryamkin, Markus Granlund, Michael Chaput
Projected Lines
Forwards
Daniel Sedin – Henrik Sedin – Jannik Hansen
Alex Burrows – Bo Horvat – Jayson Megna
Loui Eriksson – Brandon Sutter – Jack Skille
 Reid Boucher – Brendan Gaunce – Alexandre Grenier
Defence
Alex Edler – Luca Sbisa
Ben Hutton – Alex Biega
Philip Larsen – Evan McEneny
Starting Goaltender
Ryan Miller
Game Notes
[miptheme_dropcap style="normal" color="#222222″ background=""]1)[/miptheme_dropcap] It's been well documented that most teams have struggled after their mandated five-day bye week this season. Teams coming off of the bye week have a horrific 4-12-4 record. Both the Canucks and Sharks are coming off of their break, so one team will buck the trend by the end of this matchup.
[miptheme_dropcap style="normal" color="#222222″ background=""]2)[/miptheme_dropcap] Could Ryan Miller be auditioning for his new team on Saturday night? It seems unlikely, although it was reported that Miller listed all three California teams on his list of five teams that he would accept a trade to. In limited action, Aaron Dell has been a solid backup for the Sharks. In 10 starts, he has a sparkling .934 save percentage. It seems highly unlikely that the Sharks set aside cap space to bring in Miller as a backup. Anaheim and Los Angeles make more sense as possible destinations for the 36-year-old veteran.
[miptheme_dropcap style="normal" color="#222222″ background=""]3)[/miptheme_dropcap] According to Cap Friendly, the Sharks are predicted to have a shade over $3.9 million in cap space leading up to the deadline. They have room to add some depth if they choose. At last year's deadline, they added James Reimer, Roman Polak, and Nick Spaling. Could the Sharks make an even bigger splash by adding Hansen to their roster? Most contenders would covet Hansen, but it remains unknown which eight teams are on Hansen's trade list.
[miptheme_dropcap style="normal" color="#222222″ background=""]4)[/miptheme_dropcap] It's been beaten to death in Vancouver media, but the Canucks need to add draft picks at the deadline. Drafting is the supposed strength of GM Jim Benning, especially in the middle rounds of the draft. Mid-round picks such as Nikita Tryamkin and Adam Gaudette look like steals at the moment.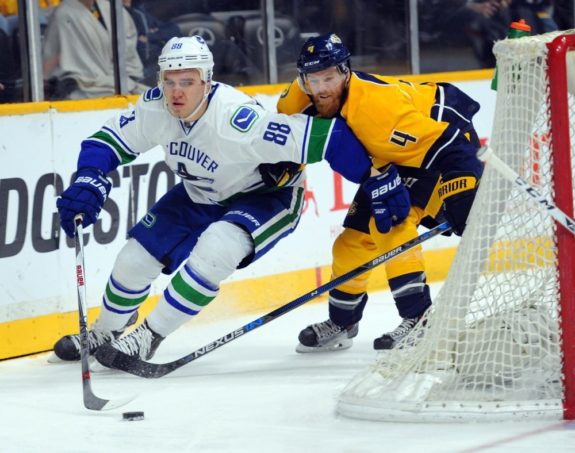 Benning has set the bar for this trade deadline pretty low after his complete lack of inactivity at last year's deadline. As long as he doesn't sit on his hands once again, the trade deadline should be considered moderately successful for the Canucks. Benning will have plenty of options since there are very few untouchables on this roster. The only untouchables I see at the moment are Bo Horvat, Sven Baertschi, Troy Stecher, and Tryamkin. Throw the Sedins in there if you may, solely because any deal involving them remains utterly complex.
Most Road Points This Season:#Oilers McDavid – 39#SJSharks Burns – 38#NHLJets Scheifele – 35#Bruins Marchand – 34

— Sportsnet Stats (@SNstats) February 23, 2017
[miptheme_dropcap style="normal" color="#222222″ background=""]5)[/miptheme_dropcap] Brent Burns will try to continue his MVP-like season against the Canucks tonight. As he is in most games, he was one of the most noticeable players on the ice against Vancouver on Feb. 2. He was my first star in the matchup, and his tantalizing ability to make plays happen doesn't go unnoticed. Burns made a beautiful pass to Joe Pavelski, which lead to Patrick Marleau's 500th career goal. He then scored a goal later in the matchup. Unfortunately for Burns, he will probably need to beat McDavid in the scoring race to win the Hart Trophy, but it will be a tight race to watch down the stretch.