The Toronto Maple Leafs and Montreal Canadiens square off Saturday in a very meaningful February tilt. Despite the storied rivalry between these two clubs, there's been a distinct lack of playoff implications in recent years. For the Maple Leafs, who have made the playoffs just once since the 2004-05 lockout season, this is their chance to finally make a push for postseason contention. The Canadiens, on the other hand, have qualified for the playoffs eight times since the lockout, but have failed to advance past the Conference Finals in each attempt. With just four points separating these two clubs, Hockey Night in Canada is sure to be a must-watch game.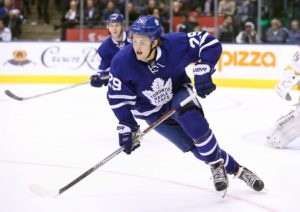 Heading into the game, the Canadiens hold a 3-0 season series lead on the Maple Leafs. Looking even further, the Canadiens have beat Maple Leafs in each of their last 13 contests. All bets are off, however, with the Canadiens faltering as of late. Additionally, the Canadiens are playing the Maple Leafs for the first time this season under new head coach Claude Julien, which should add to the spectacle Saturday night. This is the last time these two clubs will meet in the regular season. Both have a legitimate shot of making the postseason this year, which could make this game a preview of what's to come.
For both teams, this game will prove as a primer heading into the trade deadline on March 1. While the Maple Leafs look primed to stay the course for the future without making any blockbuster deals to their team, this game could provide some perspective on how certain players react when the stakes are at its highest. The Canadiens made moves in the offseason to make a run for the Stanley Cup this season, including the acquisitions of Shea Weber and Alexander Radulov. If they want to make a deep cup run, they may need to add another piece or two – their performance against the Maple Leafs could prove to be the difference in their decision-making at the deadline.
---
Montreal Canadiens at Toronto Maple Leafs
Air Canada Centre – 7:00 p.m. EST on Saturday, Feb. 25
Broadcast channels – CBC, City, TVAS
2016-17 Season Series: 
Oct. 29 – Maple Leafs 1 – Canadiens 2
Nov. 19 – Maple Leafs 1 – Canadiens 2
Jan. 7 – Canadiens 5 – Maple Leafs 3
Montreal Canadiens – 32-21-8 – 72 points
Away Record: 14-12-4
Hot Players: Carey Price, Max Pacioretty, Andrew Shaw
Key Injuries: 
Projected lines:
Forwards:
Max Pacioretty-Phillip Danault-Alexander Radulov
Artturi Lehkonen-Alex Galchenyuk-Brendan Gallagher
Paul Byron-Tomas Plekanec-Andrew Shaw
Sven Andrighetto-David Desharnais-Torrey Mitchell
Defense:
Alexei Emelin-Shea Weber
Andrei Markov-Jeff Petry
Nathan Beaulieu-Nikita Nesterov
Starting Goaltender:
Carey Price
[irp]
Toronto Maple Leafs – 28-20-12 –68 Points
Home Record: 15-10-5
Hot Players: Auston Matthews, William Nylander, Nazem Kadri
Key Injuries: Mitch Marner, Tyler Bozak, Joffrey Lupul
Projected lines:
Forwards:
Leo Komarov-Nazem Kadri-Josh Leivo
Zach Hyman-Auston Matthews-William Nylander
James van Riemsdyk-Ben Smith-Connor Brown
Matt Martin-Frederik Gauthier-Nikita Soshnikov
Defense:
Morgan Rielly-Nikita Zaitsev
Jake Gardiner-Alexey Marchenko
Matt Hunwick-Roman Polak
Starting Goaltender:
Frederik Andersen
---
Game Notes
[miptheme_dropcap style="normal" color="#222222″ background=""]1)[/miptheme_dropcap]The Canadiens hold a 3-0 season series lead on the Maple Leafs. Despite the Maple leafs scoring 16 goals in their last four home games, they've scored more than two goals just three times in their last 10 games against the Habs.
[miptheme_dropcap style="normal" color="#222222″ background=""]2)[/miptheme_dropcap]The Maple Leafs will be without forwards Tyler Bozak and Mitch Marner, despite head coach Mike Babcock claiming that Marner looked like the best player in practice and stating that he wasn't sure why the young star wasn't in the lineup.
[miptheme_dropcap style="normal" color="#222222″ background=""]3)[/miptheme_dropcap]The Canadiens are shuffling their lines with Arturri Lehkonen slotting into the top-six in place of Paul Byron, who is set to skate on the team's third line alongside Tomas Plekanec and Andrew Shaw. Additionally, David Desharnais and Sven Andrighetto are penciled in on the team's fourth line
[miptheme_dropcap style="normal" color="#222222″ background=""]4)[/miptheme_dropcap]The Maple Leafs are looking to catch the Canadiens in the standings, but are also looking to fend off the Boston Bruins and Florida Panthers who are biting at their heels in the standings with 68 and 66 points respectively. Games in hand are almost all sorted out at this point, and the Leafs will need to finish out the year strong to maintain a playoff position.
---
Regardless of the Maple Leafs 13-game losing streak to the Montreal Canadiens, the team is focused on the present and the future. While the young players in the lineup have been involved in three of the losses to the Canadiens this season, they'll get a chance to break the mold and find a way to win against the first-place Canadiens. For Montreal, the Maple Leafs are not to be taken lightly. Winning 13 consecutive games against a team is never easy, especially when that team is a division rival. The Maple Leafs have shocked a lot of teams this season with their overwhelming, fast-paced play. Despite missing Mitch Marner and Tyler Bozak, the Leafs are still a team Montreal will need to watch out for as they look to remain on top of the Atlantic Division.