With the Edmonton Oilers firmly entrenched in a playoff position and the NHL Trade Deadline less than a week away, the club will find itself in a bit of an awkward spot over the coming days.  On a roster which already includes the league's leading scorer and a goaltender who has given them a shot at taking home two points on a nightly basis, many are hoping Peter Chiarelli will be a busy man leading into Wednesday afternoon.
Despite having the general manager already come out and state he's not looking to make a splash at this year's deadline, a good chunk of Oilers nation is banking on it being nothing more than a smokescreen. No matter how we look at it, as of this moment, Edmonton has three options at their disposal and chances are Chiarelli is still not 100% sold on what direction he will go.
#1 – Look for Major Upgrade
The most obvious high-profile name on the trade block that would fit in nicely with the Oilers is St. Louis Blues defenceman Kevin Shattenkirk. Long rumoured to be a favourite of the GM and a guy the club already looked into acquiring during the 2015-16 campaign, his pending unrestricted free agency remains a major hurdle. Giving up anything of significance for a rental is a risky proposition for any team but for one like this, it is even greater.
Not that it's hard 2 figure out, but Shattenkirk turning down big $$$ from @TBLightning tells me he has a destination in mind (@NYRangers)

— E.J. Hradek (@EJHradek_NHL) February 24, 2017
Yes, this club has taken major steps forward over the course of the season and looks to be on the verge of entering the top-tier of clubs in the league. With that said, Edmonton still has obvious holes on their roster that need addressing over the long-haul and the chances of those needs being filled at the deadline are almost non-existent. Considering the Oilers are already without their second-round pick, payment for signing Chiarelli when they did, would surrendering a first rounder and something else for a few months of hockey make any sense?
If they were to make it to the Stanley Cup Final or even the Western Conference final, one could argue it would be but there is no guarantee such a move does that. In fact, one could argue with a smaller move or two and a couple of players rebounding from difficult regular seasons, (aka Jordan Eberle, Milan Lucic, Ryan Nugent-Hopkins and Benoit Pouliot), the desired effect could still be accomplished.
#2 – Tweaking
As much as adding a puck-moving/power play quarterback to the backend would help this group, at least for the moment, it is not their greatest need. The lack of secondary scoring on this team is the issue at hand but that's not exactly an easy fix either.  However, adding a third line centre who can hold his own in all zones and win a bunch of face-offs, could go a long way in possibly helping in that area.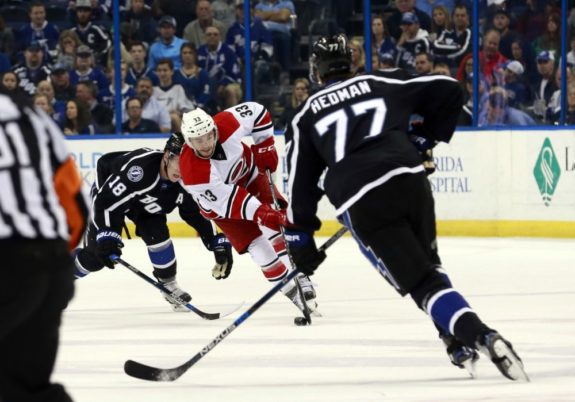 Yes, the quartet of Eberle, Lucic, Nugent-Hopkins and Pouliot has been a disappointment this year. However, loading up a top six that would consist of Leon Draisaitl, Patrick Maroon, Connor McDavid and three of the aforementioned group or Jesse Puljujarvi or Anton Slepyshev could be a short-term fix.
Is it ideal? Probably not but neither is giving up a first rounder or some other piece they don't want to part with for the likes of Martin Hanzal, Patrick Sharp, Thomas Vanek or Radim Vrbata.
Hence why we are starting to hear names like Derek Ryan of the Carolina Hurricanes, John Mitchell of the Colorado Avalanche, Torrey Mitchell of the Montreal Canadiens and Brandon Pirri of the New York Ranger starting to leak out as possible targets.
Ryan would appear to make the most sense as a right-handed centre but who knows. In a perfect world, Edmonton would love to take a run at Brian Boyle but the lack of a second-round pick makes the Tampa Bay Lightning forward an unlikely match. In other words, going on the cheap appears to be the more probable route.
#3 – Standing Pat
The fact the Oilers have an additional third round pick from the Nail Yakupov to St. Louis deal actually works in their favour when it comes to trying to grab a second tier guy. Make a move like that and the organization keeps their picks intact, outside of the aforementioned second, heading into the Entry Draft. And if there isn't a move out there that is an actual upgrade, perhaps Chiarelli does nothing and holds serve.
Be it up front, on the backend or in goal, if the add isn't noticeable, why bother doing it? If that is the case, wouldn't keeping the extra pick and seeing if they can package it to help secure that long-term fix in summer be the smarter play?
Don't get me wrong, it is not the sexiest of options but there is something to be said for allowing this group to go out and see how they react to playoff hockey. Get these kids some post-season experience and have some questions answered in the process.
It is actually quite simple. Decide on what direction to go down at centre for the rest of the regular season, bring Puljujarvi back from the AHL and start prepping these guys for the playoffs. After all, if this group is good enough to allow Edmonton to battle for a Pacific Division crown, it should be able to go out and at the very least hold their own come mid-April. If that isn't the case, perhaps we are talking about a smoke and mirror routine here…but I don't believe we are.
ICYMI: #Oilers President of Hockey Ops & GM Peter Chiarelli addressed the media this morning: https://t.co/HawdHyVzEh pic.twitter.com/vo8WEJOd2m

— Edmonton Oilers (@EdmontonOilers) February 14, 2017
In the minds of some, the Edmonton Oilers are a couple of substantial deadline moves away from being able to take a stab at making a deep run in the post-season. In my mind, they are not.
Is it possible? Of course, anything could happen…especially with No. 97 in the mix. But giving up assets that could potentially help fill holes next year and beyond, on nothing more than wishful thinking, seems like the wrong card for Peter Chiarelli to play. If there is a small move to make, by all means, have at it but anything more would be ill-advised.