There's been a lot of speculation surrounding the 2017 NHL Trade Deadline. The Edmonton Oilers look to be playoff bound for the first time in 11 years, and rumors suggest the Oilers will be buyers. That might not be the case, however. In fact, it doesn't have to be.
Oilers general manager Peter Chiarelli took to the media last week and downplayed the team throwing away the future for a shortsighted run at the Stanley Cup. Edmonton's finally building a contender in the Western Conference, but the market price for what they need is unreasonable. The Oilers do need to make some additions, but you could argue Edmonton's biggest deadline acquisitions might be from within the organization itself.
I don't think we're quite ready to contend for the Cup, you never know. I just don't see us being big players (at the deadline). I don't see us heavily involved, and I don't think it's the right time.

– Oilers GM Peter Chiarelli
Mortgaging Future for UFA Guaranteed to Walk Is Wrong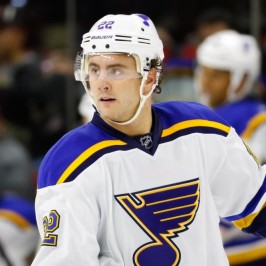 Sportsnet's Mark Spector believes the Oilers' biggest need is a top-pairing offensive defenseman like Kevin Shattenkirk.
The 28-year-old is an unrestricted free agent (UFA) this summer and will likely be the most sought-after deadline acquisition. The St. Louis Blues are rumored to be asking for a hefty return, and it could take a first-round pick, a roster player, and a prospect to pry him out of St. Louis.
That asking price is too rich for the Oilers at this point, considering they only have one pick in the top 60 at this summer's draft. Trading away their first-round pick gives them none, and they wouldn't pick until the middle of the third round.
It creates a scenario where Edmonton wouldn't be picking until 75th overall possibly, and that's a recipe for disaster. The Oilers' prospect pool is limited, and they might not have all the pieces the Blues would want unless Chiarelli's ready to move a Jordan Eberle or Ryan Nugent-Hopkins.
It's too much with Edmonton being in the race. If they were invested in parting with a first-round pick, next year's might be the one to move. It's a weak draft, and the Oilers have a pick in every round so they wouldn't be in a situation where they'd be waiting until the middle of the third round to make a selection.
Shattenkirk's also been linked to the Boston Bruins and New York Rangers. Both will have room on their backend next year, and the Rangers would likely move a player or two to get Shattenkirk. So why bother selling multiple pieces for someone that probably won't want to be here anyway?
Defense by Committee
If there is one thing we've learned about the Oilers' blue line this season, it's that they do everything by committee.
Edmonton averaged 2.95 goals against per game (GA/GP) last year. This season they've improved to 2.51 GA/GP, moving from 27th to 7th in the league. Much of that is thanks to the maturation of the entire defense.
Andrej Sekera has been an absolute workhorse and is arguably the team's best all-around defender, leading with 25 points in 57 games. A healthy Oscar Klefbom has paid off as he's added some offensive flair to his game (24 points in 59 games).
I'm happy with our D, when everyone is playing. And we're going to be getting a pretty good D-man back … Darnell (Nurse) will be back shortly. It would be nice to have a pure power-play D-man. I've been satisfied with (Sekera) and Klefbom on their respective units. It's certainly not on my shopping list at this trading deadline.

– Oilers GM Peter Chiarelli
The biggest knock right now on the Oilers is that they don't have that offensive gun from the backend like Chicago, Los Angeles, and San Jose have. Matt Benning is nowhere near the level of player Duncan Keith, Drew Doughty or Brent Burns are, and no one is arguing that. However, the rookie has been showing signs that he may develop into a top-four blueliner with offensive upside.
It's worth giving Benning a bigger opportunity down the stretch as a power-play quarterback. He's got a great shot that's hard and gets through to the net, he makes great outlet passes on the breakout, and he skates well. If you're into the advanced stats, his points-per-60 (PTS/60) is 0.71, third on the Oilers.
The other needs are for toughness and depth. With Darnell Nurse and Kris Russell nearing a return, that'll be addressed. Add in the likes of Brandon Davidson and Eric Gryba, and suddenly the Oilers have some depth on the backend as they head into the final 20 games of the season. It's defense by committee in Edmonton, and it's working, so why tinker with it?
The Need for More Secondary Scoring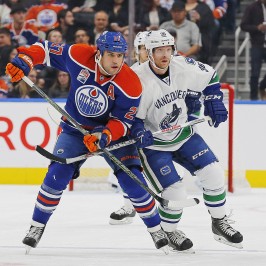 Edmonton wouldn't have a problem with secondary scoring if the forwards surrounding Connor McDavid and Leon Draisaitl were producing.
Milan Lucic, Ryan Nugent-Hopkins, Jordan Eberle and Benoit Pouliot are all having down years. With a combined $22 million against Edmonton's salary cap, the 41 goals between them aren't enough. They're the root of Edmonton's secondary scoring woes. Patrick Maroon, on the other hand, has been a revelation this year. His 20 goals match McDavid, and he's just two behind Draisaitl.
Head coach Todd McLellan has tried multiple combinations up front, and something has to give. Lucic just broke a 10-game scoring drought, but Eberle has just one goal in his last 10 games. Nugent-Hopkins went through eight games without registering a point but has three in his last two games. Pouliot is goalless in his last 26 games and is now injured. The answer for more scoring is within this group.
Edmonton might also have a key roster addition from within to make down the stretch. Rookie Jesse Puljujarvi is with the AHL Bakersfield Condors and has 13 points in his last 17 games. Puljujarvi is rejuvenated playing a hefty amount of minutes for the Condors and improving in all aspects of his game. Edmonton likely won't recall Puljujarvi until after the deadline because the Condors are competing for a playoff spot. However, it wouldn't be surprising to see Puljujarvi suit up come playoff time.
The Edmonton Journal's Dan Barnes suggested the Oilers could use a third-line faceoff ace; either Brian Boyle or Martin Hanzal. Could the Oilers also add a winger like Jarome Iginla or Shane Doan? Barnes is right, and this is a move the Oilers should be making, but not for the asking price of a first-round pick. It's not 2012 when the Nashville Predators traded their first-rounder to the Buffalo Sabres for Paul Gaustad. Unless the asking price comes down, fans shouldn't expect Chiarelli to part with a plethora of picks and prospects and overpay for short-term additions that'll hurt this club down the road.
Winning is a process, and sometimes you have to be patient.