Two days after an exhilarating gold medal tilt between Canada and the USA at the World Junior Hockey Championships, the two national capitals' NHL teams, Ottawa Senators and the Washington Capitals, will face off at the Canadian Tire Centre in Ottawa.
After five days off, the Senators will look to reverse its fortunes against the Capitals. The last game the Sens played was against the Caps, which resulted in a very close 2-1 loss. After getting plenty of rest, the Senators hope that having fresh legs and fresh minds will give them the energy and focus for a strong start.
The Capitals are currently riding a four-game win streak, including a big victory over the Columbus Blue Jackets on Thursday (who went into the game with a 16-game win streak). One advantage the Caps have over the Sens is that they have been playing at a high level while Ottawa was resting. If the Senators come out of the gate slow, the Capitals will take advantage.
[irp]
Ottawa Senators vs. Washington Capitals
Canadian Tire Centre – 7 p.m. EST
Broadcast channels – CITY & CSN-DC
2016-17 Season Series: January 1 – Washington Capitals won 2-1
Ottawa Senators – 20-13-4 – 44 Points – 2nd in Atlantic Division
Home Record: 11-5-4
Hot Players: Mike Hoffman
Key Absences: Andrew Hammond (ankle), Clarke MacArthur (concussion), Craig Anderson (personal leave)
Projected lines:
Forwards
Zack Smith – Derick Brassard – Mark Stone
Ryan Dzingel – Kyle Turris – Bobby Ryan
Mike Hoffman – Jean-Gabriel Pageau – Tom Pyatt
Chris Kelly – Curtis Lazar – Chris Neil
Defence
Marc Methot – Erik Karlsson
Dion Phaneuf – Cody Ceci
Mark Borowiecki – Chris Wideman
Starting Goaltender
Mike Condon
Washington Capitals – 24-9-5 – 53 Points – 1st Wildcard Spot
Road Record: 9-4-4
Hot Players: Justin Williams, Evgeny Kuznetsov, John Carlson, Alex Ovechkin
Key Absences: none
Projected lines:
Forwards
Alex Ovechkin – Nicklas Backstrom – T.J. Oshie
Marcus Johansson – Evgeny Kuznetsov – Justin Williams
Brett Connolly – Lars Eller – Andre Burakovsky
Daniel Winnik – Jay Beagle – Tom Wilson
Defense
Karl Alzner – John Carlson
Dmitry Orlov – Matt Niskanen
Brooks Orpik – Nate Schmidt
Starting Goaltender
Braden Holtby
[irp]
Game Notes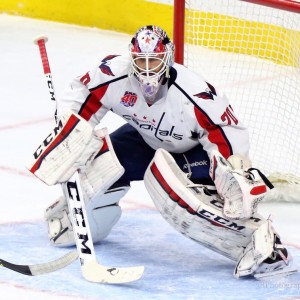 [miptheme_dropcap style="normal" color="#222222″ background=""]1)[/miptheme_dropcap] Despite their reputation as an offensive-minded team with players such as Alexander Ovechkin, Nicklas Backstrom and T.J. Oshie, the team's defensive game is strong. Much of that is thanks to head coach Barry Trotz's system in addition to their solid goaltending.
Braden Holtby is fourth in save percentage among goaltenders (with at least 20 games) and as a result, the Capitals are currently the league's best defensive team, allowing 2.08 goals on average per game. Ottawa will look to beat Washington at their own game, similar to the teams' last encounter.
[miptheme_dropcap style="normal" color="#222222″ background=""]2)[/miptheme_dropcap] The Capitals have a slight advantage over the Senators when it comes to special teams. The two sides are evenly matched on the power play, with 16.7% and 16.0% success rates respectively. The penalty kill is where the wider margin lies, as the Capitals play at an 86.9% success rate, third-best in the league. The Senators rank 13th at 82.5%, still impressive considering they have been without their top goaltender for an extended period of time.
[miptheme_dropcap style="normal" color="#222222″ background=""]3)[/miptheme_dropcap] The Senators only have a single win in the last seven meetings between these two teams dating back to the 2013-14 season. In those games, the Capitals have doubled the Sens in scoring 22-11. Ottawa will be in tough to break their losing streak of four games against Washington considering the latter is free of any major injuries or absences.
[miptheme_dropcap style="normal" color="#222222″ background=""]4)[/miptheme_dropcap] Both teams are at polar opposites when it comes to possession numbers. The Capitals are among the top possession teams with a 52.44% CF rating. The Senators are a bottom third team with 48.08% CF rating. Though, during their last three games, the Sens are much improved at 53.16%. They will need to drive the possession game against Washington in order to break through its strong defence.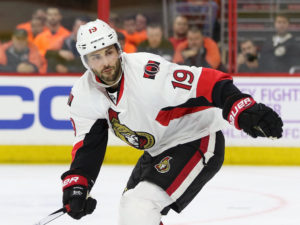 [miptheme_dropcap style="normal" color="#222222″ background=""]5)[/miptheme_dropcap] In their last five games, the Senators' goal scoring has come by committee rather than from a handful of players. Only Derick Brassard has scored more than one goal in that span. While getting goals from multiple sources is good, the Sens are still looking for one of their forwards to carry the offence as the season gets more competitive as they hope to be more comfortable in the standings.