With 17 days until the NHL Trade Deadline on February 29, you can be sure that the lineup the Toronto Maple Leafs put on the ice that night will be pretty different than than the one we see now. Now that the Leafs have somehow managed to unload all of Dion Phaneuf's salary, we can safely say all bets are off.
So let's look at what the Maple Leafs could do before the Deadline hits. First, you have to look at the Leafs that will be unrestricted free agents on July 1. That list includes Michael Grabner, Shawn Matthias, Nick Spaling, P-A Parenteau, Marc Arcobello, Brad Boyes, Rich Clune, Roman Polak and James Reimer. The Leafs will try to trade as many of those players as possible. After that, it seems unlikely that any of them other than Reimer will be back with the Maple Leafs next season.
The Leafs then have multiple restricted free agents to deal with. Morgan Rielly is chief among them, followed by Nazem Kadri, Josh Lievo, Peter Holland, Martin Marincin and Frankie Corrado. Rielly is pretty much the only untouchable on the roster and will definitely be re-signed. The biggest question mark is Kadri. Could the Leafs get a worthwhile offer, enough to trade him in before the deadline or in the off-season?
So let's look at the forwards that I believe will be suiting up for the Leafs when they start off next season. Note that I do not include predictions on who the Leafs will get back in trades or sign in free agency. So no Steven Stamkos this time.
Forwards
First Line: James van Riemsdyk – William Nylander – Mitch Marner
Second Line: Milan Michalek – Nazem Kadri – Leo Komarov
Third Line: Josh Leivo – Zach Hyman – Kasperi Kapanen
Fourth Line: Joffrey Lupul – Byron Froese – Colin Greening/Daniel Winnik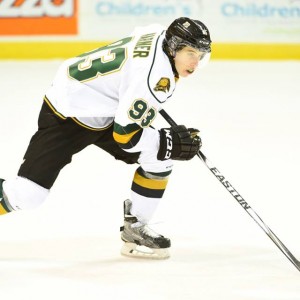 As you can see, Marner is included. It is not worth it to have him dominate the OHL for yet another season. There wouldn't be any worthwhile development. As he can't play in the AHL yet, he get's to play with the Leafs. As you can see the third line is quite young. They could find a veteran center to replace Hyman. Michalek remains an option to be traded before next year's deadline.
Defense
First Pairing: Morgan Rielly – Matt Hunwick
Second Pairing: Jake Gardiner – Frankie Corrado
Third Pairing: Martin Marincin – Stuart Percy
Again, this entire defense seems young and could use another veteran to help buffer the young guys. Also, you'll notice that Jared Cowen is not there. With the cap credit that a team would get by buying him out this offseason, he will probably be traded to a team with cap trouble.
The Goalies
Starter: James Reimer
Backup: Garret Sparks
The Leafs have to find a team that will take Jonathan Bernier, either at the deadline or in the off-season. They can then allocate the money they were paying Bernier and re-sign Reimer. At least he'd finally have the chance to prove himself over a full 82-games season. Sparks performed well in the short time he was with the Leafs and could at least be a pretty good back-up. Calling up Sparks also gives Antoine Bibeau a shot at being a full-time starter with the Marlies.
There you have it. Of course, this is probably not the roster the Leafs will ice in the opening game of 2016-17 season, but it could be pretty close. Of course, Maple Leafs fans want Steven Stamkos. There are rumors surrounding Jimmy Vesey, currently of the Nashville Predators. Who knows what could happen?
Toronto Maple Leafs Writer At The Hockey Writers.