The Toronto Maple Leafs are doing pretty well for themselves considering what they were expecting to be this season. It might still be early in the season, but the Leafs are actually hanging in with the teams that are actually fighting for the playoffs. We all know that it was expected that the Leafs would be closer to the bottom of the NHL. After all, they had signed and traded for more than a few players whose contracts were expiring at the end of the 2015-16 season.
In all, eight soon-to-be unrestricted free agents have suited up for Toronto this season. Of course when the trade deadline comes, there could be teams calling the Leafs for rental players that could help them in a playoff run. As much as the Leafs are doing well now, should they remain in that position come February/March, they should resist the urge to make a run themselves. If a team is interested in one of the Leafs' players, they should listen and try to get whatever they can for him.
Now when it comes to what they can get for their rental players, it's different depending on the how they are performing. Some players are playing well, some are not and one has even been sent down to the AHL. Now, we still have a few months to go before the trade deadline so players have time to improve their stock.
As you will notice, most of the returns are in draft picks. If the Leafs have the same draft strategy as last year, they will be looking to picking up more picks. They aren't specifically for the 2015 draft however.
Forwards
Michael Grabner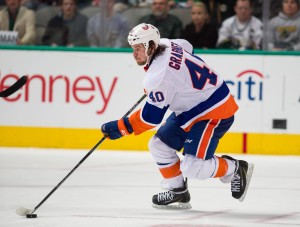 Cap Hit: $3 million
Grabner was acquired just prior to the preseason in return for five prospects in an effort to trim the Leafs' total number of contracts. A former 30-goal scorer for the New York Islanders in his rookie season, his offensive production has dropped every year since then, save for the lockout-shortened 2012-13 season. A healthy scratch at times this season, he has yet to score a goal and has only recorded two assists in 20 games so far.
At this point, the Leafs would be lucky to get a late-round pick for him.
Shawn Matthias
Cap Hit: $2.3 million
Matthias was signed in the off-season after setting a career high in points (27) last season with the Vancouver Canucks. The Mississauga native hasn't done too bad for his home-town team having two goals and seven points in 21 games. If he can up his production even by a bit, they could get a third-round pick in return.
However, Matthias is the type of player that could be useful throughout the rebuild.
Nick Spaling
Cap Hit: $2.2 million
A throw-in in the Phil Kessel deal, don't expect Spaling to hang around with the Leafs long-term. In 16 games, he has only recorded two assists. He might be a useful defensive forward, but don't think the Leafs were asking for Spaling in the package they got for Kessel.
If they trade him at the deadline, the highest pick they could get is a fifth-rounder.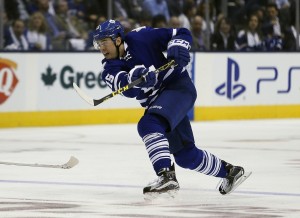 P-A Parenteau
Cap Hit: $1.5 million
Parenteau has bounced around the NHL for sure, playing for five teams. Not much was expected out of him after he was a healthy scratch more often than not last season in Montreal. Well, through 22 games, he seems to have found that scoring touch he seemed to have lost with six goals and 10 points.
If he keeps up this level, he could fetch the Leafs a second-round pick or a mid-tier prospect.
Mark Arcobello
Cap Hit: $1.1 million
As far as his time with the Leafs is concerned, there would be little to no interest in him. He went pointless in seven games with the big club. With the Toronto Marlies, he has found an offensive game. He has seven goals and 12 points in nine games with the Marlies.
It's not out of the realm of possibility that a team could come calling offering a sixth- or seventh-round pick. Although, after playing for four teams last season, he would probably like to stay in one place at least for a season.
Brad Boyes
Cap Hit: $700,000
Returning to the team that drafted him all the way back in 2000, Boyes was signed to a one-year deal after showing enough in training camp to earn one. The only player that was on a tryout to remain with the Leafs, Boyes has been a healthy scratch for three games in a row at one point this season. In 17 games this season, he has only one goal and seven points so far. Although, he isn't exactly playing on the first or second line.
If he continues to play on the fourth line, the Leafs won't be getting more than a sixth-round pick.
Defense
Roman Polak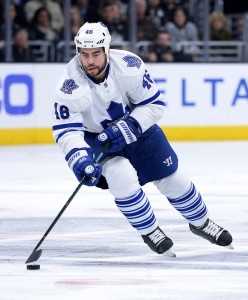 Cap Hit: $2.75 million
Here's a prediction: Polak will get traded before the trade deadline. Being a defensive defenseman, he should be a valued commodity for the Leafs to put on the market. Teams heading to the playoffs need players like Polak, even if it's just to improve the depth on the blue line.
Polak could net the Leafs a third- or fourth-round pick depending on how well he's playing.
Goaltending
James Reimer
Cap Hit: $2.3 million
Here is the big one. No one on this list is performing better than Reimer. Stealing the starting job from Jonathan Bernier after two seasons of riding the bench, he has been one of the best goalies in the NHL in the month of November. Even with the Leafs record, his run of periods only allowing one goal or less kept the Leafs in games and gave the Leafs a chance to win, regardless of whether they did or not. If the Leafs' offense had actually been producing, they might be even better than they seem to be right now.
The question is: Do the Leafs actually trade Reimer? At this point, trading Reimer and going with Bernier the rest of the season would be a clear admission that the Leafs are trying to be as bad as possible. However, he could also get the Leafs a pretty good return. If he continues to be as good as he has been, he could fetch a second-round pick and a prospect. A first-rounder is unlikely unless they find a really desperate team because of the new lottery system.
Toronto Maple Leafs Writer At The Hockey Writers.