http://youtu.be/4X0o9pY68ek
The Dallas Stars honored Hall of Famer Mike Modano last night at the American Airlines Center.  The ceremony recognized Mike  for his recent induction into the Hockey Hall of Fame.  His NHL career started in 1988 when the Minnesota North Stars selected him 1st overall in the NHL Entry Draft. In 1993 the North Stars moved to Dallas, where Mike would play for the next 16 years. Modano is the all time leading scorer for the Dallas Stars and won the Stanley Cup in 1999.  Mike was born in Livonia, MI and represented Team USA in 3 Olympic appearances.   He also helped lead Team USA to victory in the 1996 World Cup of Hockey tournament.
Modano, now 44 years old, played 1499 regular season games in the NHL. He scored 561 goals, 813 assists and 1374 points. Among American born hockey players Modano ranks #1 in NHL career goals scored and total points.
In honor of last night's celebration at the ACC we thought it would be fitting to catch up with one of Mike's former teammates and a former member of Dallas Stars Management.
Brad Lukowich was teammates with Modano from '98-'02. Lukowich is a 38-year-old retired NHL defenseman who also played with Tampa Bay, New Jersey, San José and Vancouver. Lukowich won the Stanley Cup with Tampa Bay in 2004.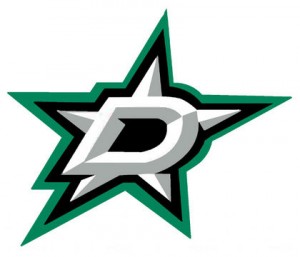 The Hockey Writers: Where does Mike Modano rank among players you have played with throughout your career?
BL: Número uno… Best guy I ever played with.
THW: What is it about Modano that puts him at the top of your list?
BL: Mike is genuine. He is the coolest guy. Hillarious. Mike was the same  with the media as he was with teammates in the locker room and off ice friends. He was very hard-working whether it be on the ice, or off the ice with sponsorship and charity work. Mike's a great role model for all hockey players.
THW: Tell us about Mike's impact on hockey in the DFW area?
BL: Amazing. When I got to Dallas the team was starting to have some success and was learning how to win. We used to drive past the Harvey Hotel in Dallas. At first there were no billboards in the area, but within a year or two there were 3 or 4 billboards in the area and Mike was on all of them. I also think people from Texas could see that Mike was genuine and I believe that led to more people following the team and hockey in general.
THW: I understand one of your off ice interests is music. Did you and Mike share the same musical interests or were they different?
BL: The same for the most part. Sometimes with new music he would give me a hard time, but I would tell him to be patient with it. Mike coordinated the locker room music. We used to listen to Mettalica and Pantera before games in the locker room. Off the ice we would hang out and crank the tunes and make CD's. Those were fun times. I still have the CD's.
Craig Button started his NHL Management career with the Minnesota North Stars in 1988. He went on to be Director of Scouting for Dallas from 92-98 and Director of Player Personnel from 98-00. Craig was also Vice President and General Manager of the Calgary Flames from 00-03.  Craig now works as an Analyst with the NHL Network and does some writing for ESPN and the NHL.com.

The Hockey Writers: What word (or two) comes to mind when you hear the name Mike Modano? Why?
CB: I have said this many times, "Mike was a great player but was an even better person." He dealt with the expectations & delivered everything he could to a franchise that had very limited success prior to his arrival. When you draft a player 1st overall, you are looking to that player to be a catalyst for positive change for the team on the ice and ultimately to help the team have success. When the Universal Draft began in 1970, there has only been Eight (8) 1st Overall picks who have won the Stanley Cup with the franchise that drafted them: Guy Lafleur (1971), Denis Potvin (1973), Mario Lemieux (1984), Mike (1988), Vincent Lecavalier (1998), Marc-Andre Fleury (2003), Sidney Crosby (2005), Patrick Kane (2007). The joy Mike had in being able to celebrate a Stanley Cup was a great memory to me. People say at times about players; "you'll never win with him." Well let me tell you, you are prepared to go 'all in' and take your chances with players & people like Mike. The series is tied 2-2 versus Buffalo, We win Game 5, 2-0, and Game 6, 2-1. Mike has an assist on all four goals in arguably the biggest games he had played to that point. That's stepping up when needed. So off the ice, the joy he exhibited and on the ice, the contribution at the most critical times will always stand out to me.
THW: In your years observing Modano what stands out as the biggest developmental surprise?
CB: I don't think you can project 'iconic' status when you draft a player because, he was 18 when drafted with lots of promise, but there are so many factors that were unknown at that time. For example, when the Stars moved to Dallas, Mike was 23 years of age with the talent & the looks. Troy Aikman was becoming that iconic figure for the Cowboys & Mike had similar traits, including being an American born player. But when Mike was drafted, there is no way to know that he would end up in Dallas in a situation that was almost tailor made for him to become iconic. Certainly when you select a player 1st overall, the feeling is that player can make a significant impact on your team. So no surprise to me with respect to development, but certainly a player who wanted to be the very best, but most importantly wanted to win and do the things necessary to help the team win. Mike sacrificed some personal numbers for team success and that isn't a surprise, that is what Mike is all about.
THW: Do you think it's fair and accurate to compare Modano's impact on hockey in Texas with Gretzky's impact in CA? If yes or no, why?
CB: Modano cultivated hockey in Dallas. Wayne's reach was far greater because of his iconic status already in place prior to arriving in LA. Mike is one of the great players because of his accomplishments in contributing to a franchise's success. I don't look at the numbers, and Mike's are excellent & he's a Hall-of-Famer but he came to a franchise that was in dire need of a player who could be a top player on the ice and also a player fans could look to as a 'beacon of hope' for the future. Mike did exactly that & did it with class & there is no question that when he left the Stars as a player, they were in a far better place than when he arrived. That is greatness in my view. Mike was part of an outstanding group of American players who I feel all helped cultivate the game. Brian Leetch, Jeremy Roenick, Mike Richter & Keith Tkachuk to name a few. He stands out though as the player who had great impact because I saw it firsthand.
THW: Where do you rank Modano among all time USA born forwards?
CB: FIRST. I am unabashedly biased when it come to Mike.
I have a Bachelor of Arts Degree is Sociology from Bridgewater State College. I have covered amateur hockey prospects with Texas roots for the scoutingreport.org, and I am a Dallas Stars writer for The Hockey Writers. I can be reached via Twitter @EdTexmass09.