After four seasons at the University of Minnesota, two National Championships, and 120 points (44g-76a) over 149 games Milica McMillen is ready to take the next step in her hockey career. That's something that wasn't possible two seasons ago since the NWHL didn't exist yet.
The 22-year-old was part of the league's first ever draft class, when the Connecticut Whale drafted her as a junior 10th overall in 2015, but on June 16 she signed a one-year contract with the New York Riveters. "When I first started playing, there weren't any options to go in women's pro hockey," McMillen said in the NWHL's press release announcing the signing, "so to be able to compete beyond college is like a dream come true."
She'll once again be teaming up with Amanda Kessel, as the two Golden Gophers will be reunited on the 2016-17 Riveters — a team that was lacking firepower in the inaugural NWHL season and has retooled it's roster.
Recently The Hockey Writers spoke with Milica McMillen who will be patrolling the blue line in New York via email to find out why she chose the Riveters over the Whale and if Kessel's presence on the Rivs roster influenced her decision among other topics.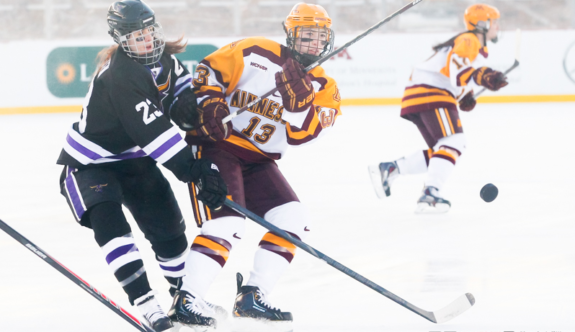 The Hockey Writers: You were drafted by Connecticut, but ended up signing with New York; any reason why you didn't stay with the Whale?
Milica McMillen: Yes, the Whale drafted me last year, which was an honor in and of itself. I was just happy to be selected by anyone because only 20 college juniors in the country were selected. And I tried to follow the Whale's historic season as much as I could, thinking I would end up there next year. But when it came down to my final decision, I wanted to be closer to NYC because I am trying to get a job in the film/television business and there's more opportunities in the Big Apple in that industry. I'm very excited to be a Riveter.
THW: A lot of the players, current and former have really bought into and believe what coach/GM Chad Wiseman is preaching; can you tell fans a little about your talks with him?
MM: Wiseman seems like a great guy off the ice as well as a great coach on the ice. His experience playing in the NHL should provide invaluable lessons that he can pass down to us players. And he was honest and straight forward with me throughout the whole free agency period. He seems to like physical and fast play, which are both really important qualities to posses in the NWHL being that its a step up from the college level. Hopefully my time in the WCHA has prepared me for next season.
THW: One of your former teammates at Minnesota, Amanda Kessel, also signed with the team, I'm sure that factored into your decision perhaps?; would we be right in assuming you spoke with her a little bit throughout this process?
MM: Well, it definitely makes moving to a new state easier when know at least one person from that's in your life. Amanda Kessel has been a great friend over the years that we've played together. It wasn't a deciding factor in my decision, but it didn't hurt knowing I would be out there with her. All of us seniors at the U of M spoke to each other after our season was over because we would have loved to play with each other again next year. Although it won't work out that way, playing with Kessel again is going to be amazing. She's world class with her speed, skills, and ability to score. She beats me enough in practices so I'm just glad I won't have to defend against her in games.
THW: How much did you follow the NWHL last season (as far as watching games, checking stats, etc.?
MM: I've played with and against many of the players who were on the teams last year, so I followed the NWHL as much as I could, checking scores and stats, and reading articles. It was hard to watch games, especially because they weren't on TV. But I still wanted to know how the teams were doing. It was history in the making, and the league makes me proud to be a female hockey player. Being a part of the professional league this season is going to be a dream come true.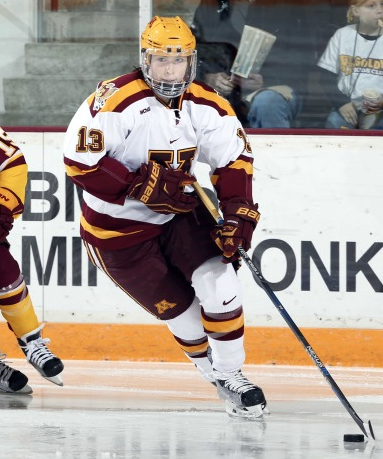 THW: For fans of the Riveters that haven't seen you play, could you describe your game and what you believe are your best assets?
MM: Best asset? That's simple: I just passed the puck to Kessel and Hannah Brandt. But I don't know if I have a specific style. Like any defenseman, I block as many shots as I can and do whatever it takes to keep the puck away from our goalie. I still like to rush the puck and shoot as well, because it's fun trying to be a part of the offense. I am still growing as a player though, so I'm ready to learn more about the game from Wiseman, and from future teammates who played in the NWHL last year.
Dan Rice is in his 9th year of reporting for THW & has covered NJ Devils home games for 15+ years at various websites. He began his journey working for legendary broadcaster/writer Stan Fischler from 2002-04 & completed an internship at the ECHL; he also has been writing features for the NWHL (nwhl.zone) website since 2016.