Claimed by the New Jersey Devils on waivers from the New York Islanders on the eve of the season, P.A. Parenteau provided an immediate impact — scoring the team's first goal of the season — with five points (4g-1a) in his first nine games with a team he didn't have more than one practice with. In fact, the Devils are his fourth different team in four seasons and seventh team in his nine NHL seasons.
His best seasons actually came with the Isles when he rode shotgun on John Tavares' line mostly and put up 120 points (38g-82a) in 161 games. The 33-year-old has always been a solid complimentary player throughout his NHL career and that was exactly what New Jersey was looking for: basically the sixth man in their top-six forwards.
PA Parenteau (#11) at 11:11 on 11/11 with the game 1-1 (source: https://t.co/JSeLZVgitp) #NHL #PAParenteau pic.twitter.com/7GxGOsfMqJ

— Heatdex (@heatdex) November 12, 2016
After the team's nice start they went into a funk, and so did Parenteau, with a seven-game pointless stretch and 14-games without a goal. This past week he snapped both of those skids and has one point in each of the last three games, culminating with the team's lone goal in a 4-1 home loss to the St. Louis Blues (New Jersey's first regulation home loss in 11 games).
"PA is a guy who scores goals; when goal scorers are not scoring it certainly affects them and sometimes it goes into different areas of their game. It was nice to see him get one tonight," said Devils coach John Hynes following the loss to the Blues. "It's another time that a goal come off of our forecheck – (Taylor) Hall makes a great play and he's (Parenteau) standing around the blue paint/the scoring area. I think we can learn some lessons from that goal too, and hopefully, that gets a little bit of the monkey off his back and we can get his game going a little bit better."
PAP takes a shelfie! #STLvsNJD pic.twitter.com/04uaDWTxSe

— New Jersey Devils (@NJDevils) December 10, 2016
One-on-One with P.A.
Following a recent Devils win over the Vancouver Canucks where he snapped his pointless streak The Hockey Writers spoke with PA Parenteau about a bunch of topics including changing teams suddenly, how Hall and Tavares are similar and what it was like to play for Patrick Roy the coach.
The Hockey Writers: Do you worry about yourself when you don't get a point for as long as you did? Does your mind start playing tricks on you?
P. A. Parenteau: Yeah, absolutely. You start gripping your stick a little tighter, you lose a little confidence, but I had a good chat with Hynesey this morning. Just keep doing my thing and don't force anything. I played a much better game tonight I think — we were on the puck, we made some plays when they were there. When they weren't, we didn't force things too much. I think that's why we came up on top tonight.
THW: You seem like a guy that, over your career, you can fit in on the first line, second line or third line and you always produced points. Can you tell us a little about having that mindset of being a utility guy, for lack of a better term?
PAP: I think it's good to be like that; you can play on any line and produce. It was hard there (for me), I think I went like eight or ten games without getting anything done and it was kind of frustrating. It was starting to show in my play too. It's nice to get off the shneid tonight with an assist and help the team win. That's what it's all about. Winning is fun.
https://twitter.com/latestcanada/status/796221982807232513
THW: You played with some great players over your career, like John Tavares and Nathan MacKinnon; now playing alongside Taylor Hall how does he compare to them?
PAP: He's the same breed as those guys. MacKinnon, Matt Duchene — their speed is amazing; it's (smiles) a different level out there. You have to give them the puck and try to read off of them — sometimes it's not easy because they're so quick. He's fun to play with, I just try to give him the puck as much as I can and he knows what to do with it as well.
THW: You mentioned Colorado; what was Patrick Roy like as a coach? From what we see on the outside he's a little…expressive or fiery.
PAP: He is a very passionate guy. That's one way I would describe him.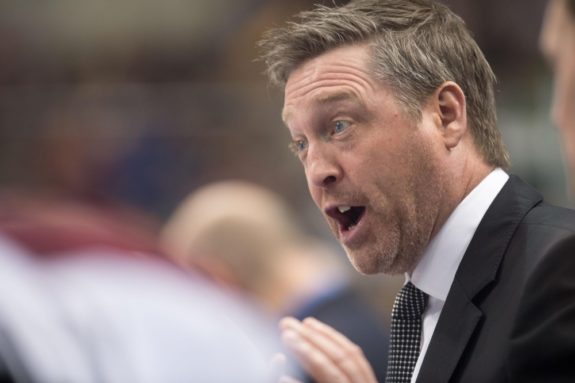 THW: You signed with the Islanders this offseason and then ended up here in Jersey days before the season started, has that shock worn off yet?
PAP: Yeah, yeah that's gone now. It is what it is. I've been a Devil now for two months and it's good. I'm happy to be here. Like I said it was a rough stretch the last few games, but I stayed with it. That's not the first time in my career I've been in a slump like that.