Troy Brouwer is the type of player that can likely fit in on any team and last season he had maybe his best season as he set career high's in assists and points with the Washington Capitals. He's the guy that contributes in multiple ways, some that don't often show up on any stat sheet: he can play on the second or third line and he will stand up for a teammate, he goes to the dirty areas on the ice to battle for goals and he can play in all special teams situations. The 29-year-old Vancouver native was a seventh round draft pick of the Chicago Blackhawks in 2004 and six years later he was a part of their Stanley Cup winning team.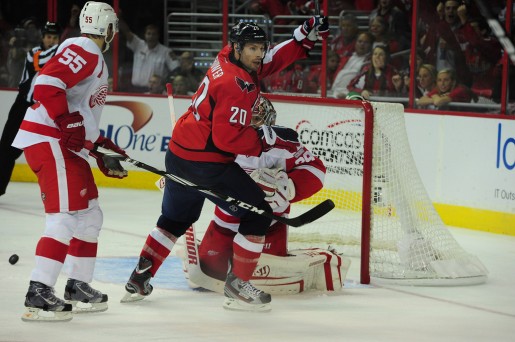 The Hawks would have loved to keep him in Chicago but he became a salary cap casualty as they focused their monies on locking up their premier players first and were forced to trade assets like Brouwer, Andrew Ladd, Brian Campbell & Dustin Byfuglien. After a recent game in New Jersey (4-0 Caps win) The Hockey Writers caught up with Troy Brouwer to talk about the upcoming Winter Classic, his day with the Cup and what is it like to be teammates with one of the NHL's most dynamic players.
The Hockey Writers: Another big win for you guys against a divisional opponent tonight; that has to give the team a lot of confidence going forward — beating the teams you are directly competing with right?
Troy Brouwer: We've had a lot of them lately, and all of them on the road (the Caps are 5-1-0 on the road in December); we've been able to pick up some points against some key teams that we are trying to create separation from and also some teams we are trying to catch. It's nice to be going home after tonight with some big points against divisional teams.
THW: You also beat the Devils here in New Jersey about two weeks ago; was it the same game plan basically or were there some tweaks?
TB: Yeah a little bit; we knew they played last night so we wanted to get on them early. We didn't exactly do that (grins); they kind of took it to us in the first period. So we came in here (the locker room) and needed to regroup and we had a good talk amongst us about what we wanted to do and how we wanted to go about it in the second period. I thought for at least the first half of the second period we were playing quick, we were getting pucks in, we were finally being able to sustain some zone time and create a couple of opportunities. Later on in the second period I think they got some momentum back and we knew we needed to come out and have a strong start in the third (period) to put them back on their heels and get our two points.
THW: On January 1 you'll be playing a hockey game outdoors in Washington D.C. against your former team the Chicago Blackhawks; and you got to play in the Winter Classic in Chicago at Wrigley Field a few years ago. How cool is that?
TB: The experience is a lot of fun; when I did it in 2009 we didn't have HBO or EPIX following us around (like we do now) so that's a new dynamic for me. It's been fun though, it's been…intrusive at times (smiles), but fun — it's all part of it. For me, it gives an excuse for family to come down; my family doesn't live very close (Vancouver) to where I play. So for them to be able to come down for an event like that (and) stay for a little while; for me that's what the game is about. It's being able to share a great event with your family and also be able to sell the game of hockey at the same time.
THW: Plus add in the fact that you are playing against a bunch of guys that you know pretty well and won some trophy thing with too right?
TB: Oh yeah (smiles wide)! I still talk to those guys; you know, whenever you win with a team you're always going to have those friendships, that camaraderie. When I heard that we were playing the Hawks it was a little special for me, that's for sure. They have a great organization there and I was really happy to play for them, but hopefully we can get a win at home because I know I wasn't able to do that last time at the outdoor game.
Troy Brouwer scores a goal in the Stanley Cup Final vs. the Flyers:
THW: As we just alluded to, you were part of the 2010 Blackhawks team that won the Stanley Cup; what did you do on your day with the Cup?
TB: I did quite a bit actually. In the morning I had all my family over to my house and we had breakfast; my sister-in-laws wanted to eat some Fruit Loops out of the Cup (smiles) so we did that. My dad was in the hospital after a stroke at the time of the playoffs so we went to the hospital and said thank you to all the doctors and hopefully we lifted some patients' spirits up. Let them all take pictures with the Cup. Then we had a little parade in my hometown where about 10,000 or so people showed up. We had it for all the minor hockey league kids at the rink to come take their picture with it. You know, I saw it when I was a little kid and it was very influential on me, so I wanted to try and do that for others hopefully. We had a little downtime after that from about 4-7 so we just all kind of relaxed because it is a long day and then at night I threw a big shaker at my parents house and invited all my friends, family, anyone who helped me along the way — whether it was teachers, coaches, everyone who supported me (and my dream) since I was a little guy.
Some highlights of Troy Brouwer's day with the Cup:
THW: When you were traded from Chicago to Washington in 2011 what were your emotions like? Was it a complete shock?
TB: A little bit of everything; I kind of had an idea it was coming — I was up for a new contract, there were absolutely no talks between us. I had an idea and my only hope was that it was going to be to a team that was competitive, a team that I could fit in to and have a good opportunity with. I really enjoyed and absolutely loved my time in Chicago; very thankful for the opportunity the Blackhawks gave me — to be able to come into the league, and to win a Stanley Cup. When I came here (to the Caps) I was given a lot of opportunity, and I think my game was able to grow here; I've become a better player since I've been here. I'm looking forward to trying to win a Stanley Cup here in Washington.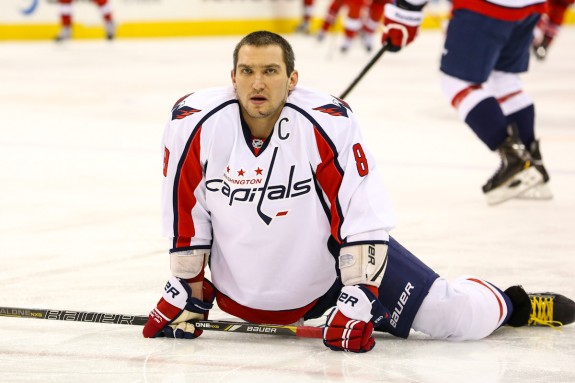 THW: Okay, you've been teammates with Alexander Ovechkin for 3+ seasons now; is he really as goofy and light-hearted as he seems?
TB: (laughs) He's a character; that's the best way to describe him. He lives life to the fullest; he enjoys himself; whether it's playing cards on the plane or on the ice. He enjoys himself, he has fun, and he loves what he does for a living. He loves who he is as a person and we respect him for that.
Dan Rice can be reached via Twitter: @DRdiabloTHW or via Email: drdiablo321@yahoo.com
Dan Rice is in his 9th year of reporting for THW & has covered NJ Devils home games for 15+ years at various websites. He began his journey working for legendary broadcaster/writer Stan Fischler from 2002-04 & completed an internship at the ECHL; he also has been writing features for the NWHL (nwhl.zone) website since 2016.