Nieto Returns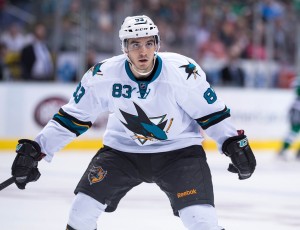 After missing the past nine games with an ankle injury suffered against Boston on Dec. 4, Sharks foward Matt Nieto is apparently good to go. The second year winger told reporters he feels good to play after Sunday's practice.
#SJSharks Nieto ready to return to action http://t.co/JnxhHGXlp6

— Kevin Kurz (@KKurzNHL) December 28, 2014
Leading all of the NHL in Corsi-for percentage, Nieto will be welcomed back into the Sharks lineup with open fins. Despite a 9-2-1 mark in their last 12 games, the Sharks are a team once again struggling to score goals. In their last six games, the Sharks have managed to light the lamp just 13 times behind opposing goaltenders, only twelve of which in regulation. Take away a 4-on-3 overtime power-play goal, and that is just two goals per game over their last six contests.
San Jose has dropped the last two games against their direct competition to get to the Stanley Cup. The Sharks played relatively well but lost in overtime to Anaheim on Monday before the Christmas break and came out listless in Saturday's 3-1 loss in Los Angeles. The Sharks had little sustained offensive zone time against the Kings. As one of my twitter followers noted, it is surprising how a healthy Raffi Torres makes the Sharks forecheck much more formidable. While that is certainly true, Torres has largely been unavailable since becoming a Shark and there have been many times where the Sharks forecheck was strong without him.  However, when you are missing Torres, have Brent Burns playing defense, and have Nieto sidelined with injury, then that all adds up.
Torres, Burns, and Nieto all have well above average foot speed, and despite Nieto's smaller stature, his tremendous skating speed allows him to be a phenomenal forechecker. These three are the Sharks most effective forecheckers when in the lineup playing forward. San Jose was playing well without Nieto the last nine games going 6-2-1, but three of the wins came against the Oilers and Flames. Whereas two of the three losses came against the Ducks and Kings. San Jose's hot streak could very easily turn into an extended cold streak with their next three games against the Canucks, Ducks and Blues. Two of those three are at home but then San Jose follows that up with a three game road trip against surprising Winnipeg, Minnesota, and in St. Louis. As Sharks head coach Todd McLellan likes to say, sometimes a team can get the sniffles before they start getting sick and that may be the case with the Sharks. They were continuing to win games without putting the puck in the net. Now with back-to-back losses, the Sharks need to start lighting the lamp more regularly to avoid a full blown cold.
Scoring Drought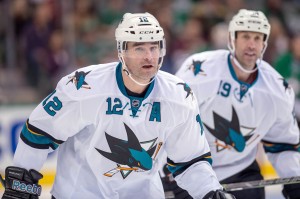 San Jose's top line centered by Joe Thornton has continued to score on a regular basis. Thornton has six points in his last six games (his empty netter makes it seven points), but the second line scoring has dried up. The combination of Patrick Marleau, Logan Couture, and Tommy Wingels has gone stone cold. The second line trio has combined for just three points between them over the last six games excluding Couture and Wingels both picking up assists on Thornton's empty netter against Nashville. That is simply not good enough production.
While San Jose had been getting some good production out of their third line, that is probably a bit of a mirage more than anything. Rookies Barclay Goodrow and Melker Karlsson have impressed over the recent hot stretch but Goodrow and Karlsson did most of their damage against the Oilers. This isn't to rain on their rookie parade of quality play, they have done lots of good things, but they are much better suited for fourth line play than a third line. When you look at third lines for the Blackhawks and the Kings, guys like Andrew Shaw, Brandon Saad, and Kris Versteeg for Chicago, or Tyler Toffoli, Tanner Pearson, Dustin Brown, Justin Williams, Jarret Stoll for LA, the Sharks just don't compare right now. It is has been a theme for the Sharks for years, they don't have the bottom six to roll four lines in the playoffs. And yet many seem to wonder why yours truly keeps banging away on the Pavelski at third line center drums.
Where Will Nieto Play?
While Pavelski to the third line is the move that would make the biggest impact, Nieto returning will still be a noteworthy boost. Considering the second line struggles noted previously, it would make sense for the Sharks to slot Nieto in on the right side of Couture where he started the season. Give that line an injection of speed and creativity that made it click down the stretch a year ago. Then dropping Wingels down would give the third line a bit more of a scoring touch. Perhaps they go with Goodrow, Sheppard, Wingels. Or they could drop Goodrow down to the fourth line and Karlsson could center Sheppard and Wingels on a third line. Karlsson has mostly been playing the right wing but is listed as a center and has been seen taking draws on the right side of the rink. Sheppard, Karlsson, Wingels might give that line more of a scoring touch, and Goodrow's size and nastiness does fit a fourth line energy role a bit more than Karlsson's style.
The Sharks host the Canucks on Tuesday and after dropping the past two in a row against division rivals, this becomes a pretty big game. While I believe Vancouver is bound to fall off, they are still right in the mix for second place with the Sharks and Kings. Earlier in the season the Sharks lost to the Canucks but carried the play throughout. Of course no game in December is a must win, but the Sharks were hot going into the break and the Cancuks at home is a game they need to win. The Sharks have won eight in a row at home, add in a healthy Nieto, it ought to be a recipe for two points.
Andrew has been credentialed to cover the Sharks since 2010 and the 49ers since 2012. He graduated with his BA in Broadcast Electronic Communication Arts in 2013 from San Francisco State University.