Why the Sens Should Strike Deal with Stopper Patrick Killeen
While most of the Carleton Ravens were enjoying the Christmas holidays, Patrick Killeen was back to work on Saturday morning.
When Ottawa Senators backup goalie Robin Lehner couldn't practice on Saturday morning due to illness, the Sens put out the call for a goalie to take shots during their morning skate.
Killeen, originally from nearby Carp, is currently starring in goal for the Carleton Ravens hockey team. He was quick to seize the opportunity.
As the Ottawa Citizen's Ken Warren reports:
With Robin Lehner suffering from the flu, the Senators put out an emergency call for a second goaltender at Saturday's morning skate. Patrick Killeen didn't hesitate, showing up in time to take shots from NHL players.
Officially, that's the end of the story. Killeen has returned to the Ravens and is set to continue playing in the new year at the university level.
Here's why the Senators should continue the story by bringing Patrick Killeen into the organization full-time.
Patrick Killeen: Useful Depth with Upside
Patrick Killeen isn't your average university student.
Returning to school after a three-year professional career, Killeen has started seven games at the AHL level and 111 games in the ECHL.
Killeen's results show a goalie with a decent amount of pro hockey experience, even if his results have been generally uninspiring.  
However, during his time with the Carleton Ravens, Patrick Killeen has shown that he has the potential to be a useful depth goaltender in the Sens organization. 
Using his imposing size, pro experience, and scrambling style (full Hockey's Future talent and style analysis here), Killeen has kicked off a surge up the standings for the Ravens:
Check out the complete game highlights from Friday's (#9) Ravens MHOC shootout win over (#8) UQTR –> http://t.co/WCfdp198JY — Carleton Ravens (@CURavens) December 3, 2014
With Patrick Killeen in net, the Ravens have stormed to nine straight wins with the surging youngnetminder in a starring role.  
Killeen's start has been so strong that he ranks second in the CIS hockey with an .875 winning percentage. He has also posted an impressive .922 save percentage and a 2.25 goals against average.
But Killeen's numbers are just part of the reason that Ottawa Senators General Manager should sign the Carp native.
Patrick Killeen's Organizational Fit
For the Ottawa Senators, a local player with upside is a strong organizational fit.
The Binghamton Senators haven't had a star goaltender at the AHL level since Robin Lehner graduated to the NHL. This season, no Binghamton netminder ranks in the top ten in any of the major statistical categories.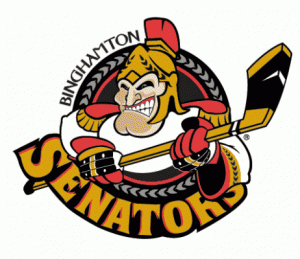 The lack of a clear-cut goalie for the future creates the need for more depth in goal at the AHL level.
However, Patrick Killeen would most likely slide into a role with the Senators ECHL affiliate, the Evansville IceMen. The IceMen have an even greater need in net as highly-touted Sens prospect Chris Driedger ranks outside the top-20 in every major statistical category.
For Killeen and the Senators, a fresh opportunity for the Ravens' star netminder would add depth and competition to a Senators depth chart that is light on goaltending throughout the minor leagues.
In Conclusion…
Speaking with the Carleton Ravens' Men's Hockey News prior to this season, Patrick Killeen explained his future goals. He explained why he returned to school but noted his wish to return to pro hockey, saying:
It just came down to what I thought was best for my future long term. I think it's very important do have an education in today's job market. I am still very much hoping to continue playing pro hockey after I'm done getting a degree, but this seemed like the best time to go to school.
If Killeen continues his outstanding play, his wish to continue playing pro hockey may come sooner than he thought.
What do you think, Ottawa Senators fans? Would you like to see Patrick Killeen join the Sens' organization?