Every successful hockey team needs selfless players, warriors, guys that countless times put the team's success ahead of their own body's well being. One of the newest members of the New Jersey Devils, Ryane Clowe, is considered one of those guys, but you'd never know it talking to him other than the scars on his face. The 31-year-old who gives very detailed and insightful answers (see below) is now entering his ninth NHL season — after spending the first 7 ½ with the San Jose Sharks and finished last season with the New York Rangers following a late season trade. In 435 career games he has scored 279 points (104g-175a) while racking up 581 penalty minutes. He is one of the rare players to leave the Blueshirts and sign with the Devils (see: Kevin Weekes, Brendan Shanahan), as it is usually New York poaching players from New Jersey's ranks (see: Scott Gomez, Bobby Holik, Bruce Driver, Vladimir Malakhov).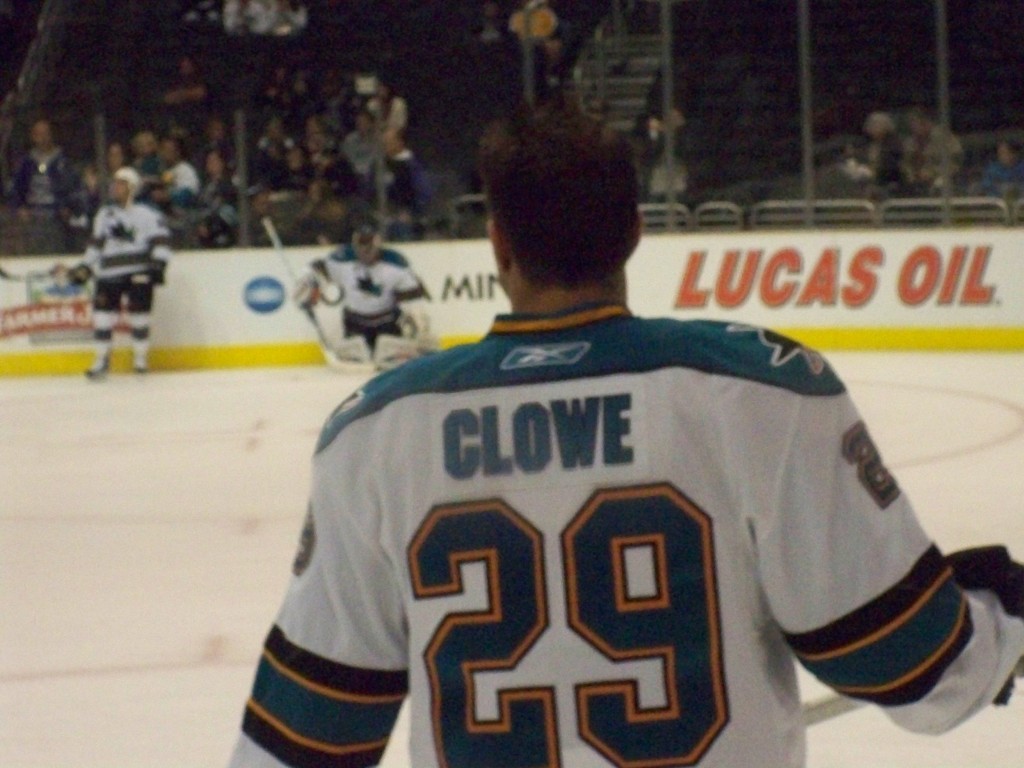 His rugged, team-first style often leaves his body vulnerable to injury (he has only played a full 82-game season once), but players like Clowe don't come along too often, which is why the Devils jumped at the chance to sign him this summer, adding to their roster some size, toughness and grit. His best season came in 2010-11 with the Sharks when he put up 62 points (24g-38a) in 75 games and then added 15 more points (6g-9a) over 17 playoff games. He is in the same mold of player that David Clarkson was for New Jersey the last seven years, but with a little more scoring touch and a tad more snarl. He could even become a mentor for young 19-year-old Stefan Matteau who seems destined to also become that type of player.
Clowe throws glass-rattling body checks, as seen here against Vancouver's Chris Tanev:
The Hockey Writers sat down with Clowe after the Devils final preseason game to ask him about why he chose to sign with New Jersey, how he has adjusted to his third team in less than a calendar year and if he feels any pressure trying to 'replace' the departed Clarkson among other things.
The Hockey Writers: You played the last two games in the preseason after exiting the first game after your first shift with a charley horse; do you feel like you are ready for the season?
Ryane Clowe: I do; when I got hurt on the first shift there I got a little bit worried. With the injury (I had) I just had to rest for two or three days; I didn't do much. Finally when I decided I could play I was kind of nervous, but the last few games I felt really good. My legs felt good, I was moving my feet, doing all the stuff that you have to do as a big guy (6'3", 225 lbs.). So I definitely feel like I'm ready, I think I probably feel the best I've felt in a while on the ice.
A big guy like Ryane Clowe isn't afraid to take on anyone, not even Jarome Iginla:
THW: Talk about the chemistry you had with your linemates Damien Brunner & Travis Zajac tonight, you guys seemed to click pretty well out there…
RC: Yeah, it's been good the last couple of games; obviously we had Trav in the middle and he's great to play with. He's just so smart, he's always in the right position to support you. I like the way we are playing; I like the style we play here — very aggressive, in your face, a lot of opportunity, a lot of zonetime. I'm enjoying it, I know it's preseason but we had close to a full lineup tonight and we did what we had to do.
THW: Is coach Peter DeBoer's system becoming more familiar to you now as the preseason ends?
RC: Definitely a lot less thinking out there and just reacting, tonight that was definitely the case. Even in the intrasquad games, you are just thinking (about the system) but tonight was more playing your game, reacting; it's coming pretty easy. Like I said for me there's a lot of similarities that I've found from San Jose that I've acquired over the last few years and it's mentally in my head. I've only been here six weeks but it hasn't been too bad.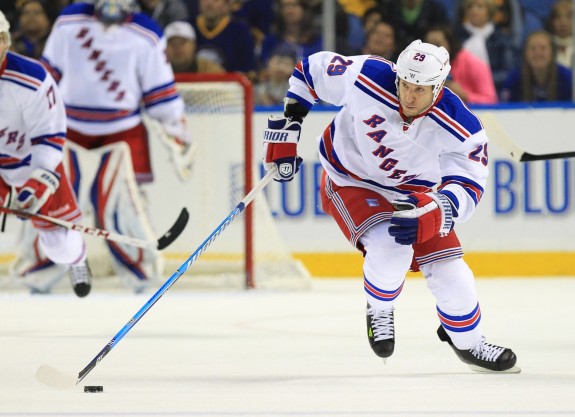 THW: You played in San Jose the majority of your career, then get traded to the New York Rangers midseason last year. Is it a little easier coming here and adjusting with a full offseason + training camp, etc.?
RC: Definitely. First of all you get to come here early, skate with the guys, hang out a bit, find a place to live — all that stuff. You get familiar (with your surroundings) before you even start. Last year was a bit of a whirlwind, played my first game in New York without even sleeping; flying the redeye from San Jose to New York. I wasn't complaining, it worked out, but spending a couple of months in New York helped me adjust for coming to New Jersey. I've got to say it's been nice, been pretty easy; Michael (Ryder) and I were talking to each other — it's been great. We've enjoyed it.
THW: We spoke with Ryder after the previous home game and he said he didn't know anyone on the team except for you, was that the same for you?
RC: Yeah pretty much. Well I knew Bernie (Steve Bernier) who I played with in San Jose; we talked in the offseason. I knew Scott Gomez, Colin White, even Larry Robinson and Matt Shaw from my time with the San Jose Sharks; I reached out to them before I came here. They all had great things to say and everyone raved about the New Jersey Devils. Like every locker room, I find that it's pretty easy to fit in as a player. It's not a loud locker room, but it's I feel like it's a good group of blue collar guys who love to work; it's been great.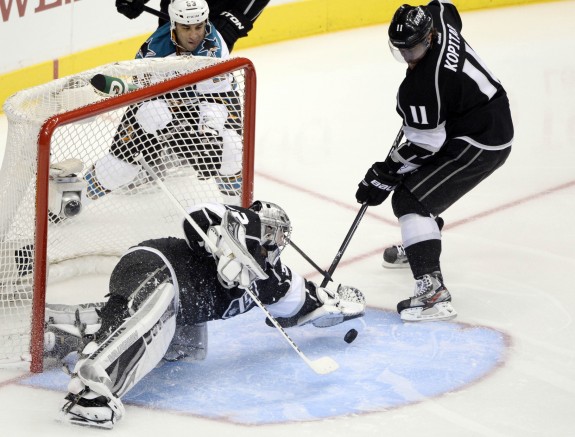 THW: How have you liked working for and playing for a new coach?
RC: He's been awesome — Pete's a good communicator. Like I said, from day one he has reminded me a little bit of (head coach) Todd McLellan from San Jose. Almost like that new style of coach where you have to have that communication with the guys these days. Everything is laid out pretty easy (for us) and he's a very positive guy. I think he is a very energetic, upbeat coach; his system is very aggressive, which I like.
THW: Any particular reason why you chose New Jersey over some other teams that pursued you this summer when you were an unrestricted free agent?
RC: To be honest New Jersey reached out with a long-term commitment, which was what I was kind of looking for. They weren't on my radar but at the last minute they pursued me and I had a couple of talks with GM Lou Lamoriello; after that I said to my agent: let's try to get this done. I talked to Lou, I talked to Pete and I was really adamant about what they wanted to do here. New Jersey has always had a history of winning, so every year you feel like they have an opportunity and when you sign a longer term deal that's kind of what you are looking for. That was a big reason, and to be honest the other reason was that they are on the East Coast, which is closer to home (St. John's, Newfoundland) for me. That was kind of new (and exciting for me) after playing in San Jose. From here it is only a two-and-a-half hour, three-hour direct flight; I got a taste of that in New York last year. We played on Long Island or in Philly last year and with less travel than on the West Coast, we were home by 11:30 at night; I couldn't believe it, for me that was fun.
Clowe shows off a slick backhand as he scores against Pittsburgh's Marc-Andre Fleury:
THW: Did you feel spoiled a little bit playing in New York compared to the travel playing with San Jose?
RC: It's funny because out West you're flying into Phoenix and Dallas and Los Angeles, so you're flying into nice cities with hot weather, but you don't get back until late (2:30am). But here, you are in and out, you're home and in your own bed most of the time; it's pretty crazy. I think San Jose has the toughest schedule in the NHL this year (as far as miles traveled).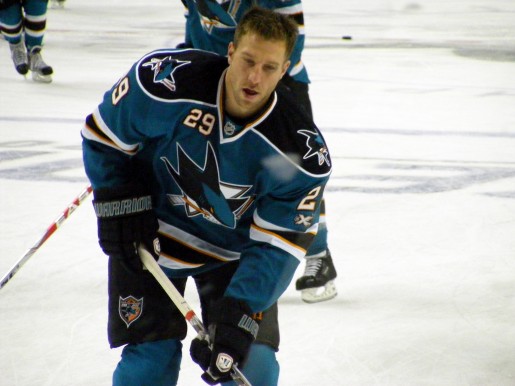 THW: You're a player that stands in front of the net, takes a beating and gets the goals that a lot of players aren't willing to sacrifice their bodies to get. Inevitably fans (and media) may compare you to David Clarkson who left the Devils to sign with the Toronto Maple Leafs this summer, are you okay with that?
RC: I don't mind it; personally I feel like with that kind of skill set, it's a unique skill set that we have. Not a lot of players in the league play that style, you look at a (Milan) Lucic in Boston, Clarkie, myself; there's not too many guys out there like us, so I don't mind being compared to those guys. I have a lot of respect for them, we play similar games a little bit, but in different ways. I'm not coming in here trying to fill his shoes at all, but obviously as soon as he left I signed here so that's why everyone will compare us.
Dan Rice can be reached via Twitter: @DRdiabloTHW or via Email: drdiablo321@yahoo.com