NHL Opening Night. It feels like so long since there was actual meaningful hockey on TV, and I'm sure everyone is just as excited as I am that the NHL season has finally begun.
It wouldn't be a seasoner opener unless it featured a classic rivalry, and that's just what we got with the Leafs and Habs last night. It was an action-packed game with plenty of big saves, scoring opportunities, and of course, abundant fisticuffs.
Scoring Across the Board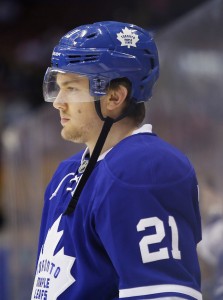 Take a look at last night's boxscore, and one thing is abundantly clear. Last night's win was a group effort.
James van Riemsdyk, Dion Phaneuf, Tyler Bozak and Mason Raymond all got on the board. In fact, nine Leafs got a point last night. The one piece of information most people may gloss over? Not a single Maple Leaf got more than one point. And that's a great thing for a hockey club.
Now, don't get me wrong. Phil Kessel will explode for a hat trick some time this season. Maybe Nazem Kadri or Joffrey Lupul will as well. Toronto has plenty of game-breaking offensive players that could create a win off a solo performance.
But scoring from all lines – that is the sign of a hockey club that is for real.
Depth Equals Success
If you don't believe me, just take a look at the past Stanley Cup finalists.
Last year's matchup between the Chicago Blackhawks and the Boston Bruins is a fantastic example of how depth is key. Both teams had superstars aplenty, but no one is immune to a cold streak.
On the Chicago end, Jonathan Toews and Brent Seabrook both struggled to find consistency at times in the playoffs, and though they both eventually started to heat up, their teammates had to carry the slack for a while. Similarly in Boston, Milan Lucic struggled at times to contribute offensively, and Jaromir Jagr did not get on the board for the entire playoffs, even though he had plenty of good looks.
When a team's top players aren't performing, it becomes a test of who is for real and who isn't. Boston's ability to role four lines consistently is well documented. Bottom-6 players Daniel Paille and Gregory Campbell made huge impacts for the Bruins last year in the playoffs. In game 6 of the Stanley Cup Final, it was not a star like Toews and Patrick Kane that scored the tying goal, but Bryan Bickell. And the man who ended up with the Cup winning tally? Dave Bolland, who was playing third line duties.
With increasing parity in the league, it's become far too easy to shut down teams that have only one or two good offensive lines. Teams that go deep into the playoffs also have deep rosters.
Implication for Toronto?
Let's go back to the Leafs, then. Mason Raymond is one of the key depth pieces this year that could contribute to Toronto's success. He looked fantastic playing alongside Nazem Kadri during training camp and preseason action. But last night, he skated alongside Dave Bolland and Troy Bodie at times, and ended up putting in the game-winning marker. That versatility – the ability to play with any linemates, in any role – will be a fantastic asset to have, especially late in the season and during playoffs, when injuries start to take their toll.
When David Clarkson comes back from his suspension, the Leafs will be hard to coach against. Would a team want to throw out their top-D pairings against JVR-Bozak-Kessel? Or Lupul-Kadri-Clarkson? It's a "pick your poison" type of scenario, because Toronto does not have a true "first line" anymore. It's more of a 1A/1B kind of situation, and it's a great problem to have.
Even if the top-6 can be contained, the third line of Raymond-Bolland-Kulemin is no joke. Great defensively with lots of hitting and decent speed – this line will be a nightmare to contain and play against.
Throw in a useful 4th line with the defensively superb Jay McClement, along with McLaren and Orr for some intimidation, and it's hard not to like where the Leafs are at in terms of forwards.
Quick Hits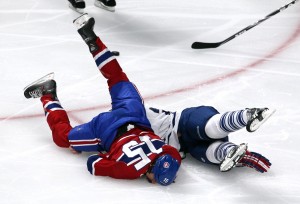 -Jake Gardiner did not look fantastic last night, logging a -2. Coach Randy Carlyle is not shy about benching players, and he has done it to Gardiner specifically. I wonder if Morgan Reilly is going to get a shot?
-Best wishes to George Parros. Never want to see a player injured like that, and I wish him all the best. Best facial hair in the league, bar none. [editor's note: we heard that he has been released from hospital and is out indefinitely with a concussion]
-I know it's been a half-season now since the trade, but I still get excited when Toronto plays against Philly and Luke Schenn. JVR and Schenn both played so well last season when these teams met, so I expect some similar results this time across.
-So Mikhail Grabovski apparently isn't a good hockey player according to Leafs management? The hat-trick and assist against the Stanley Cup winning Chicago Blackhawks indicates otherwise. This one may really come to bite us in the rear.
Follow me on Twitter (@alexmai11) to get all the latest updates! Fastest way to simply by clicking the link in the Author's Box below.
The NHL regular season schedule was released on Friday. Check out our partners at TiqIQ for the best deals on Toronto Maple Leafs tickets for all 2013-14 games.