The New York Rangers have played poorly lately and a lot of players are underperforming this season. On Nov. 23 they lost 3-2 to the Anaheim Ducks, who are currently in last place in the Pacific Division. They then blew a three-goal lead in a 4-3 loss to the Edmonton Oilers on Nov. 26 and a 2-0 lead in their 5-3 loss to the rival New Jersey Devils on Nov. 28.
Despite the team's struggles, Chris Kreider and Ryan Lindgren have both stepped up in the last few weeks. They did everything they could during their three-game losing streak and both played a key role in snapping that streak in a 3-1 victory over the Ottawa Senators on Nov 30.
Chris Kreider
After never quite reaching 30 goals in his first nine seasons with the Rangers, Kreider broke through for 52 goals, including 26 on the power play last season and he is off to a strong start this season. He is great at deflecting pucks on shots from the point and also uses his strength to score on rebounds. This season he has only four power-play goals, in part due to bad luck as many of his deflections haven't gone in. Additionally, other members of the power play unit are repeatedly passing up shots and forcing passes, which means fewer opportunities in front of the net for the talented power forward.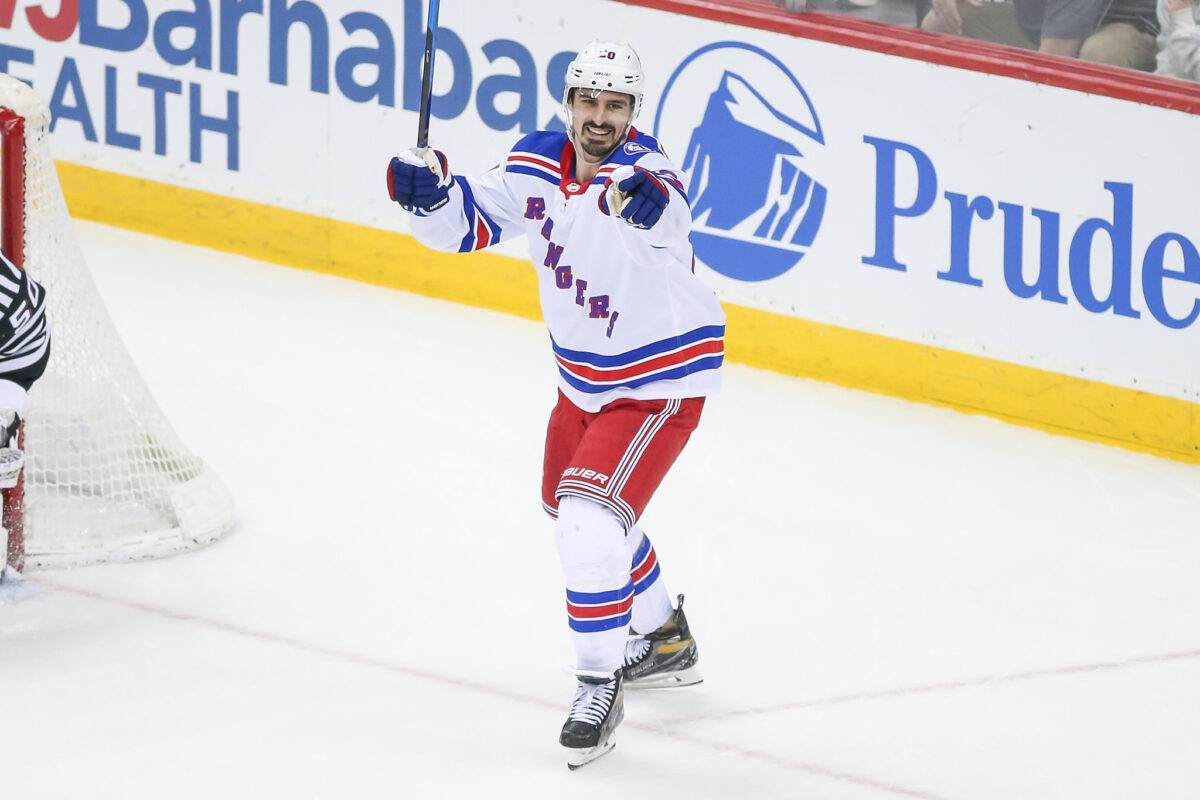 Kreider has still found ways to produce and has come through with some big plays in key moments. In the Rangers' 1-0 victory over the Philadelphia Flyers on Nov. 1, he used his speed to create a breakaway and scored on the backhand to win the game in overtime. They have lost all four of their other overtime games.
Through 24 games Kreider is tied for the team lead with 11 goals and also leads with seven even-strength goals. He has four goals and two assists in their past five games including the game-winner in the third period of a 5-3 victory over the Los Angeles Kings on Nov. 22. He also scored a much-needed insurance goal which gave the Rangers a two-goal lead in their victory over the Senators.
Related: Rangers' Kreider Heading Towards the Rafters
Kreider has excelled on the penalty kill and played well defensively while still producing offensively. He has also played his best hockey of the season over the last few games even though many of his teammates are slumping.
Ryan Lindgren
Lindgren has developed into a crucial player for the Rangers on their top defense pair alongside Adam Fox. He is very strong defensively and a key part of the team's successful penalty kill, which is fourth in the NHL at 83.3 percent. Since 2019-20, his first full season in the NHL (including the playoffs), they are 8-14-2 without him in the lineup and have allowed 3.75 goals on average per game. They are 45 games over .500 and give up 2.71 goals on average per game when he is in the lineup. He missed two games with an upper-body injury early in November and they lost both games, allowing seven total goals.
---
Latest News & Highlights
---
Though he is not known for his offense, Lindgren has made smart pinches to keep the puck in the offensive zone and takes accurate shots from the point. He has six assists in his last five games and assisted on all three of the Rangers' goals in their 3-1 win against the Senators.
Lindgren has also continued to show toughness as he did not miss any games despite leaving early in the Rangers' 4-3 loss to the Oilers with an upper-body injury. Against the Senators, he had to hobble to the bench after blocking a shot on the penalty kill but he returned and played an excellent game both offensively and defensively.
With Jacob Trouba, K'Andre Miller and Zac Jones all struggling, Lindgren and Fox have both stepped up. The Rangers need more production from their defensemen other than Fox, and Lindgren has come through lately. He now has eight assists in 22 games this season.
For the Rangers Moving Forward
Though this is a disappointing start to the season for the Rangers, Kreider and Lindgren are excelling at both ends of the ice. They can be trusted in any situation and they both played big roles in the team's last two victories. They are leading by example, but now they need the Rangers' struggling stars to raise their level of play to have a shot at making the playoffs this season.
---
---
---
---
I grew up in Brooklyn, New York, rooting for the Rangers, Yankees, Giants, and Knicks. When my dream of playing shortstop for the Yankees fell short, I started writing about sports instead. I'm a proud graduate of the Philip Merrill College of Journalism at the University of Maryland.