That time of year has come for Chris Kreider. Can the New York Rangers' power forward finally make it a more permanent condition of his season, or should fans just savor it while it lasts, accepting that it won't?
That's the question for the Blueshirts' alternate captain, who's in the midst of one of his characteristic scoring surges in which he often makes the game look easy. The 6-foot-3, 217-pound left wing who skates like someone 50 pounds lighter has piled up nine goals in his last six games, including natural hat tricks in a 4-3 loss to the Philadelphia Flyers on Feb. 24 and a 6-1 rout of the New Jersey Devils on Thursday, giving him 13 goals on the season.
His tally in a 3-2 victory over the Buffalo Sabres on Tuesday, a snipe from the left side that found the top right corner behind Carter Hutton, left Kreider looking more than a little surprised that the puck went in. He shouldn't have been: the shot, which Kreider released with an almost casual-looking flick of the wrists, was a rising bullet through a screen by a Sabres defender that Hutton, in retrospect, had little chance to stop. It was the kind of goal that elite scorers can deliver.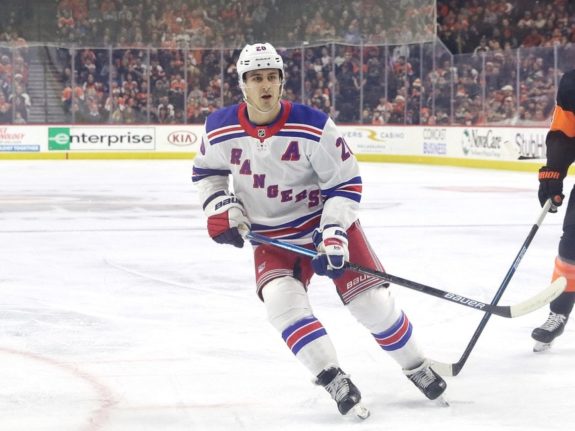 Kreider has tantalized Rangers management this way since arriving for the 2012 playoffs fresh off of his final season at Boston College. The combination of speed, power, hands and work ethic seemed to guarantee NHL stardom for the Boxford, MA native.
Yet he's never quite gotten there, never reaching 30 goals in any of his eight full seasons, unable to put a streaky offensive nature behind him. The reasons for it have been written about and speculated to death: he thinks too much, cares too much, is too hard on himself, is hiding an injury, etc. Perhaps all of that has been true at some point. Perhaps some of it is nonsense.
Kreider's Challenge: Keep the Goals Coming
What's undeniable is that Kreider puts together one of these rolls seemingly each season. In 2019-20, he scored 12 goals in 17 games from Jan. 7 to Feb. 19. In 2018-19, he scored five times during a four-game goal streak. He fashioned another five-goals-in-four-games run the season before that.
Yet in each of those seasons, Kreider also went through offensive droughts during which you weren't sure if he played sometimes. In his final five games after his 17-game burst last season, for instance, he didn't record a point. Similar stretches are easily located throughout his career game logs. Before this current nine-goal spurt, he went six contests without a goal.
It's always been simpler to overlook the droughts with Kreider because he's a leader on the ice and in the dressing room, and his personality and hard-working nature help set the tone for the organization. Yet those barren stretches gave management enough pause – and enough reason to consider trading him – before finally blinking and signing him to a $45.5-million, seven-year extension hours before the trade deadline last February.
Kreider's timing for this season's offensive outburst couldn't be better, with Artemi Panarin on a leave of absence, Mika Zibanejad struggling badly to find his form of the past two seasons, Filip Chytil missing an extended period due to injury and Kaapo Kakko landing on the COVID-19 list. The question for the Rangers is whether they can begin to count on Kreider to start providing consistent production at this point in his career, rather than just hoping his seasonal hot stretch comes when it's most needed.
He certainly seemed to be finding more game-to-game steadiness late last season, fashioning a longer run than usual with the 12 goals in 17 contests. Yet the empty five games followed, bringing the abbreviated season to an end. Kreider scored 24 times in 63 games last season, having missed seven contests. We'll never know if he would have been able to come up with six goals over the final 12 matches to hit 30 – which he wasn't able to do in 2019-20, when he finished with 28 after failing to score in the final seven games.
So … does this particular burst mark the beginning of the 29-year-old figuring out how to put his career-long streakiness behind him? There's reason to believe it's possible.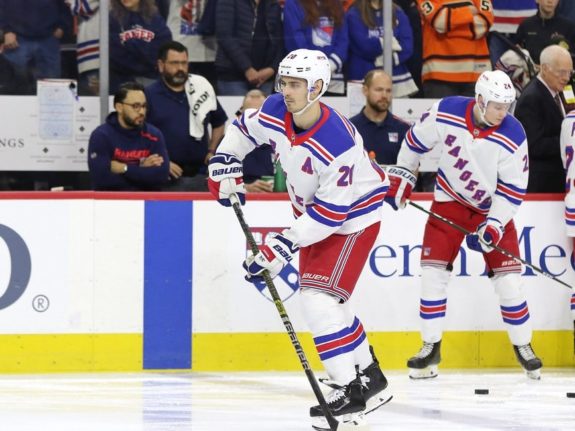 While only Kreider knows what's going on in his own head, the aforementioned speculation about his noggin getting in the way at times might just ring true. Kreider is smart, thoughtful and cultured – engaging in pursuits that don't tend to go hand in hand with earning a living as an NHL power forward – so it seems completely reasonable that he'd bring the same nuanced, complex view of life to the ice as well.
Simplicity Might Be the Key for Kreider
Yet elite professional sports often require athletes to keep things simple – and a study of Kreider's game over the past six contests suggests he's doing just that. It isn't just the straight north-south game and planting his flag in the dirty areas in front of the net, from where he scored all three of his goals against the Flyers and one on a deflection against the Devils. Kreider's body language on ice suggests an easy confidence with his approach and the results it's yielding.
It's also clear that Kreider relishes and embraces his role as a leader and role model for one of the youngest teams in the league. Might the Rangers' captaincy, vacated for more than three years now, be the logical next step? Would it further enhance the game of a player whose effectiveness seems to rise with more responsibility?
"It takes a lot of hard work from the guys you're playing with, a willingness to get pucks there," Kreider said. "Those guys are doing the work, doing an incredible job. I've just been trying to stick around the front of the net and obviously it's working for us right now."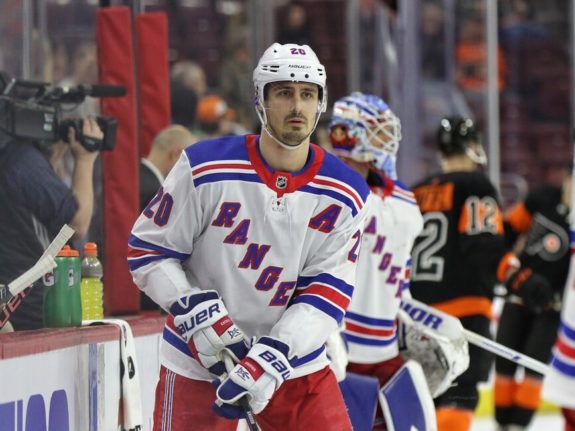 It's probably always been unrealistic to expect Kreider to develop into a 40-goal scorer. His heavy game means inevitable wear, leading to periods of ineffectiveness that are probably to be expected. Yet the events of the past week-plus, and his longer-than-usual surge last season, just might indicate that he's learning how to shorten those stretches in his "old" age.
Panarin is the Rangers' best player and rookie left-wing Alexis Lafreniere might be the future cornerstone of the offense, but Kreider brings a dimension none of his teammates can – when he's bringing it on a nightly basis. The organization is hoping big No. 20's latest hot streak means he's finally about to leave the switch flipped on for an extended period.
---
---