The World Junior Championship has largely been an irrelevant tournament for New York Rangers prospects this past decade, as it should be for a contending squad. Now fully immersed into a rebuild, the WJC has become a showcase for hopeful Ranger draft picks and current prospects. In 2020, the Rangers had six prospects invited to WJC training camps, but only Leevi Aaltonen was kept off their respective country's final roster.
That left five prospects to represent the Rangers in the 2020 WJC fixture. Despite a lack of silver or gold medals for their respective squads, they had an overall strong performance across the tournament. We'll use the classic A through F scale for grading purposes.
Nico Gross
This was Nico Gross' fourth go at the WJC championships with Switzerland. Gross hasn't stood out amongst the Rangers loaded prospect pool since being taken in the fourth round of the 2018 Entry Draft. He's struggled to find consistent scoring in the Ontario Hockey League with his Oshawa Generals, but he's poised to break his previous season-high of 20 points in this year's campaign.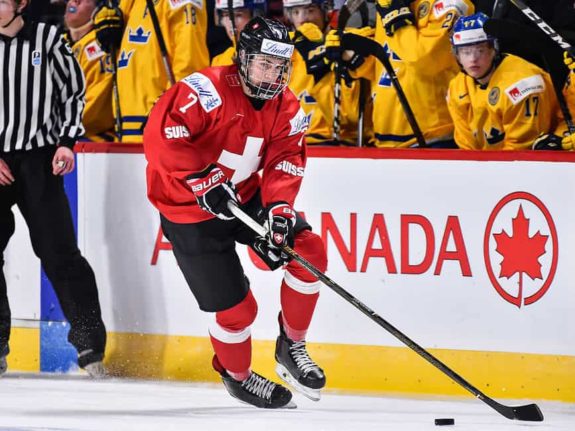 Unfortunately, that consistency translated to his 2020 WJC, logging just a single goal through the tournament. His lone score came in garbage time during a blowout loss to the Swedes. His average time-on-ice of 9:26 was last among all Swiss defenseman and he dressed in only three games. He also logged the least amount of shifts on the roster and was one of only two Swiss players that logged a negative plus/minus. This is quite the drop off from Gross' 2019 WJC where he was averaging 15:45 a game over seven contests.
C-
K'Andre Miller
Perhaps the most promising prospect that Rangers had at this year's WJC was the 22nd-overall selection in the 2018 Entry Draft. K'Andre Miller has been enjoying quite the season for his Wisconsin Badgers, entering the tournament as the favorite for the United States' premier defenseman. Unfortunately, Miller's tournament didn't exactly live up to expectations. He wasn't bad, but he was far from where expectations and projections had him pinned for.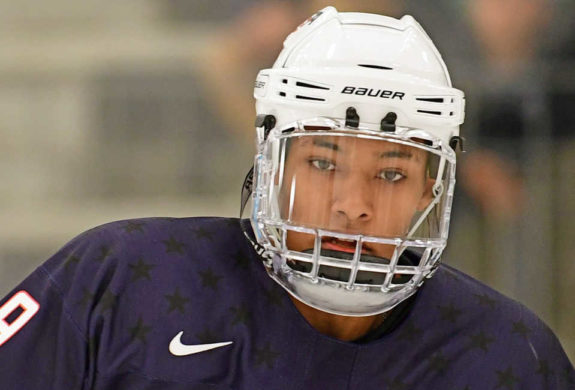 Miller logged two assists, both secondary, seven shots on goal and was a plus-one through the tournament. By no means do those numbers jump off the page as a spectacular performance, especially for a defenseman who's scored six goals in 16 games at the NCAA level. On the bright side, Miller did log 19:40 per game, leading all U.S. defensemen. He was largely seen with Spencer Stastney as his partner, but head coach, Scott Sandelin, would occasionally split the duo in order to double shift Miller.
Miller failed to see much time on the man-advantage, but was heavily relied on for the penalty kill. Along with the rest of the U.S. roster, the penalty kill was a particularly weak spot for the 19-year-old defenseman. He would collapse and give the opposition far too much time on the perimeter, plus the cross-crease pass seemed to be a particular problem him. His front net presence wasn't as strong as you'd want from a defenseman on his stature. That may have been more of an issue on Sandelin's system than Miller's actual play, but it was evident that he looked uncomfortable and out of place on the PK.
Unfortunately, Miller's tournament will be highlighted by his costly turnover to Alexis Lafreniere in the U.S. opener against Canada. His ill-advised cross-ice saucer pass would have been a safe bet against virtually anyone except for the projected first overall pick. The turnover led to a Lafreniere breakaway and the eventual game-winner in Ostrava.
All in all, Miller was below average in the tournament but that's not to undermine his performance. This wasn't the strongest of teams for the United States and Miller was never put in a situation to be particularly successful on the offensive side of the puck.
C+
Zachary Jones
If there was one shining spot in the underwhelming performance by the U.S. defenseman, it was Zac Jones. He quickly established himself as the primary offensive threat on the blue line. He was featured heavily on the man advantage and logged plenty of minutes. His 17:13 average was fourth amongst U.S. defenseman.
Miller and Jones led the U.S. blue line with two points each, but Jones was far more offensive involved. He was regularly jumping into the rush and pinched heavily in the offensive zone, evident by his 12 SOG. He ended the tournament with a single goal thanks to a slick pass from Trevor Zegras and primary power-play assist on Shane Pinto's opening goal for the U.S.
The 2019 third-round selection had himself a strong WJC but this will unfortunately be his only year of eligibility. He's got plenty to work on, primarily his corner play and gap control, but he's supremely talented with the puck on his stick. Shouldn't be long until the Rangers see that same offensive poise on show during training camp and, hopefully, in the NHL.
B+
Karl Henriksson
The lone forward amongst the Rangers WJC prospects was gifted and cursed with a loaded Sweden squad. The 2019 second-round selection was largely featured on a line with Frolunda HC teammate, Lucas Raymond and Alexander Holtz, both of whom are projected to be top picks in the 2020 Draft.
Henriksson finished his tournament with a single goal and two assists in seven games. Since Sweden's team was highlighted by names like Samuel Fagemo, Nils Hoglander, and Jonatan Berggren, the 18-year-old center wasn't a primary threat on offense. He was often relied on to provide more secondary scoring as he regularly was featured as a third-liner. He averaged just 9:55, more than just two other forwards on Sweden's roster. In addition, he struggled mightily in the face-off dot, winning 50% of his draws just twice in the seven-game span.
In his limited ice-time, Henriksson was was still able to make a decent impact, primarily with his playmaking ability. He's a pass-first kind of player and has no problem finding the open man while under heavy pressure. You can see him exemplify this skill in the clip above, patiently drawing two Slovakian defenders before finding the man in the slot.
His smaller 5-foot-9 frame makes him a bit too easy to knock off the puck, but he's exceptionally meticulous with the puck. It was rare to see him make a costly turnover or ill-advised pass. That being said, his defense was lacking at many times. He wasn't very good in his own zone, evident by his minus-1, which is particularly staggering since nearly every Swede posted a positive +/- in the tournament.
B
Nils Lundkvist
Following his performance in the WJC, it's fair to say that Nils Lundkvist is quickly becoming the Rangers top defenseman in the system. Like Henriksson, he was blessed by an extremely talented Swedish roster, but would be against heavy competition for exposure and TOI.
Lundkvist entered the tournament with exception numbers in the Swedish professional league. His 17 points in 25 games his second in scoring and first among defenseman on Lulea HF of the SHL. The same skills that have helped him succeed at the professional level were fully on show at the WJC. He finished the tournament with one goal and seven assists in seven games, second among Swedish defenseman only to Toronto Maple Leaf prospect, Rasmus Sandin. His 17:32 of TOI per game was also second to Sandin for the team lead.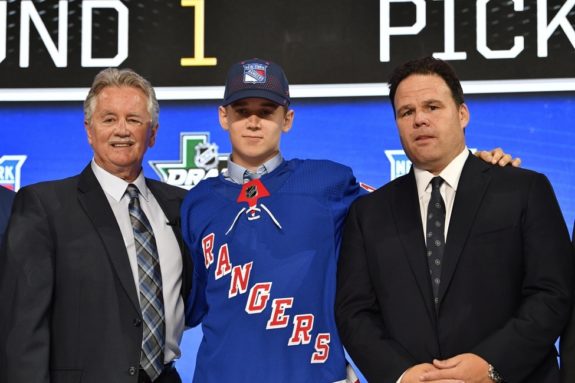 Besides Sandin, Lundkvist was the most complete defenseman on Sweden's roster. He finished third in scoring and second in SOG amongst all defensemen. The only game he posted a negative plus/minus was Sweden's lone loss against the Russians in the semifinals. In the same game, he logged his single goal, added an assist and skated for leading 20:37.
Lundkvist was certainly trending towards becoming the Rangers top prospect on defense with his play in the SHL. Adding his WJC performance into consideration fully solidifies him as the Rangers most complete defenseman in their system.
A
There were plenty of positives out of Rangers prospects in this year's WJC. While Miller may not have played up to expectations, performances by Jones, Henriksson, and Lundkvist should give the Rangers plenty to be happy about as their prospects continue to develop.
James (Jeb) Biggart graduated from Ithaca College with a Bachelor of Arts degree in journalism and a minor in business administration. He currently works for Minute Media/12Up Sports as a social media coordinator, creating content and organizing posts to various company owned social properties. He also works for The Hockey Writers, serving as a digital contributor to their New York Rangers content. He was involved in Ithaca College's local newspaper, The Ithacan and worked as a writer for 12Up Sports, a media outlet of Minute Media Inc. He has spent time in New York City working for 12Up as a social media intern, driving traffic with creative posts and videos. He created and distributed content across hundreds of sports social media properties. To today he has created over 900 unique articles driving 6 million page views. When he's not writing, Jeb enjoys playing rugby and day dreaming about Henrik Lundqvist lifting the Stanley Cup.