The "Sophomore Slump" or "Sophomore Curse" is a well-known narrative amongst fans of the NHL. It's also been a topic that reporters usually never let slide either. What makes it more interesting is that the trend seems to occur commonly within the defensemen community. With the young blueline that the New York Rangers have, one important player to keep an eye on is Braden Schneider to make sure he avoids the second-year trap.
The 20-year-old defender concluded his rookie season this past year when he was summoned from the American Hockey League (AHL) in Jan. 2022 to make the trip to face the San Jose Sharks. He participated in what would be any rookie's dream debut – a game in which his team pitched a shutout road victory and he even got on the scoresheet himself.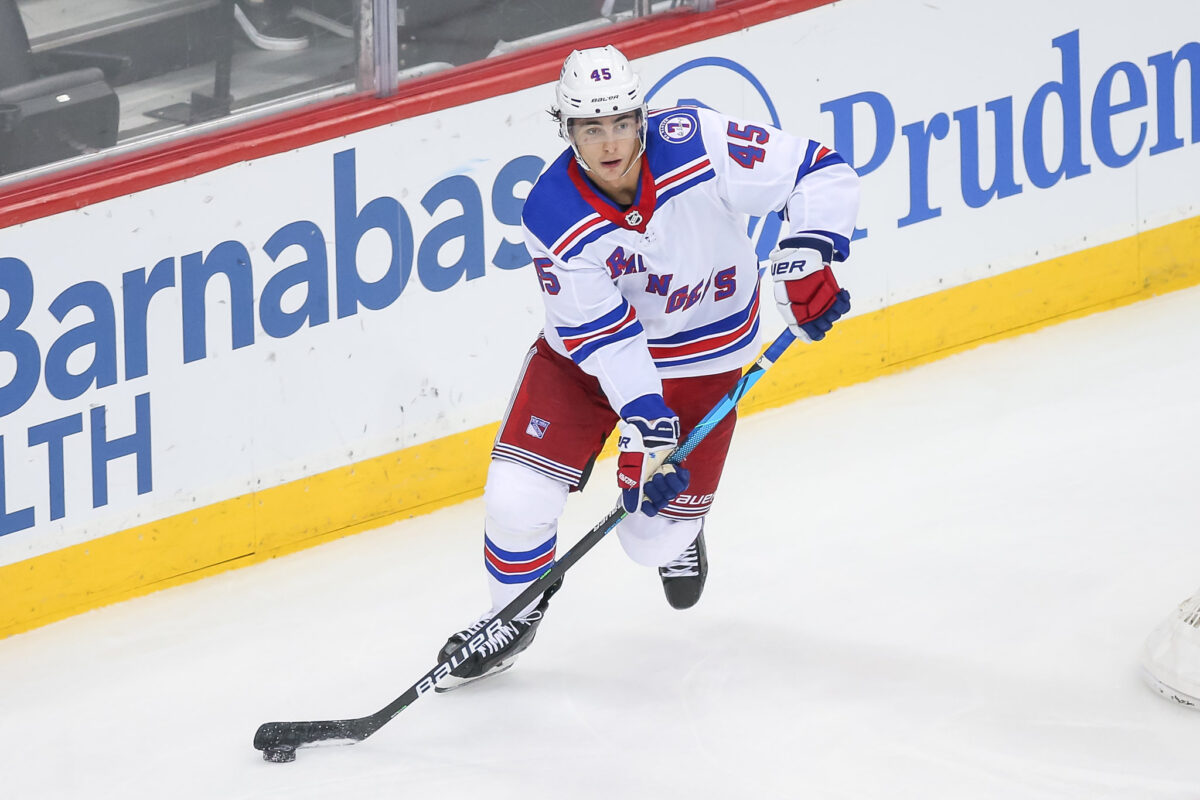 Of course, the Blueshirts are in no shortage of young and skilled defensemen, but Schneider's early looks prove he could be a significant part of the defense corps in the future. As such, his development as a reliable defender is crucial. Several past members of the backend have fallen victim to the sophomore slump, most recently, Brady Skjei. He never quite lived up to his potential in New York and has struggled to find his footing since. As a result, he was dealt to the Carolina Hurricanes after five seasons.
How Skjei Found Himself in a Second-Year Slump
In all fairness, the defense in its entirety struggled during Skjei's time with the Rangers and the pairings were not necessarily mutually beneficial. However, some recurring mistakes were tough to justify, as he was confidently assumed to become a prominent member of the long-term plan – a plan that eventually failed.
His first campaign with the Rangers was a seven-game stint during the 2015-16 season. After a solid, fuller term year in which the left-shot put up 39 points in 80 games in the 2016-17 season, his performance the next season dropped off at both ends of the ice. From that season on in terms of production, he never cracked the 30-point mark again. Rather his penalty minute accumulation stayed steady – and he was never one to necessarily take "smart" penalties.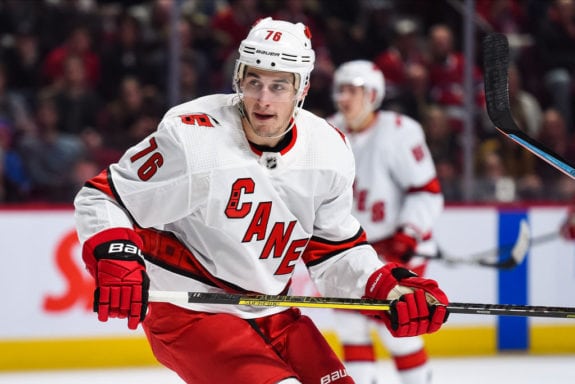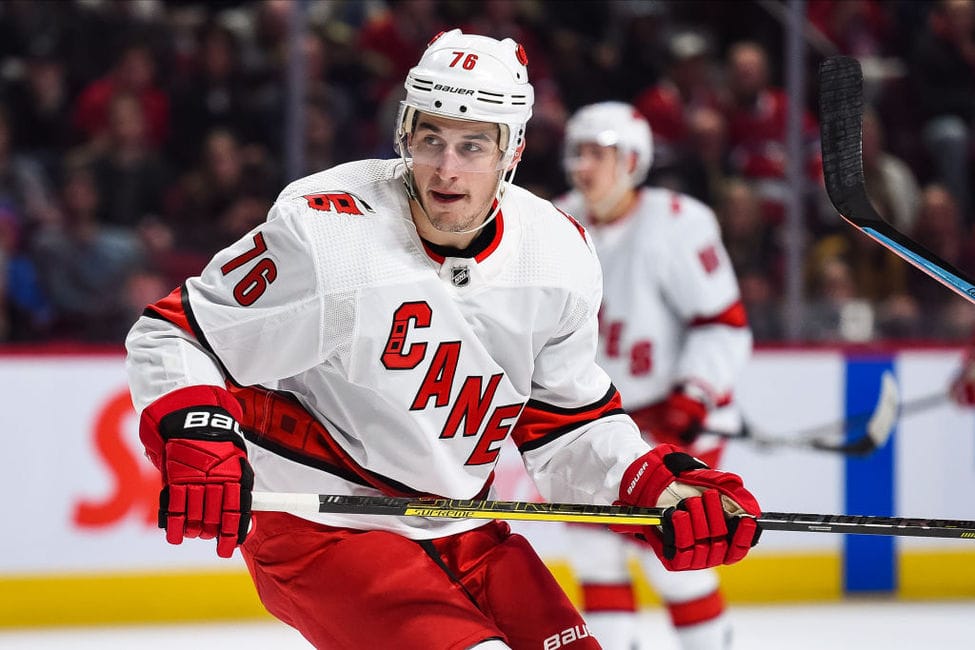 With the struggling backend, Skjei was in a position to elevate the defense, but that never materialized. A golden opportunity was handed to him when his close friend, Jacob Trouba, joined the Rangers at the beginning of his fourth full season. At 25 years of age, the stars seemed to be aligned perfectly, and although he was given a familiar partner in Trouba, the newcomer also struggled in his debut season and the hardships continued.
Related: Rangers Correct to Name Jacob Trouba Captain
A variety of factors played into Skjei's fall from grace, but the organization eventually decided it was time to move on from him in 2020-21. Ultimately, the Rangers continued to scrap names and start fresh, which is how Schneider came to be a member of the franchise. Though the rebuild was invasive in itself, the front office made an aggressive leap at the younger player when they moved up in the 2020 NHL Draft to select him 19th overall.
Though Schneider's situation differs from Skjei's, the drop-off in defense and offense in his case was blatant, which made his slump more noticeable. While Schneider had limited opportunities in his 43-game-season, he displayed a slight flair for the offense. The front office had their eye on him for his size and physicality regardless, so an input of offense will be more than welcomed.
A Deeper Dive into Schneider's Rookie Season
The blame cannot be pinned entirely on Skjei, as the defense was in a completely different state compared to the current time; this is not the only instance of the blueliner blues. Thusly, any given defenseman could be subject to the second-year dip. But with the Rangers so close to cracking a Stanley Cup Final, swerving around a slump will be a priority with Schneider.
Of course, defending is a two-person configuration. For better or for worse, a blueliner's partner can help or hurt the other in the pairing. Schneider began his career paired with veteran Patrik Nemeth. Nemeth himself had an underwhelming season with the Rangers, but despite this, Schneider spent most of the regular season as his partner.
Pairing the Prince Albert native with the right defender will be key in his development. Given how well he held his own when partnered with Nemeth and Justin Braun – who did not necessarily contribute to his growth – a fresh partner is an exciting opportunity. Though he will likely be slotted next to a fellow youngster, the concept of a veteran-Schneider pair is absolutely justifiable – it just so happened the veteran options were slim last season.
Schneider was able to put his physicality on display quickly. That meant the Rangers were able to roll out three pairs of grit, between Ryan Lindgren at the top, Trouba and his partner, K'Andre Miller who add grit, and then Schneider on the bottom pair. Of course, there is also an untapped level of physicality he can reach as he approaches his prime athletic years.
We saw a glimpse of a young partner with Schneider when he was slotted next to Lindgren. In the rookie's debut season he ended with 11 points – two goals and nine assists. His offense persisted into the postseason too, as he picked up three assists in 20 playoff games. This early playoff experience will be invaluable to his regular season growth this year as well.
A lot is riding on this season for Schneider, but also for the rest of the team, who will feel the pressure to outperform their successful 2021-22 season. Yet Schneider, who is in the process of carving out his identity, will have to wait and see what heights he can reach with his partner, something that will play a huge role in the feared performance dip.
This is also the most cohesive a Rangers' defense core has been in years. The timing is just right for Schneider to have a solid season and help his team push a little further in the postseason come April and beyond. The team already proved they should be taken more seriously as a contender and are more than just the dynamic Igor Shesterkin. Indeed Schneider and the rest of the defense did assist the netminder in his Vezina Trophy season as well, but Shesterkin's steadiness in net helps relieve some of the pressures to have the young blueliners perform immediately.
A quick glance at the rest of the Metropolitan Division will prove Skjei is far from the only blueliner to experience the sophomore slump. Perhaps most recently, Ty Smith, the former New Jersey Devil who has since been moved to the Pittsburgh Penguins, comes to mind. After a highly successful rookie season, he found himself in the press box at times during his sophomore season as a healthy scratch. He now has the opportunity to bounce back but with another team also within the division.
A couple of members of the Philadelphia Flyers defense are at risk of the curse as well, given they crack the roster. Several other Metropolitan teams are in a transitionary phase too, where their youth will be tested. While Schneider never provided any legitimate indication that a slump may be ahead, it's hard to shake the age-old adage that "history repeats itself." Again, the Rangers have been burned in this situation before not too long ago and this will just be another instance of the waiting game. Hopefully, he won't be another victim.
---

---