The New York Rangers have several exciting prospects who are about to start their NHL careers. One in particular who could see his career start as soon as Jan. 13 is defenseman K'Andre Miller. The former 2018 22nd overall pick was invited to the Rangers training camp this season and has a legitimate shot at a roster spot.
He was also invited to the playoff bubble last season shortly after signing his entry-level contract. While Miller did not suit up for any games, he gained valuable experience practicing with the team.
As impressive as he has been, the Rangers must be smart with how they handle the young blueliner. They recently had a similar situation with Brady Skjei that, unfortunately, did not work out so well. If the Rangers want Miller to develop into the defenseman they know he has the potential to be, they have to avoid rushing him as they did with Skjei. While Skjei is still an NHL caliber defenseman, he has not lived up to the promise he showed as a rookie and his big contract.
The Rangers Rushed Skjei Too Early
It was not too long ago when Skjei looked to be a quality defensive prospect for a team still in playoff contention. He made his NHL debut during the 2015-16 season as a 21-year-old with seven games in the regular season where he did not score. He also appeared in five playoff games where he notched two assists.
The following season he played 80 games and had a spectacular rookie season. With five goals and 34 assists, Skjei showed the potential to become a high-grade two-way defenseman as he finished 10th in voting for the Calder Trophy. During the playoffs, he scored four goals and added one assist while forming a solid pairing with current Blueshirt, Brendan Smith.
Since then, Skjei was unable to find the rookie form that made him such a valuable asset for the Rangers. His biggest strengths were his ability to use his combination of size and strength along with quality edgework to move the puck and create plays. Over the past two seasons, he has not shown that ability as much as his team would have liked. His defensive play has been lacking and he has not looked very confident. He has also maxed out at 25 points in one season since, although he has had two consecutive seasons with eight goals.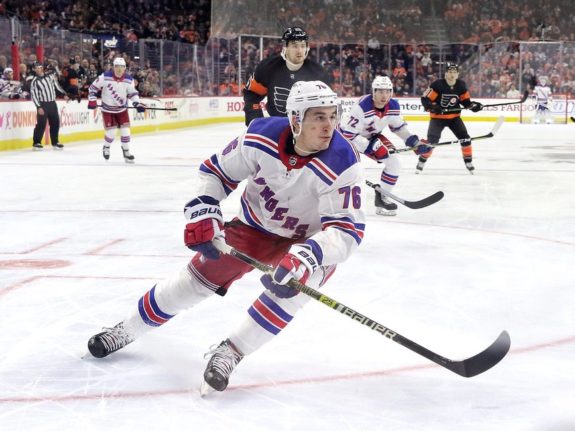 Much of this can be attributed to the Rangers rushing him into a bigger role than he was ready for as a result of the rebuild. When the team announced the rebuild, he was only in his second full NHL season.
With veterans like Nick Holden and former captain Ryan McDonagh getting traded, he was forced into a much bigger role as a top-pairing defenseman that time has shown he might not have been fully ready for. As a rookie, Skjei averaged 17:28 TOI and saw it jump to 21:02 as a sophomore, 21:14 his third season and 20:41 this season. In addition to more ice time, he was playing against better competition.
How it Relates to Miller
There are a few ways in which this relates to the highly touted Miller. He is also a big defenseman standing at 6-foot-5, who skates very well with the puck. He also uses his strength to muscle out opponents both on the boards and while moving the puck himself. He turns 21 later this month and has a very good chance at getting his first taste of NHL action.
Since the Rangers' depth at left defense is a little bit suspect behind Ryan Lindgren, Miller could force his way into a bigger role than anticipated if he outplays his competition in Smith, Jack Johnson, Libor Hajek and Tarmo Reunanen at camp.
Skjei got an increased role due to the lack of proven talent in the organization and Miller could easily see the same due to the questionable depth. More ice time is generally a good thing for a developing prospect but thrusting a prospect into a role they are not yet ready for could potentially be more damaging.
Miller could rise to second on the team's depth chart at left defense although the Rangers have been experimenting with Tony DeAngelo on that side during training camp. There is the possibility Deangelo spends a good portion of the season rotating sides which would bump Miller down to at best third on the depth chart, which gives head coach David Quinn options with his future star.
The Rangers knew the kind of quality defenseman they would be getting when they traded up to select him 22nd overall back in 2018. In his two seasons with the University of Wisconsin, Miller has shown why is one of the top defensive prospects in the pipeline. Out of all the left defensemen in the system, he has the best shot at becoming a top-pair blueliner and they would be wise to make sure they develop him right. His skillset and athleticism could make him a dangerous two-way defenseman in a few years.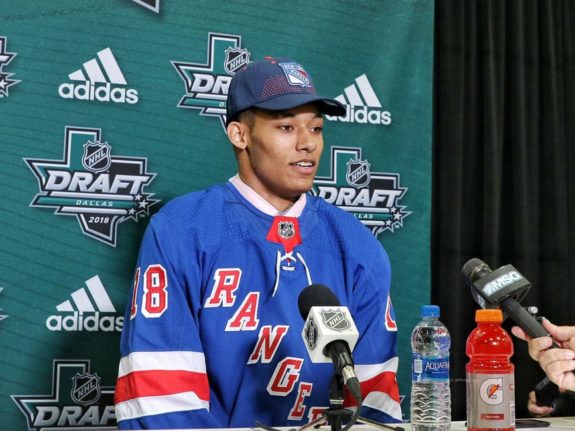 This is not to say give him nothing but sheltered minutes against a team's fourth line, but instead; if he struggles in bigger roles the Rangers should bite the bullet and play one of the veterans instead of letting Miller flounder against players a cut above him. There is the chance he is not ready for the NHL just yet and that is perfectly okay, not every player comes in and lights up the league at 21 years old. Defensemen generally take longer to develop and Miller has not been a defenseman for very long. The NHL has no shortage of talent, especially among the Rangers' division rivals this season.
Miller's ceiling is very high due to his incredible athleticism, the Rangers cannot afford to rush him. They are looking at him to be a top defenseman that leads them during their next contention window. Taking the utmost care in getting his development right and unlocking his full potential should be the priority.
If he is not yet ready for the big stage, there is no shame in giving him some more time to develop. Miller has yet to play a single game of professional hockey, there is still plenty of time for him to become what the Rangers imagined him as on draft day. If he makes the team and shows he is ready for the bright lights of Broadway like Adam Fox did last season, even better. His future is bright, the Rangers will want to get this one right.
---
---
Currently a writer for the New York Rangers, University of New Hampshire alumn