Jim Neveau, NHL Senior Columnist
As if being the defending Stanley Cup champions didn't put enough pressure onto the backs of the Boston Bruins, their goaltenders have been doing a great job recently of bringing intense scrutiny onto the team's doings. First, you had Tim Thomas turning down an invitation to the White House based on what seems to be a distaste for the size of government, and then Thomas posted on facebook that he was in support of Catholic groups protesting the President's guidelines on requiring insurance companies to cover birth control pills.
As if all of that wasn't enough, Tuukka Rask turned the heat up just a little bit more this week when he discussed the team's status with a Finnish website. In that interview, translated accounts indicated that he could possibly be unhappy in Boston, and that he wasn't satisfied with being Thomas' back-up any longer.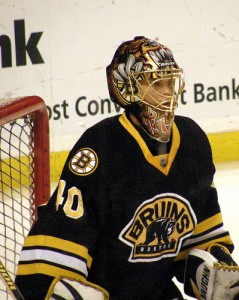 When asked to clarify this issue, Rask claimed that it was a case of mistaken translation (which is entirely possible in an age when media outlets tend to rely more on Google translate than actual translators), saying that he was happy in Boston, and that he hopes to remain there long-term, even after his contract expires at the end of this season. He added to those comments by saying:
"That Google Translate sucks. I said 'Obviously I don't want to be sitting on the bench my whole career and I like it here, but obviously I want to play and sometimes you play a great game and then next game you can't play and sometimes it gets frustrating but you don't show it for the team."
These comments of course sound a lot tamer after the fact (and in English directly), but they also need to be addressed regardless. For starters, there is the aspect of it that defenseman Dennis Seidenberg brought up, which was the question he asked the media on Friday: "well, what would you think if he didn't want to play more?" Indeed, the media would be all over Rask if he said that he was okay in playing limited minutes, or even if he went so far as to say that he hoped to play less because Thomas was the hotter goaltender. That kind of attitude would immediately be lampooned as defeatist, and the hockey media, especially in a cauldron like Boston, would have been all over him and likely would have demanded that Thomas man the net as often as possible down the stretch.
Granted, the situation in Boston may not be ideal for the players, but it does pose a great problem for head coach Claude Julien and GM Peter Chiarelli. Some teams, such as the Chicago Blackhawks and Philadelphia Flyers, are in a predicament where they can't seem to find a number one goaltender to ride through the postseason, but the Bruins are blessed to have two guys in net who can be favored to win every given night. That comfort level in knowing that either keeper they go with can win has to be a tremendous asset for a team that is as capable of getting hot as anyone come playoff time, and it very well could make the difference between an early exit and a second Cup title in a row.
Unfortunately for the Bruins, this goalie situation probably can't be maintained past the end of this season. With Rask becoming a restricted free agent at season's end, it's going to force the team to determine what kind of salary they should be paying him. He'll obviously command a significant raise from the $1.25 million he is making this year, but how much more he will be offered by the team will be largely contingent on whether or not they want to continue to have him platoon with Thomas, or whether they decide to give him the reins full time.
With this dilemma in mind, it would probably be smart of the Bruins to at least give some serious thought to unloading Thomas over the off-season. In contrast to the knee-jerk reactors calling for his ouster from the crease because of his political statements and their supposed distracting power over the team, this call for his trade has everything to do with the fact that he'll be more of a tradeable asset than ever this off-season, and that there are several teams who could very well make a run at him.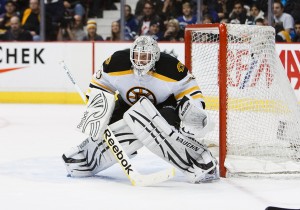 With only one year left at a $5 million price tag, Thomas won't be the cheapest guy on the market by any stretch, but there could be a decent-sized demand for his services. Teams like the Tampa Bay Lightning and Edmonton Oilers could look at him to provide a good option in the crease, and there could be other teams more under the radar like Columbus who could take a look. Of course, Edmonton will still be stuck with the contract of Nikolai Khabibulin for one more season, but with Tampa's goalie situation being largely unresolved, things could look positive for a Thomas sighting in central Florida.
The other option here if the Bruins did not want to go the platoon route again would be to deal Rask, and while there would still be plenty of demand for his services, it would probably not be very smart of the B's to go that direction. He is obviously much younger than Thomas, and therefore could be argued to have a higher ceiling than the American back-stopper. If the Bruins are focused on having their goalie issue sewn up for the long term, then Rask would have to be their guy. If they are more of the thinking that it's the defense in front of a goalie that makes him successful, then they very well could decide to keep Thomas and jettison Rask, but that is unlikely.
Whatever way the Bruins end up deciding to resolve the Rask-Thomas debate (and it is a debate, because this platoon will not last forever), there will certainly be some fans in Beantown dissatisfied with the outcome. Even with that in mind, however, a decision ultimately will be looming, and although Rask's comments were arguably an indicator of a positive attitude for the goaltender, they portend a change that will ultimately need to happen.