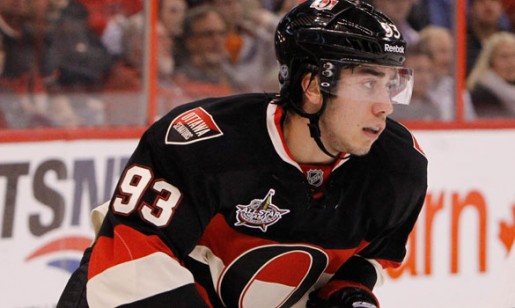 Mika Zibanejad
DOB: April 18, 1993
NHL Rights: Ottawa Senators
Drafted: 1st round (6th overall) 2011
Height: 6′
Weight: 176 lbs
Position: Centre
      ◊◊◊◊
Zibanejad, an 18 year old centre born in Huddinge, Sweden was the first round pick (6th overall) to the Ottawa Senators in 2011.
Rated 7th going into the 2011 draft by NHL Central Scouting, he was coveted by many teams and considered one of the most complete talents available in the draft. The Senators, going into the draft, had depth in the system on their blue line with players like Erik Karlsson, Jared Cowan and David Runblad, a building block in goal with Robin Lehner, waiting his turn in Binghamton, but major holes up front and in particular down the middle. With his skill set and the ability to play centre or the wing, Zibanejad was a very attractive option for Bryan Murray at number six.
With drafting Zibanejad and the subsequent trade of Runblad for Kyle Turris, Murray has turned it from a weakness into a position of potential strength with Jason Spezza still only 28 years old, Turris at 22, and 23 year old Zack Smith providing solid 2 way play.  Add Nick Foligno at 24 and Calder candidate Colin Greening, and the Sens now have some impressive young depth at forward in their system.
Zibanejad had a strong camp and preseason following the draft with the Senators and earned a spot on their opening night roster. He played 9 games with the big club to start the season, registering 1 assist in those games, before being returned to his club team Djurgarden of the Elitserien (Swedish Elite League).  He has played with Djurgarden for the past two seasons and while his numbers do not jump out at you, he has aquitted himself well playing against men.  No easy feat as a 17 & 18 year old in that league and something NHL clubs like to see. The downside to many of the top European senior leagues like the Elitserien is that some of the young blue chip prospects do not get the ice time NHL scouts would like.  The Senators, however, do not seem to have any concerns with Zibanejad's development and say he is progressing the way they planned.
Conversely, it has been on the international stage where Zibanejad has shown off his skill to the world, playing for Sweden in the U16, U17, U18 and U20 tournaments.  He was Sweden's leading scorer in the 2011 U18 World Championships with 8 points in 6 games, and scored the gold medal winning goal for Sweden in overtime in the 2012 U20 World Junior Championships in Alberta last month.

Big, talented top six centres are extremely hard to find, and Zibanejad, if he reaches his potential, could be just that.  While not the quickest player on the ice, he is a strong, powerful skater who protects the puck well.  He is a good stickhandler and possesses a heavy shot with a quick release.  Not afraid to get his nose dirty, Zibanejad goes to the hard areas and plays a physical two way style of game.  According to some scouts, his best asset maybe the competitive edge he plays with.
The knock on the young Swede right now is that he occasionally will go over the line with that attitude and often is perceived to lack discipline, which can rattle him and throw him off his game. This is not uncommon in some prospects and it's something Ottawa hopes will improve with maturity and not detract from the physical brand of hockey he plays.
Evidenced by NHL teams desperately trying to acquire a top 2 centre at the trade deadline each year and overpaying for them in free agency, these types of forwards are in high demand around the league.
Senators fans hope that they have one in house with Zibanejad and that he will produce on one of their top lines for years to come.
Upside Potential:  Top Six Forward; 1st or 2nd line centre
NHL Comparable:  Ryan Kesler
NHL ETA:  2012-2013
"The Prospect Report" is a weekly feature at The Hockey Writers and profiles NHL team prospects.  Check back next week for the next profile and follow Carl on twitter @maloney3383 for more articles.