In this series of player profiles I am going to focus on players who aren't drafted but could be considered. There are only a little over 200 spots each year and a wide range of players to look at.  It's easy for quality players to get lost in the mix.  Here's to hoping that doesn't happen.
TJ Foster is having the best season of his WHL career.  In 51 games he has already passed his last year points total of 54.  It's more than marginal improvement as he has 22 goals and 57 points this season with 18 games still left to play. Foster is currently 26th in scoring in the WHL, but that's not all he does.
At 1.12 points per game and with a +27 Foster is a guy that the coaching staff has grown to trust and it shows with the special teams ice-time he's been getting this season. How does a guy who is regularly on the PK first unit stay at a +27? Leading the team with 4 shorthanded goals doesn't hurt.
It might be considered luck or just simply an anomaly when a guy gets a few shorties but I think that it points to one of TJ's biggest strengths.  Anticipation.  Whether he's on the defensive, killing a penalty, or lurking in the offensive zone, watching Foster without the puck is like seeing into the future.  You already know where the puck is gonna be because he knows and he's already there.  A typical TJ foster goal goes like this: he finds open ice and anticipates the development of the play and then when the puck inevitably ends up on his stick he knows what to do from there.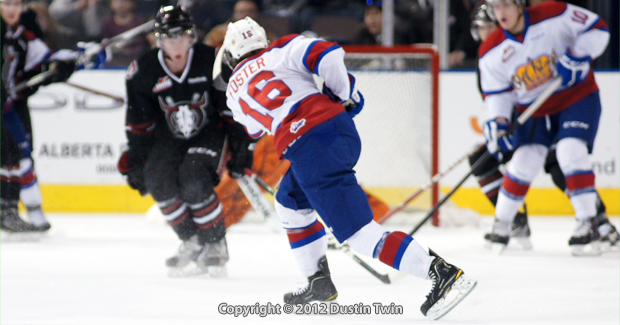 And with the puck on his stick you get to see the speed, puck handling, and scoring touch that have made him a fan favorite in Edmonton.  TJ can flat-out skate.  It is usually the first thing people say when you mention Foster.
WHL insiders have also noticed the speedy winger.  Cody Nickolet, a scout for Future Considerations magazine and the colour commentator of the Saskatoon Blades had this to say:
"Really like his game as he's pretty well rounded, able to compete in all 3 zones. He's not the biggest or strongest player, but he isn't afraid to work hard and get dirty. He's a very good skater with great top speed and he's also very agile on his skates.  To me, he resembles a player like Eric Belanger. Good all over the ice, good skater and a guy who could have some decent offensive numbers as a pro.  Wouldn't be shocked at all if a team picks a guy like him late in the draft come this June."
As an overage player it might be discouraging to see your draft year go by without getting your name called but it hasn't hurt TJ Foster as he's having a career year and being more physical and aggressive while doing it.  It will be interesting to see what happens with him between now and next year as his Oil Kings look to make noise in the playoffs and teams take a second look at how far his game has come.
Follow me on twitter @slapshotsphoto for WHL photos and articles.