Alex Galchenyuk THW Close-Up:
Date of birth: February 12th, 1994
Place of birth: Milwaukee, Wisconsin, USA
Ht: 6-1 Wt: 185
Shoots: Left
Position: Centre
NHL Draft Eligibility: 2012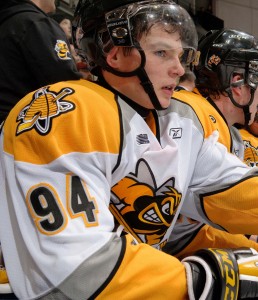 Galchenyuk [Gal-chen-yuk]  n.  The name of a budding hockey star NHL teams could be haunted with if they choose to pass over him in the 2012 NHL Entry Draft.
Alex Galchenyuk, the first overall pick of the 2010 OHL Priority Selection Draft, was the easy choice for the Sarnia Sting after he potted 44 goals and 87 points in only 38 games playing for the Chicago Young Americans finishing the year 13 goals and 15 points ahead of the next closest player in the Mid-West Elite League. Galchenyuk was nothing but spectacular in his first OHL season as he registered 31 goals and 83 points finishing third in CHL rookie scoring behind linemate Nail Yakupov (101 points) and Sven Bartschi (85 points) who are elders of Galchenyuk's. Alex Galchenyuk's playing style is reminiscent of many North American players in the way that he plays a strong puck protection game. However, the American born Russian also displays European tendencies in his game that are most noticeable in his stick skills and creative one-on-one abilities.
Due to his season long knee injury, the last memory many NHL scouts have of Alex Galchenyuk playing was a "mediocre showing," described by many, during the 2011 Ivan Hlinka Memorial Tournament this past August. Entering the tournament, expectations were high for Galchenyuk after he opted to play for Team USA instead of Russia internationally. Galchenyuk posted three goals and four points in four games and while some fans were left disappointed in his performance, TSN's Craig Button deemed Galchenyuk "the best player for Team USA".
I had the privilege of speaking with Sarnia-native scout Ryan Yessie of Hockey Prospect to gain another perspective on Alex Galchenyuk's strengths and areas that he could improve in and this is what he shared,
Alex is a forward, with a big, ideal frame which projects well onto his 6'1″ size. He has very high level vision and hockey sense, and sees the ice extremely well. He has proven to be a skilled playmaker, threading passes through narrow spaces, but also has the ability to fire the puck top shelf in a hurry. He has good top speed as anyone you'll find in the draft, however his first few steps are a concern. He saw a lot of time on the penalty kill during the second half of the 10-11 season, however 5 on 5, not just working in the defensive zone, but showing the urgency to get back in transition and not waste time in the neutral zone would be a goal for Alex once he gets back into game shape.
In a year where scouts have had limited exposure to Galchenyuk's game, many will be eager to see if Galchenyuk can pick up where he left off last year. Yessie's notes are certainly comparable to my own observations and shows that Galchenyuk has proven, in the past, that he plays with an impressive level of consistency.
From my article, "Alex Galchenyuk – Drafting the Unknown",
Galchenyuk's vision, stick wizardry and ability to operate in traffic are elite attributes and they complement his masterful playmaking skills perfectly. Alex's sturdy frame and strong stick makes him difficult to knock off of the puck and a force to deal with in the offensive zone often resulting in more space for his linemates. Galchenyuk does not possess lightning quick feet but there are few concerns (pre-injury) with his skating as he operates with good speed and agility. Galchenyuk projects to be a playmaker first and shooter second but the young lad owns a lightning quick-release and accurate shot that keeps opponents honest.
The NHL scouting world will be watching closely as Alex Galchenyuk returns from injury as many experts are experiencing a feeling of uncertainty given that Alex's knee injury has delayed his development. Galchenyuk could really boost his draft stock with a strong return to the ice and settle the nerves of many people after a black cloud of bad luck seemed to follow Alex Galchenyuk around for the past six months. For those who watched Galchenyuk regularly last season, number ninety-four showed Sarnia why he could be a top three forward in the 2012 NHL draft class and has the potential to develop into possibly the most effective NHL player of the entire crop.
Scout's Honour:
"One element for Galchenyuk is the fact he played last year, and going into this season he was already recognized as one of the top prospects. I think most of the teams are pretty comfortable in knowing the type of player they'll be getting. Obviously you'd like to see him play during his draft year, but the scouts and general managers are going to be more concerned with how the surgery went, what type of surgery it was and how the recovery process is going along"
– NHL Central Scouting's Dan Marr
***
"Galchenyuk is an offensively creative player and is very intelligent around the puck. When he puts the effort in he can really can control the pace of the game and can change the speed of the game. With his offensive side, when you are able to do that kind of stuff with the puck, you don't get a lot of players with that potential to be dominant."
– International Scouting Services Head Scout Ross MacLean
***
"Galchenyuk has elite skills and marries it with a competitive streak that is unrivalled by his peers. In addition to his scoring exploits, as he was the highest scoring 94 in the OHL last season with 83 points in all 68 games, he is an incredibly smart-two player. He simply hates to lose and his training regime is second to none as he is very committed off ice."
– McKeen's Hockey's Scouting Director David Burstyn
***
"Galchenyuk is a plus puck carrier who simply knows how to create offense, and Team USA certainly built some plays around him. He has great vision as a playmaker, makes quick decisions and has pretty impressive hockey sense, although there were times when he was overdoing it too much by himself. He skates at an above-average level, has a nice frame, and works hard defensively"
– ESPN Insider's Corey Pronman
Statistics:
Bio/Interview(s)/Link(s):
• DobberHockey's Alex Galchenyuk – Drafting the Unknown
• Interview and Player Profile by Dan Sallows
• Alex Galchenyuk Interview with the Pipeline Show
International Tournaments:
Galchenyuk had the choice to represent Russia or the USA internationally but has elected to play for Team USA. Galchenyuk suited up for the stars and stripes during last summer's Ivan Hlinka Memorial Tournament scoring 3 goals and 4 points in 4 games.
ETA = 2 years
Risk-Reward Analysis:
Risk = 0.5/5 Reward = 5/5
NHL Potential:
Top Line Centre
Strengths:
*See "THW Close-Up" section above.
• Outstanding vision
• Elite hockey sense
• Deceptive passer
• Good top-end speed
• Excellent lateral agility skater
• Operates well in traffic
• Hair-trigger release
• Tremendous stickhandler
• Good defensive awareness
Flaws/Aspects He Needs To Work On:
• Continue to train to increase strength (specifically in his surgically repaired knee) and add mass to good size frame to handle the rigors of the NHL.
• Continue to develop his neutral and defensive zone acumen.
• Continue to maintain defensive focus and utilize his instincts in the defending zone
• Improve physical game
Fantasy Hockey Potential:
Offensive = 9.5/10 Defensive = 9/10
NHL Player(s) Comparison:
– Marian Hossa
Video(s):
Galchenyuk Highlight Package

Off The Iron (Interesting Notes):
Born in Wisconsin, Galchenyuk travelled the world as a youngster following his father's hockey career with stops in Italy, Germany, Russia and the U.S.A.
Galchenyuk was selected in the second round, 25th overall, of the 2011 KHL Draft by Atlant Mytishchi.
Alex Galchenyuk is an active tweeter and can be followed @AGally94
Galchenyuk has been maintaining a blog at NHL.com as he rehabilitates his injured knee during his draft year.
Follow @RossyYoungblood for all you 2012 NHL Draft prospect needs.
THW's The Next Ones prospect profile template design architect: Chris Ralph