by Jas Faulkner, senior correspondent
Next week will be better.
Not that the past week was entirely grim.  The Predators had a very good night at home entertaining St. Louis.  Okay, maybe entertaining isn't the right word.  Sometimes our definition of entertaining can skew to the strange and wonderful.  Like this: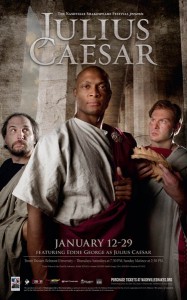 No, that is not some entry into the latest Cracked.com Photoplasty competition.   Nashville Shakespeare Festival's latest production of  Julius Ceasar featured the former Titans running back as William S's doomed ruler.  Giggle all you want.  He was good.*
So let's take a look at the week that was and is thankfully over:
St. Louis Blues Bawled Out of Bridgestone  (St. Louis at Nashville  February 4th, 2012)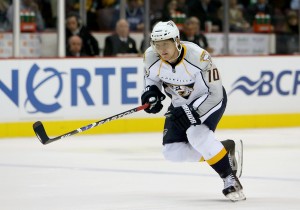 The Great Wall of Finland blocked 42 of 43 pucks sent from Missouri with love on Saturday night.  He wasn't the only one having a good time at The Den.
"Who are you?" A sobbing gasp came from the quivering, blue-clad kids on blades who had formerly struck fear in the hearts of…uh, somebody.
"I'm Ratman!" was the hoarse, snappish reply, and then Number Ten skated off into the night, logging a goal, two assists and the undying gratitude of Predsnation.
Who else had a good night?  Sergei Kostitsyn, who needs a nickname that doesn't conjure up images of elves and a new sweater.**
Fishhead scored one for the Good Guys with a little help from 'Lebben and Ratman.
On the other side, Chris Porter got in a wrist shot by his own darned self.
The penalty box saw some action as Tootoo tripped, Scotty Nichol hooked, and Reeves and McGrattan took it to the next level after Reeves waved his finger in McGrattan's face and taunted "Does this bother you?  Does this bother you?" one too many times.
Final score: One to Three in favor of the Big Cats.
Love ya to Bitz.  Now go home!  (Vancouver at Nashville  February 7th, 2012)
Hopes for a naked Ryan Kesler during pregame skate were dashed as he appeared on the ice fully clothed.  Preds fans were also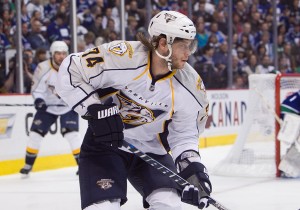 disappointed by the outcome.  Even with the unfavourable score, it was an exciting addition to the game history of a matchup that looks to have the potential for becoming a classic rivalry.   Stuck at a tie by the final buzzer, the game went into OhTee and then a shootout that dragged on for six rounds until Edler's goal put the 'Nucks over the top.
The night was not without it's heroes:
Kesler, Bitz and one of those freaky Twins got netters.  Their helper elves were Burrows, Bieksa, Hamhuis and the other Twin.***
On the home front, Wilson, Kostitsyn and Fishhead all lit the lamp.  'Lebben, Pat the Bear, K-Two, Ratman and The Cannon were all on hand to help out.
The penalty box was kind of lonely on Tuesday night.  Four 'Nucks: Hodgson, Burrows, Booth and Rome paid a visit.  Other than Yip, the Predators seemed to have better things to do during the game.
Final score: Four to Three in favour of Vancouver in an EssOh.
You Can't/Shouldn't Go Home Again  Nashville at Ottawa   February 9th, 2012
Fishhead returned to his old skating grounds and the Predators were taken by surprise by the revamped and meaned up Sens.  It was like watching Spanky and Buckwheat gang up on Alfalfa after he'd left the He-Man Woman Haters Club to be with The Lovely Darla Hood.  The Sens had something to prove.  Alas, prove it they did.  Nashville should have won this one.
The Predators Spezzamed twice times two Senators,  letting Ottawa's centre and D-Guy Chris Phillips get two each past the Great Wall of Finland.
Two must have been the magic number as both rosters were hook, trip and stick crazy with minors-a-gogo to the penalty box happening all night long.
Bourque, Pat the Bear and Ratman all scored for the Big Cats with help from the usual suspects, Suter, Ratman and Tootoo.  Alas, it wasn't enough to overcome the guys at the Capitol.****
End result: Four for Ottawa to Three and a very quiet plane ride back for Nashville.
Next time:  The Boys pay a visit to Goalie TimTom and Chelsea Dagger's Boyfriends are in the house!  Until then, keep your stick and both blades on the ice and the rest of you in an upright position!
*I'm old enough to remember Jim "KnowWhutAhMean?" Varney's appearances in works by Goldsmith, Shaw, Shakespeare and a few other Canonical Dead White Playwrights.  Was it "Ernest Goes Classical"?  Girl, please. Varney had serious chops.  Y'all missed out.
**For that matter, they all do.  Seriously, yellow, music themed sweaters will never look like anything but promos for Weeblo night at Nashville Skate-A-Plex.  Y'all couldn't listen to Coach Trotz and stick to the skull?  The NHL thought it was too scary and violent?   What does the 'H' stand for again?
***I kid.  I can actually tell them apart when I want to.
****Don't make me get all Rick Mercer on you.