While the NHL Entry Draft is usually considered a very important part of a rebuild for an organization, there have been scores of diamonds in the rough who never heard their name called on any given draft day.
Draft day is always exciting for the best young players in the world and their families.
However, we all know that some of these high draft picks don't pan out and never become quality NHL players: Kyle Beach, Thomas Hickey, Hugh Jessiman, A.J. Thelen, Marek Zagrapan and Lauri Tukonen are all top-15 draft picks that never player in the NHL or only dressed for a few games.
On the other end of the spectrum we find players that were never drafted such as Curtis Joseph and Dino Ciccarelli, and had to overcome multiple challenges to reach their goal and make it to the greatest show on Earth. They defied all odds and managed to achieve their dream by working hard, persisting and never give up!
1. Martin St. Louis, RW, Tampa Bay Lightning
Despite his age, the diminutive St. Louis is showing no signs of slowing down, even at the age of 36. Through 48 games, St. Louis has notched 16 goals and 34 assists for 50 points. The speedy St. Louis missed only five games after sustaining facial and nasal fractures when he received a puck in the face at practice. With already six seasons of 80 points or more, the Laval, Quebec native is on pace to approach this plateau once again this season. Signed by Calgary as a free agent in 1998, the right winger never managed to stick with the Flames. As a result the Lightning signed him as a free agent in 2000. St. Louis was a key component of the Lightning's Stanley Cup run in 2003-04.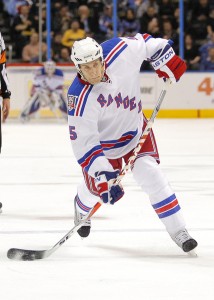 2. Dan Girardi, D, New York Rangers
One of the most under-appreciated player in the league, Girardi finally received some recognition this season when he was invited to play in the All-Star game in Ottawa. Signed by New York in July 2006, Girardi, 27, went undrafted after playing five years in the OHL with London, Guelph and Barrie. Not the most flashy player, Girardi has been a mainstay on the Rangers' blue line since his first full-season with the team in 2007-08. The Welland, Ontario native currently leads the NHL in time on ice/game playing over 27 games for the Eastern Conference leaders. Currently ranked 5th in the NHL with 128 blocked shots, Girardi can also be physical as shown by his 144 hits in 2011-12.
3. Dan Boyle, D, San Jose Sharks
One of the most spectacular defensemen in the NHL, Boyle  was a key component of the Tampa Lightning Stanley Cup conquest in 2003-04. Over his illustrious career, Boyle, 35, has recorded six seasons of 50 points of more and has played for Team Canada many times. Signed as a free agent by the Florida Panthers in 1999, Boyle was traded to the Lightning for a 5th round pick in January 2002. After a few successful seasons with the Bolt, Boyle was sent packing to San Jose with Brad Lukowich in exchange for Matt Carle, Ty Wishart and a 1st round pick. The Ontario, Ottawa native has recorded 486 points in 802 career games.
4. Alexandre Burrows, RW, Vancouver Canucks
A former roller hockey player, Burrows, 30, played in the ECHL and the AHL before making an impression with the Manitoba Moose in 2005. Alain Vigneault, who was the Moose's head coach at the time, made sure the Vancouver Canucks signed Burrows because he was impressed by the feisty winger. After being called-up by the Canucks midway through the 2005-06 campaign, Burrows never looked back. However, it took a few seasons for the Pincourt, Quebec native to become an offensive threat, which he did when he recorded 51 points in 2008-09. Now playing mostly alongside the Sedin twins, Burrows has scored 19 goals and added 16 assists for 35 points; he is also +19 on the season. Interesting fact: Burrows has posted +111 differential over his career (494 games).
5. Rich Peverley, C, Boston Bruins
Signed as a free agent by Nashville in 2007, Peverley was claimed on waivers by the Atlanta Thashers in January 2009 before being traded to the Boston Bruins last season for winger Blake Wheeler and blue liner Mark Stuart. Despite playing on the Bruins' third line with Chris Kelly and Benoit Pouliot, Peverley, 29, has scored 9 goals and added 27 assists for 36 points this season. He has also posted an impressive +17 plus/minus ratio. He and Kelly were key cogs during the Bruins' Stanley Cup conquest in 2011.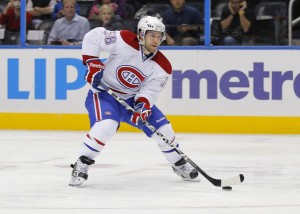 6. David Desharnais, C, Montreal Canadiens
The diminutive pivot was ignored by NHL scouts mainly because of his size (5'6", 175-lb) despite piling up points at every level he played. In 262 games with the Chicoutimi Sagueneens of the QMJHL, Desharnais recorded 374 points before going undrafted. Signed as a free agent by Montreal in 2008, Desharnais had to overcome many challenges to make it the NHL. After playing one year in the ECHL in 2008, during which he led the league in points with 108 and was named the rookie of the year, Desharnais graduated to the AHL. Then, the 25 year-old never looked back and was finally called up for good midway through last season.  This year, the Laurier-Station, Quebec native has been very impressive playing alongside Max Pacioretty and Erik Cole on the Habs' first line. Through 55 games, he has notched 10 goals and 27 assists for 37 points, to go along with a good +10 rating.
7. Chris Kunitz, LW, Pittsburgh Penguins
Currently playing on the Penguins' first line with Evgeni Malkin and James Neal, Kunitz was acquired from the Anaheim Ducks with forward Eric Tangradi in exchange for rearguard Ryan Whitney in February 2009. He was a key cog in the Penguins' 2009 Stanley Cup run. Signed as a free agent by the Ducks in 2003, Kunitz, 32, is having another good season with 14 goals and 19 assists for 33 points in 54 games. With four 20-goal seasons, the gritty left winger has made a name of himself by driving hard to the net and defending his teammates by dropping the gloves when necessary.
8. Matt Read, C, Philadelphia Flyers
After playing four years with the Bemidji State University, Read was signed by Philadelphia in March 2011. After finishing the season with their AHL affiliate in Adirondack, Read made the team out of training camp this season. The 25 year-old center has been very important to the Flyers' success this year notching 16 goals and 16 assists for 32 points in 51 contests. A Calder Trophy candidate, Read has proven to be very good at both ends of the ice, as shown by his +10 rating, mostly playing on the Flyers' third line. The future is very bright for the Ilderton, Ontario native.
9. David Clarkson, RW, New Jersey Devils
Signed as a free agent by New Jersey in August 2005 after playing four years in the OHL with Belleville and Kitchener, Clarkson has never been known for his offensive talent, but rather for his feisty and gritty style of play. However, this season Clarkson has turned into a very useful asset for the Devils, scoring 21 goals and 9 helpers for 30 points in 54 games. With 88 penalty minutes, Clarkson, 27, is also on pace for 134 PIM this season.
10. Tyler Bozak, C, Toronto Maple Leafs
After playing two years with the University of Denver, he was signed as a free agent by Toronto in April 2009, Bozak is having a very good campaign centering Phil Kessel and Joffrey Lupul. After a dismal 2010-11 season during which he recorded only 32 points (15 G, 17 A) in 82 games and finished with a mediocre -29 plus/minus rating, Bozak has regained his confidence this season. The 25 year-old pivot has already 12 goals and 22 assists for 34 points in only 46 games. He is also a +7 on the season.
Please note that Andy McDonald and Mark Giordano would certainly have made the list if not for their respective injuries!
Honorable Mentions:
Josh Gorges, Jason Garrison, Jason Blake, Ruslan Fedotenko, Andy Greene, Dustin Penner, Rene Bourque, Francis Bouillon, Marc-Andre Bergeron, Bobby Butler, Matt Gilroy, Curtis Glencross, Jeff Halpern, Zbynek Michalek, Zenon Konopka, Ville Leino, Andy McDonald, Teddy Purcell, Darroll Powe, David Schlemko, Ryan Shannon, Andy Sutton, Mike Weaver, Joel Ward, Mark Giordano
Who will be the next undrafted gem to make it to the NHL next season?
—————–
Fred is a freelance sports write and translator, as well as a Montreal Canadiens blogger on https://thehockeywriters.com and a baseball columnist on http://www.dobberbaseball.com/. Fred also joined HabsAddict.com in time for the 2011-12 season.
A long-time Joe Sakic fan, Fred, 35, is a freelance sports writer and translator. Fred earned a Bachelor of Translation in 2002 at Laval University in Quebec City. He also writes on the Montreal Canadiens for HabsAddict.com and he is an associate editor and a baseball columnist on Dobberbaseball.com. He is also fluent in English, French and Spanish.