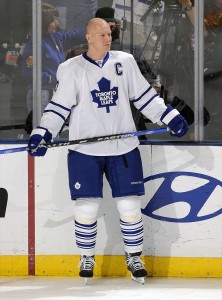 On the night of February 11, 2012, before the Forever Rivals faceoff again, the Toronto Maple Leafs will raise number 13 in recognition of Mats Sundin. He will join other Leaf greats, which most recently have included Doug Gilmour, Wendel Clark, Borje Salming and Darryl Sittler, among the Honoured Numbers of the franchise. It's certainly fitting that Sundin would be honoured by the team he played on for (ironically) 13 seasons, and captained for 10 years.
Just prior to the 2011 Hockey Hall of Fame induction, Ken Campbell of The Hockey News opined that Sundin would gain entry into the Hall based on the bias the selectors have always shown Toronto players. The article actually discusses less about Sundin than Campbell's assertion that the Toronto franchise already has too many players in the Hall, which leaves it to others to actually do the analysis as to whether Sundin is deserving of induction, bias or not.
The truth is, there is no black-and-white requirement list to be satisfied. Should a player be left out of the Hall because he never played for a Stanley Cup winner? What weight shall be given to individual awards or achievements? Should he be compared to others eligible for induction, to his peers, to others already inducted? How does one measure intangible qualities, those without a 'number'? These are the questions the selection committee must consider in each case before granting the honour.
So, how does Mats Sundin compare?
Sundin ranks among the top-30 scorers all-time in the NHL. In 1,346 NHL regular season games, Sundin amassed 564 goals and 785 assists for 1,349 points, almost exactly one point per game, and the 27th highest total. There are 5 players not currently in the Hall ahead of him. Jaromir Jagr and Teemu Selanne are still playing, Mark Recchi and Mike Modano are not yet eligible, and Adam Oates has 71 more points, but 123 fewer goals. The remaining 20 players who have more career points are Hall of Fame members.
Of course, goals and assists have importance, but for comparison sake, the table below lists Sundin and the top 20 career point scoring forwards whose careers overlapped Sundin's and have been inducted into the Hall of Fame. Ranked in order of final point totals, it includes additional the statistics of +/-, game-winning and overtime goals, as well as points/game average.
[table id=56 /]
It would seem Mats Sundin's career numbers are at the least, comparable to some of the best in the game. Sundin has attained a number of what could be considered necessary milestones: 1,000 games played, over 500 goals, over 1,000 points. His 96 game-winning goals are the 6th highest total since the stat has been recorded. He is tied with Jaromir Jagr, Sergei Fedorov and Patrik Elias for the most career regular-season overtime goals with 15 (though, admittedly, overtime was not in place through the career of all Hall of Fame players). His 1.00 point/game is certainly not the best of the bunch, but is better than that of 6 players on this list. He had 17 seasons where he scored more than 20 goals, and 3 seasons scored more than 40. In short, based strictly on numbers, Sundin compares favorably to a number of his peers who are already Hall of Fame members.
Campbell's article mentions some of the other retirees who will be eligible with Sundin, including Joe Sakic, Brendan Shanahan, Jeremy Roenick. Sakic should absolutely be a first-ballot Hall of Fame inductee. Based on career numbers, Sundin is not completely outclassed though.
[table id=57 /]
But a Hall of Fame career is not built strictly on numbers. There is always the question of Stanley Cups, individual awards and achievements. Admittedly, Mats Sundin could be seen to fall short in these categories. He did not win a Stanley Cup – in fact he never played in a Finals series. He won one NHL individual award, the Mark Messier Leadership Award (hardly a 'major') in 2008. He was an NHL top-ten goal scorer 3 times, top-10 points only twice. And he was named an NHL All-Star* twice, both times Second Team. Yet, the list of achievements, including his international career, is extensive.
Sundin played for Sweden in 14 international tournaments including World Juniors, World Championships, Canada Cup and Olympics. In those, he was a member of 7 medal winning teams – World Championship bronze (1994, 2001), silver (2003),and gold in the World Championships (1991, 1992, 1998) and gold at the Olympics (2006, as team captain). Sundin was the first European born and trained player drafted first overall in the NHL (1989, Quebec Nordiques). He is the first Swedish player to score 500 goals and 1000 points, and is currently the highest scoring Swedish-born player in NHL history. He was, at the time of his retirement, the longest-serving European-born captain of an NHL team (Toronto, 10 seasons). He is an all-time leading goal and point scorer for one of the NHL's charter franchises (Toronto, goals 420, points 987).
Of course, this is where debate begins. No one can doubt that the Hockey Hall of Fame is predominantly based on NHL performance. Again, Campbell asserts that it would be Leaf bias that will get Sundin into the Hall, that he may not be a legitimate Hall of Famer, as he never won a Stanley Cup, nor any major award, nor was he a perennial All-Star or top-10 player. But Stanley Cups, major awards and all-star selections are certainly not prerequisities. Among the recent inductees…
2011 Mark Howe: Howe did win a Memorial Cup and a silver medal in the 1972 Olympics. He also won the rookie of the year award in the WHA and 2 Avco Cups. He was named a WHA All-Star 3 times, and an NHL 1st Team All-Star 3 times. He did not win a Stanley Cup, nor any NHL award.
2010 Dino Ciccarelli: Ciccarelli won a World Championships bronze in 1982. He did score 600 goals over his career. But did not win any Stanley Cups, major awards, nor was named an All-Star.
2005 Valery Kharlamov: Of course, Kharlamov never played in the NHL. He is inducted for his incredible international career, and is still regarded as one of the greatest players to have played the game.
2003 Pat Lafontaine: Lafontaine certainly has an impressive point/game number. He appeared in one Stanley Cup Finals, finished top-10 in scoring twice, scored 50 goals once, named a 2nd Team All-Star once, and won the Masterton Trophy. His career was cut short due to concussion issues.
2002 Bernie Federko: While Federko was a very good playmaker, and reached the 1,000 point plateau, he scored less than 400 goals over his career, did not appear in a Stanley Cup Finals, win any NHL season end award, nor was ever named an All-Star.
2001 Mike Gartner: Sixth all-time in goals scored (708), and tied for most consecutive 30-goal seasons (15). Yet, only once a top-10 point getter, never appeared in a Stanley Cup Finals, won any award or was named an All-Star. He did win a bronze medal 3 times (1978 World Juniors, 1982 and 1983 World Championships).
2001 Dale Hawerchuk: No Cups, but did win the Calder as rookie of the year. Only once named an All-Star, though he 4 times appeared as a top-10 scorer.
The list above is not to diminish the achievements of these very deserving members of the Hall of Fame. Rather, it is to illustrate that there are a number of factors, including career points, single season achievements, consistency, leadership, international play, and yes, individual awards and NHL Championships, that help determine whether a player is to be inducted. Certainly, the Committee considers all of these when determining which retired players to admit. And the Committee has often been second guessed, some of the more notable cases seeming to be those of Pavel Bure and Paul Henderson. The Committee will have a difficult decision this time, as Sundin is in a rather stacked 'Eligible Class'. Sakic has better numbers, better per game production, multiple awards and 2 Stanley Cups. Shanahan's overall numbers are not as good, though he had some better seasons, 3 All-Star selections, plus a King Clancy Award and 3 Cups. Roenick's numbers are not as close, nor does he have any hardware outside an Olympic silver and Canada Cup silver. Sundin's former teammate Roberts does have a Stanley Cup and Masterton Trophy, and has been regarded as a gritty leader, though his overall numbers may not measure up.
It is true that Mats Sundin spent the bulk of his career in Toronto, and garnered a huge amount of attention as team captain. Even during his career, some questioned whether he should be considered an elite player. His passion was not always evident to some, others felt he was not the type to elevate his teammates. His linemates were a mix of middling talent (Hoglund, a young Modin, Antropov, Ponikarovsky) and stars (Mogilny, Roberts), though the chemistry always seemed a little 'off'. Sundin himself was moved from centre to wing, back to centre, to wing again and back. Through it, Sundin was always gracious. He kept his life outside the rink quite private, yet he was usually always available to the media. He did not shy away from the position of captain of the Toronto Maple Leafs. That was one thing about Sundin, he never ran from the responsibility of being the face of the franchise. He never threw his teammates under the bus. He never complained of the pressures of playing in Toronto, never spoke out that management wasn't doing enough, and was always accommodating and appreciative of the fans he played for. Perhaps he lacked the grit of Wendel Clark and Doug Gilmour, but as captain of the Leafs, he was classy to the last.
Is he a first-ballot inductee? Likely no, not with Sakic and Shanahan also on the ballot. That Sundin – the highest scoring Swede, top-30 career points list with over 1,300, long-time NHL captain, first overall draft pick, with a number of international championships – would need to rely on the bias of the selection committee is ludicrous, frankly. Had Sundin played in LA or St. Louis or Long Island, his career accomplishments would still be noteworthy and comparable to those who have already been honoured by the Hall.
Mats Sundin will return to Toronto to receive his just reward, and he will be appreciative, perhaps even a little embarrassed by the affection LeafNation will show him on February 11. While he played in Toronto, many said the fans did not know how good a player he was. But there should be little doubt that he has forged a career that will see him in the Hockey Hall of Fame. To suggest otherwise is an insult to one of the NHL's greats.
*Note: 'All-Star' in this article refers to the end-of-season NHL All-Star teams, and not voted to, named to, or played in the mid-season All Star Game.
Information for this article was researched through nhl.com, hockey-reference.com, and legendsofhockey.net.