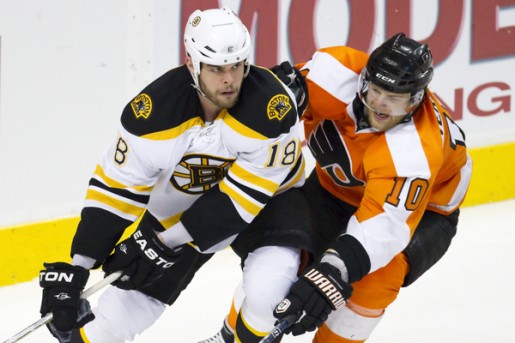 By Bob Mand, Boston Bruins Senior Correspondent
Boston Bruins Head Coach, Claude Julien informed members of the media today that forward Nathan Horton has stopped skating because of post-concussion symptoms.
Julien told the press: "He's been pulled back…He's back to square one. We're giving him some time here." Horton's symptoms reportedly included headaches.
After suffering the concussion late last month, Horton's progress off the ice had been sufficient to convince the team to allow him to return to the ice. Horton resumed skating last week but hadn't returned since Sunday and has now missed the Bruins last six games.
Horton suffered the injury after a late hit and high hit by the Philadelphia Flyers Tim Sestito on January 22. During the 2011 Stanley Cup Finals he was severely concussed by a late hit from Vancouver's Aaron Rome and missed the remainder of the series which the Bruins won in seven games. At the beginning of this season, Horton's struggles were often linked to a slow recovery from that collision.
The B's first-line winger had accumulated 17 goals and 32 points in 46 games this season. He has 43 goals and 85 points since joining the Black and Gold last season and 185 goals and 380 points in 548 career games. He'd run through some cold streaks but had eight goals in eleven January games leading up to his injury.
While Rich Peverley has looked adequate (2-2-4 in the last six games) when moved to the Krejci line in the past, the loss strains the B's forward depth – at one point an overwhelming strength and really limits the third (Chris Kelly-centered) line's offensive potential. Jordan Caron and Zach Hamill (both rookies) have looked passable in stretches but neither has brought consistent attacking pressure.
During his absence the Bruins have gone 2-4-0 and scored just twelve goals despite owning the NHL's best offense (at over 3.3 goals per game).
The loss of Horton leaves a big hole in the Bruins lineup. If they expect him to be out for even more than the three weeks he's already missed, they might feel pressured to acquire another top-six forward to try and win back some of their formerly-dominating offensive mojo.
There are several possible 'patches' for this unfortunate situation. Tuomo Ruutu of Carolina is one fit – but he carries an almost unreasonably hefty price tag and is an unrestricted free agent at the end of the season. The same could be said of several other oft-rumored forwards (Ray Whitney and Ales Hemsky come to mind).
This is even more troublesome with the B's undoubtedly also looking at defensemen to upgrade their blueline. Without really handing over some choice assets the Bruins will likely have to make some hard decisions on which holes need the most immediate and thorough plugging.
The B's will undoubtedly be very cautious about bringing him back to early because of their experiences with Marc Savard but without question the best way for the Bruins to fill the current hole in their lineup is to get Nathan Horton healthy and playing – however long that takes.