When Ryan Reaves is throwing haymakers, it's usually the opposing party that leaves the game injured. This time, it was Reaves.
After delivering a crushing blow to Dallas Stars rookie Valeri Nichushkin that sent him into the Blues bench, Reaves had to answer the bell with defenseman Brendan Dillon, who came to his teammate's defense. Reaves was visibly cut after the hit, but sparred with Dillon anyway.
One fighting victory later, Reaves found himself in the Blues' locker room to repair the cut. But his hand is what drew concern from the team doctors.
"I didn't feel anything until I was getting stitched up," he told Jeremy Rutherford of the St. Louis Post-Dispatch. "(Blues assistant trainer Chris Palmer) came to put ice on my hand and (I) just kind of winced a little bit. So they said let's take a quick X-ray, and it was broken. At first, I just told them to tape it up and they said 'OK.' I thought I was going back out. But another doctor said, 'No, it's probably not smart.'"
Reaves is expected to miss at least four weeks for recovery, with or without surgery.
The team's tough guy played in all 22 games up to his injury, leaving a noticeable hole on the fourth line. His injury opens the door for crasher and banger Adam Cracknell, as well as the speedy Magnus Paajarvi.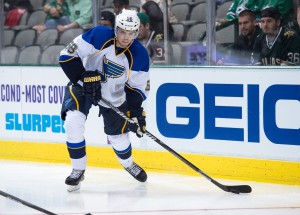 Cracknell, a vital member to the Blues' CPR line during last postseason, has appeared in five games this season, registering seven hits and an even plus/minus rating. The Blues know what they will get from the 28-year old – a relentless forecheck, the willingness to fight and the occasional goal – but the more intriguing player to receive playing time is Paajarvi.
Skating in just seven games this season, Paajarvi has posted one goal while averaging 8 minutes, 40 seconds of ice time. He has spent most of his time with fourth-liners Reaves and Maxim Lapierre.
The 2009 first-round pick (10th overall) was a top prospect in the Edmonton Oilers organization before being moved to the Blues this summer in the David Perron trade. He played parts of three seasons with Edmonton, amassing just 26 goals in 163 games. After a rookie season that saw 15 tallies in 80 games, the Swedish winger could not again reach double digits in the goal category.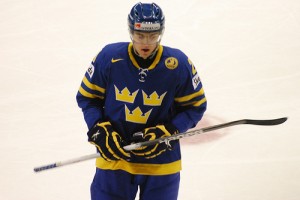 The Oilers viewed him as a fallen prospect, but the Blues saw the opportunity to help the gifted winger regain his form.
Paajarvi, 22, spent time with Timra IK, formerly of the Swedish Elite League, from 2007-2010. He contributed 20 goals and 49 points spanning over parts of three seasons. His 29 points in 2009-10 was third on the team while finishing the season as a 19-year old.
Paajarvi has also appeared on Sweden's WJC roster multiple times, but his best appearance came in 2008-09, when he amassed six goals and 12 points in just six games.
The skilled speedster adds another level of offense to the Blues' roster. He will likely continue to receive bottom-three playing minutes but can find his way to at least the third line if he can maintain a high tempo in his game.
If Paajarvi was going to pick a time to show his new team what he is capable of, this is the time to do it.