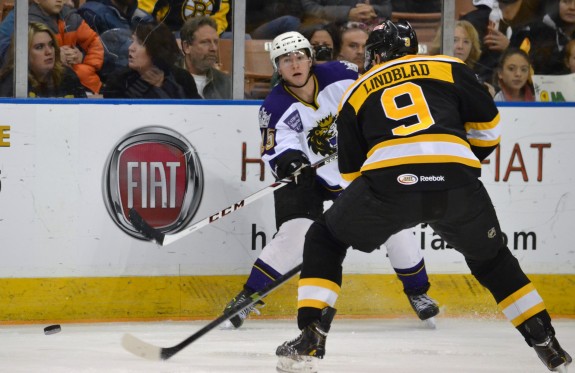 MANCHESTER, N.H. – The Monarchs haven't missed a beat.
Major call ups and injuries have forced Manchester head coach Mark Morris to make some major roster decisions coming into this weekend. They included signing D Cameron Burt, C Mike Ullrich, and RW A.J. Gale.
Burt, a 26-year old Detroit, Mich. native, has been especially impressive in his first games as a Monarch, finding time on the penalty kill and showing strength on the puck on the Monarchs fourth line.
"He's a really smart hockey player," Morris said. "He's a center by trade but he's played defense out of necessity. The first few games at forward I'm encouraged. I think he's very dependable, very reliable. He's strong on the puck and he just makes the easy play. Those guys are hard to find, when they are dialed-in like that. I like his game."
But the story early this season has been the chemistry of players like Brandon Kozun and Jordan Weal, who continue to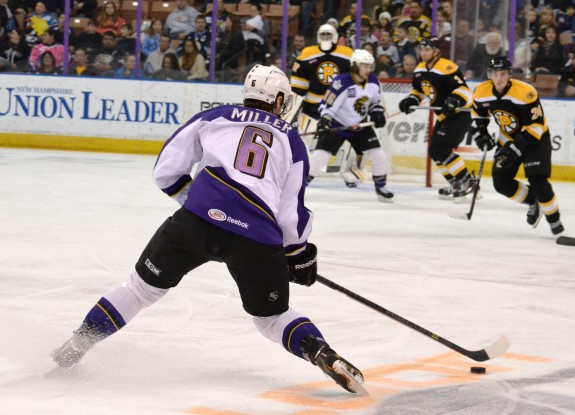 show signs of brilliance on the Manchester top line. It's been the stellar play of goaltender Jean-Francois Berube, who is taking advantage of the opportunity with Martin Jones in Los Angeles. It's been the defensive core led by veterans Andrew Campbell and Jeff Schultz, who have made Berube's job easier and by playing incredible defense on a nightly basis.
The culmination of all those things have created a perfect storm for the Monarchs, launching them to the top of the standings through their first 19 games.
And it continued Saturday night, with a 3-2 win over the Providence Bruins.
The Monarchs came out of the gate on fire, scoring two quick goals on Providence goaltender Malcom Subban and putting tons of pressure on the Bruins defense deep within their zone. That early sustained pressure led to a defense lapse by Providence, and a breakaway by Brandon Kozun off a long, stretch-pass by Jordan Weal. Kozun beat Subban in between his pads for the early Manchester lead.
"We came out hot, we were all over them," Berube said. "I think that's been our identity since the beginning of the season, coming out hot in the first period. It puts the other team on their heels and we've been doing a good job pushing all game."
"I can't complain. I think every goalie would like to be in my position right now. We're not giving up too many good chances on the net, and it makes my night a lot easier."
The second goal in the period came right off the faceoff. Monarchs' Scott Sabourin found the puck in the slot and fired a quick shot that perfectly found the corner of the net, deflecting off the post and in. Subban allowed two goals on 8 shots in the first, while Manchester goaltender Jean-Francois Berube, who made his fifth consecutive start for the Monarchs with regular starting goaltender Martin Jones still called up with Los Angeles, stopped all 16 shots he faced.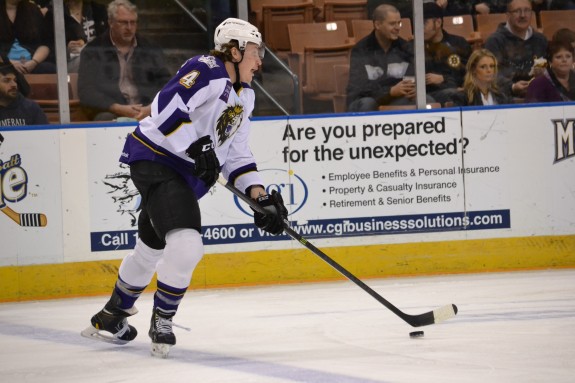 The second period was sloppier for the Monarchs, as Providence stepped up their performance after a sluggish start. After a few penalties, the Bruins finally broke through with a breakaway goal from Nick Johnson, who beat Berube glove side in the dying minutes.
"They're a good team…they're a really goo team," Morris said. "If you look at the skill on their team, they're going to make plays. It's hard to keep that intensity up for the entire 60 minutes. They're getting better, but we have some guys that are playing way more minutes than they are accustomed to."
"(Saturday) was a big test for us. We had to dig deep in the third. That goal from Sabourin was big."
The third period wasn't any better. Almost as soon as the whistle blew, Providence right wing Seth Griffith found space on the left hash mark and beat Berube to tie the game at 2-2, erasing a two-goal deficit.
Sabourin's second of the night, a slap shot from the slot, ended up being the game winner, as Berube and the Monarchs defense was able to fend off a late surge by the Bruins and hold on for a Manchester victory.
"He's starting to understand the importance of having structure in his game," Morris said. "I know that was a major focus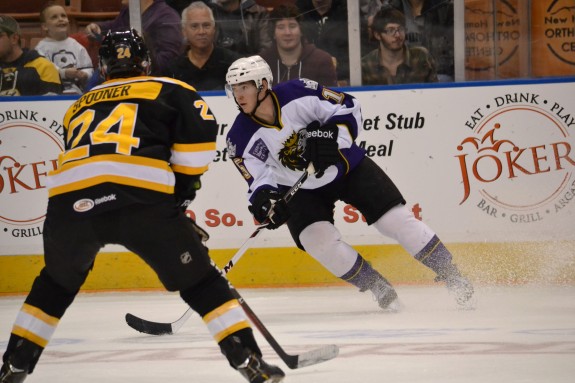 this week with him. I think he's finally realized it. He turned it up and had a great game (Friday) and then had another solid game for us (Saturday). He's shooting the puck well, and he's certainly more responsible with the puck than he was a week ago."
Sabourin admitted that he has had a slow start to his season, but this past weekend he's been able to pick up his play and, finally, contribute offensively.
"I feel great," Sabourin said. "Things are starting to click."
"I think it's just time. Adapting to a new league, I think I'm finally where I need to be. I'm also getting the bounces nowadays, so that helps a lot."
With a shootout loss to Worcester on Sunday, the Monarchs improve to 13-3-3 with 29 points, leading the Atlantic Division. Manchester jumps to 5-0 against the Bruins so far this season, and will face their Atlantic Division rival seven more times.
Manchester will take on Springfield at home next Friday before traveling to Hartford for a Saturday night match up on the road against Hartford.
GAME NOTES
– Newcomers Mike Ullrich, Cameron Burt played their 2nd AHL games of their careers. A.J. Gale played his fourth AHL game of his career.
– Berube has now started six straight games for the Monarchs after Martin Jones was called up. He is 4-1-1.
– Manchester still leads the Atlantic Division and Eastern Conference with 30 points (13-3-4)
– Manchester is a perfect 5-0-0 against their rival Providence this season. Saturday's game was their 5th of 12 meetings between two teams
– Monarchs are undefeated in Saturday home games this season, perfect 5-0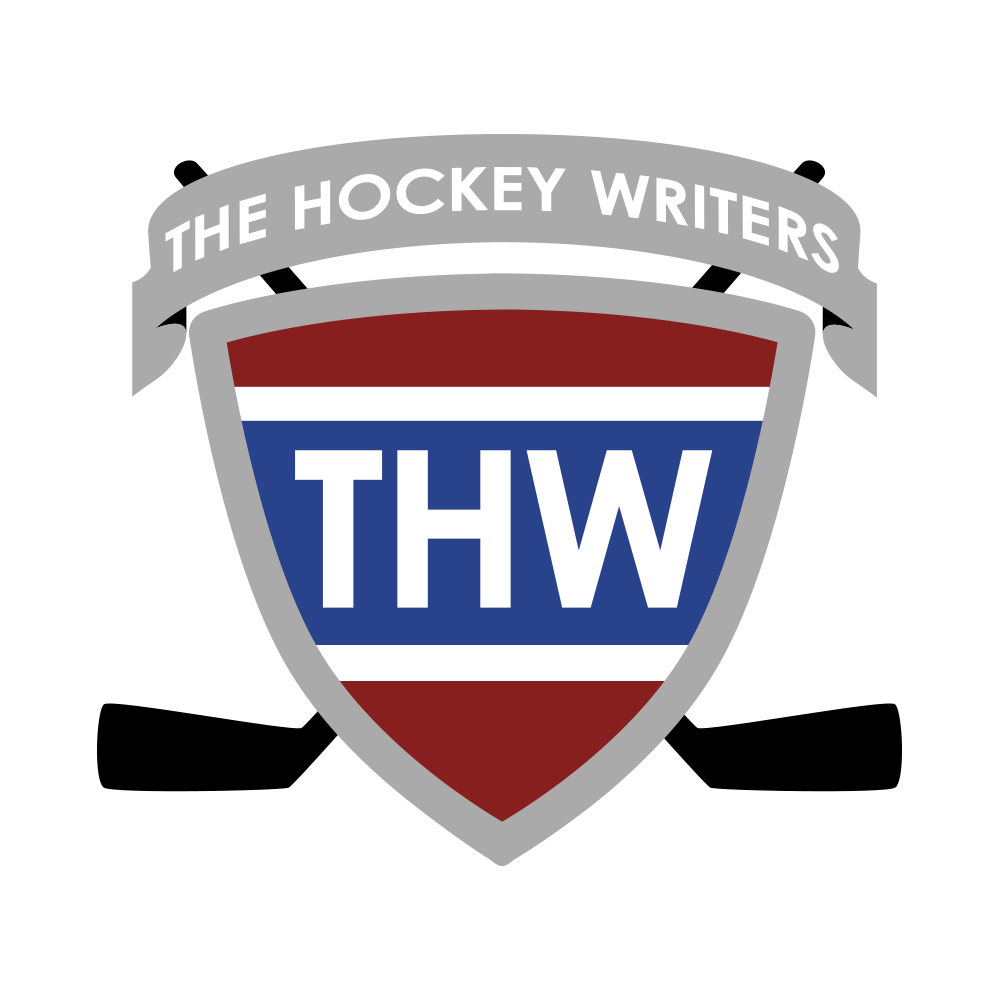 The Hockey Writers is:
1) A top-tier hockey media company delivering a top-notch, in-depth look at the NHL
2) A collective of some of the best hockey writers anywhere
3) A multimedia provider with daily podcasts and YouTube shows
4) Well-respected and widely-cited NHL prospect and draft resource