In the 14 games since captain Bryce Salvador has been out of the lineup (death in family + foot fracture) and rookie defenseman Eric Gelinas was called up from the Albany Devils, the New Jersey Devils have gone 8-4-2 and have been playing much better defensively than they did at the start of the season. Over those 14 games they have given up only 23 goals, or 1.6 goals per-game, thanks in part to the goaltending of Martin Brodeur & Cory Schneider and the improved defense corps.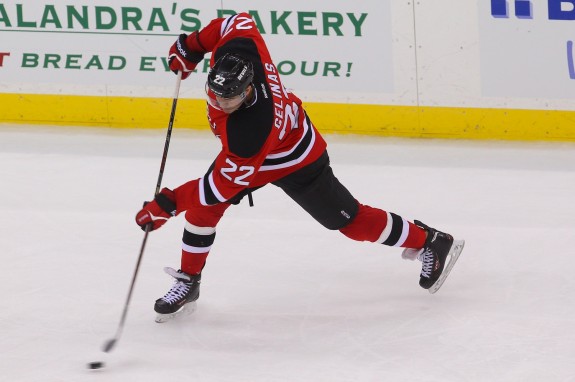 Brodeur also thinks part of the success can be attributed to the style of play the Devils implement under Peter DeBoer's system. "We play a certain way on our forecheck that we'll get the puck back to our D and it's a matter of them getting pucks through to the net. More and more we are getting a lot of offense from our defensemen, it's not always a direct goal. It's assists on shot tips and stuff like that; we need to keep doing that, it's a big part of our success. We have a hard time scoring goals sometimes, when your defense is able to chip in it makes a big difference."
Gelinas & Adam Larsson have formed a nice pair on the Devils blueline, where Larsson is actually the more experienced of the duo and has been able to make Gelinas' transition easier to the NHL game. Andy Greene has been the minute-eater on the backend averaging a shade under 25-minutes a game (24:59) and Marek Zidlicky has 13 points (second on the team) and has three goals all via the power play. Peter Harrold & Mark Fayne have had an up-and-down season but as of now they are trending up and not taking many penalties while averaging about 18-minutes per game, while Anton Volchenkov has missed the last five. "They're playing very good," said Greene of the Larsson-Gelinas pairing. "They're playing steady, making the right plays. It's been good for us, especially with a couple of guys injured; everyone has to step up their game another notch and we've been good."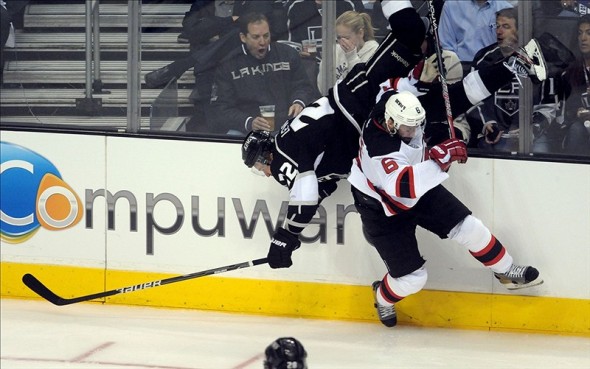 Now they head back home from a California trip that saw them win two of three games in four nights, topping Anaheim & Los Angeles before succumbing to San Jose. With fifteen road games completed, the Devils will look forward to some more games at home, including five of their next seven at the Prudential Center. It seems they are starting to gel together like they did in their run during the 2012 playoffs, when they were dubbed the no-name defense and each night someone different stepped up to contribute to a win.
It all started with Gelinas joining the team after he was surprisingly left off the team coming out of training camp. Brodeur told us a few weeks ago that the 22-year-old rookie has brought an element to the team (his shot) that they haven't had in quite some time. "He brings a different dimension that we haven't had (here in a while). I don't think he is scared of shooting the puck; he's got a really, really hard shot. He's a good skater and he's going to learn more and more, as he goes, with playing a little better defensively," he said. "When you're young, it's normal — that stuff takes time. I think having Gelly in the lineup really helps Lars also; he's been playing really well. I'm really comfortable having them in front of me (during games) that's for sure."
Gelinas snaps a shot past Anaheim goalie Jonas Hiller last week:
Greene has also helped out, when needed, making the transition to the NHL game easier for Gelinas; and Larsson too to an extent. "Sometimes I'll say something to them, but at the same time you just want to let them play; you don't want to get in their heads. That's something that I go through, when I start thinking too much and not just playing and reacting. If it's something major I'll say something to them," Greene added, "but if not I just let them play, they're great players; they're doing well (for us)."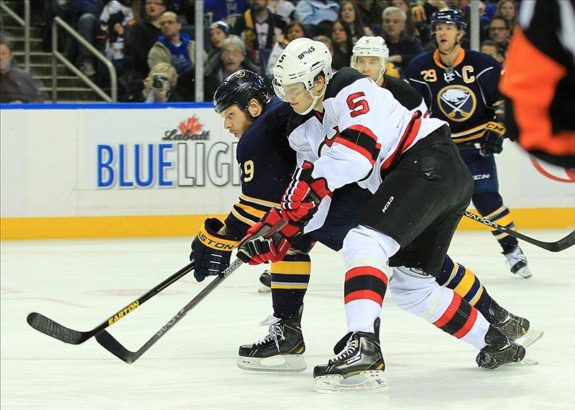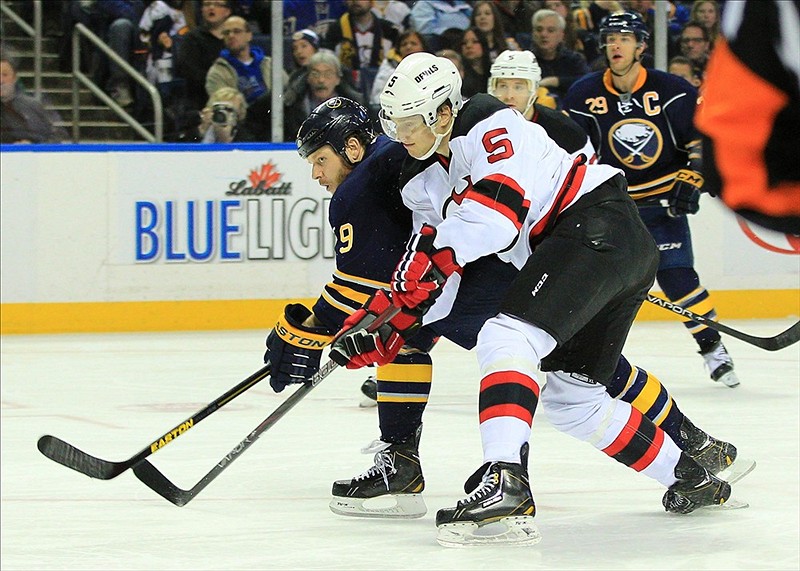 Larsson is still just 21-years-old, but now in his third year he still focusing on improving every day. "I think since Gelly came in, both of us have stepped up a little bit," said the soft-spoken Swede. "It's helped us as a team too, we have all been playing really good hockey lately. When we won against Boston (on October 26), I think we really grew from that game; gave us confidence against strong teams. It's important for us because we need some wins."
The 'Boston Game' — Zidlicky scores late & Greene scores later:
After starting the season winless in seven straight New Jersey has managed to even their record out now at 9-9-5 with 23 points in 23 games. The Metropolitan Division is shaping up to be tightly contested all season so the Devils will need to continue playing well and avoid falling back to the team that went without a win for three weeks.
Dan Rice can be reached via Twitter: @DRdiabloTHW or via Email: drdiablo321@yahoo.com
Check out our partners at TiqIQ for the best deals on New Jersey Devils tickets for all 2013-14 games.
Dan Rice is in his 9th year of reporting for THW & has covered NJ Devils home games for 15+ years at various websites. He began his journey working for legendary broadcaster/writer Stan Fischler from 2002-04 & completed an internship at the ECHL; he also has been writing features for the NWHL (nwhl.zone) website since 2016.