Notorious for slow starts, Eric Staal and the Carolina Hurricanes were on the verge of letting another game — and season — slip away. For the second time in three chances, they allowed a goal just seconds after the opening puck drop and were threatening another five-game skid.
But 59 minutes and a three-point night later, they were on the receiving end of a standing ovation from the sparse but raucous crowd after a 4-1 victory over the Ottawa Senators.
"Yeah, it's about time. Tonight was a good feeling," said Staal. "I felt like my game's been coming on here in the last bunch, but I just haven't been rewarded like tonight."
Staal's three-point night included a beautiful assist that found a streaking Tuomo Ruutu, who buried it past Robyn Lehner. It was a vintage play between the two, paired together lately in the absence of Alex Semin; in 2008-09, Ruutu played 75 percent of his even-strength minutes on Eric's wing, scoring a career-high 26 goals.
Younger brother Jordan also had a productive evening, winning 13 of his 16 draws — none bigger than the one that led to Patrick Dwyer's game-tying goal on a set play.
"That's how we draw it up," said Dwyer. It's a game of reads so it doesn't always happen like that. But if we get a clear faceoff win, we have certain plays that we want to try and set up. I just threw it on net and it found a way."
It was the kind of game the Hurricanes needed from their top two centers. Coming into the night, Andrej Sekera was creeping-up on the team lead in points after tying the lead in goals just 24 hours prior. That's not to speak ill of Sekera, who's shown some brilliant offensive flash lately, but there's no reason Eric shouldn't be among the league leaders from start to finish, as he showed in last year's sprint.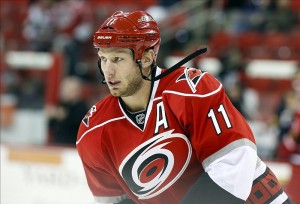 And while Jordan has been playing some Selke-caliber defense, the rest of his game has left something to be desired. He hadn't been scoring, and he'd been losing faceoffs with regularity, racking up double-digit losses in 9 of his first 13 games. Not surprising, given he's just over 47 percent for his career.
But with the arrival of Manny Malhotra on November 1, some of the pressure has been taken off Jordan defensively, allowing him to focus elsewhere. He's responded with 2 goals and 3 assists in November and has recorded 10 straight games of winning more than half of his draws.
Most importantly, both brothers were strong on their skates. Whether still favoring his summer knee injury or something else, Eric had been too easily knocked off the puck in the early going this year. Though Ottawa isn't a big team, Jared Cowan aside, Eric's play was noticeably better.
"Oh, that was his best game by far. It was also probably his hardest-working game," said Kirk Muller. "Eric just played the game the right way. He's the guy that really led us up front tonight."
Though, for the team, it was just one solid game, for Eric, it's been a string of them. He's quietly amassed a six-game point streak, scoring 3 goals and 5 assists. In order for the 'Canes to return to the postseason, both Staals will need to produce more games like this one.
"I feel pressure every year. Nothing changes. I've been here a long time and I want to be in the playoffs."
Check out our partners at TiqIQ for the best deals on Carolina Hurricanes tickets for all 2013-14 games.
Andrew Luistro graduated from Appalachian State University. An avid sports fan, he began beat writing for the Sunbelt Hockey Journal, part of The Hockey Writers Network, with a focus on the Carolina Hurricanes. Andrew also actively follows the Boston Red Sox and Carolina Panthers, among other teams. Follow him on Twitter @ndrewL7