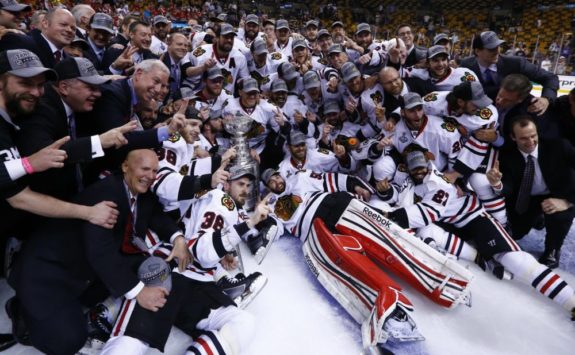 Forbes released their annual list ranking the NHL's teams from most to least valuable. Chicago, not surprisingly, was ranked in the top five. The Blackhawks actually fell one spot this year, after finishing 4th last season, despite increasing their total value by $275 million dollars.
Aided in part by winning the Stanley Cup for the second time in four years, the Blackhawks continue to be one of the most successful franchises in the league both on and off the ice. They are the second most valuable American team, behind only the New York Rangers who hold the second spot in the league.
Tonight's Game:
Marian Hossa is expected to be out of the lineup once again for an undisclosed "family matter", but is expected back for the remainder of the seven game road trip, according to Joel Quenneville.
Patrick Kane looks to continue his ten game point streak.
With the Edmonton Oilers in town tonight the Blackhawks need to be aware of a possible trap game. They are coming off an emotional 2-1 win against Vancouver and can't afford to overlook a young Oilers team currently riding a three game winning streak.
Damien is a contributing writer covering the Philadelphia Flyers for The Hockey Writers and Buzz On Broad. He is finishing up a degree in Communication and Sport Management from DeSales University and is currently a Digital Media Intern at Comcast SportNet Philadelphia.