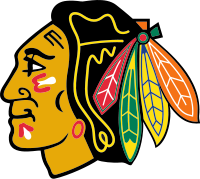 There has been a chess match going on during the best of seven series between the Chicago Blackhawks and the Detroit Red Wings. The coaches in this storied Original Six rivalry have engaged in a tremendous amount of strategic warfare. Coaches Joel Quenneville and Mike Babcock have both made moves to put their teams in a situations to win games.
Both coaches are motivating their teams from different vantage points. Babcock has used the underdog role. Saying that the Red Wings have nothing to lose since they backed into the playoffs and took down the second seeded Anaheim Ducks, a team that gave the Blackhawks fits in the regular season. Coach Quenneville, due to being down 3-1 at one point, has used a bend but don't break strategy. He has most likely told his team not to panic. Most importantly, he knows the team has played elimination games before.
The type of game both teams have played in the series thus far has shown what each team is doing to take each other out of their game. For instance, Babcock knew that the scouting report says to rough up the Blackhawks so he used the Henrik Zetterberg-Valtteri Filppula- Daniel Cleary line to harass Blackhawks captain Jonathan Toews. The strategy worked as the always even keel Toews took exception to the physical play that resulted in three trips to the penalty box. Also, Detroit took a 3-1 series lead.
At this point, one could say that Babcock was outcoaching Quenneville. The Blackhawks coach countered with some moves of his own.
The home team gets to make the last line change. You may have notice that Quenneville has used both sides of that strategy during the Blackhawks resurgence to get back into the series.
In game five, the Blackhawks coaching staff shook up the lines. Brent Seabrook and Duncan Keith were put back together as the blue line pairing while Patrick Kane, Patrick Sharp and Toews were on the first line.  Also, the line of Bryan Bickell, Michal Handzus and Marian Hossa proved to be very effective line against the Red Wings. The bigger, much more physical line was able to nullify Detroit's aggressive play.
At the beginning of game six, immediately after the opening faceoff, Toews went straight for the bench as Handzus took his place in the game. The move proved to be effective when Chicago pulled out a game six victory.
Expect more of the same in tonight's game. After the Blackhawks have evened things up, it appears that Babcock showed his hand too early and Quenneville made an adjustment.
The winner faces the defending Stanley Cup Champion Los Angeles Kings in the next round.
Evan F. Moore is The Hockey Writers contributing Blackhawks Writer.His work has appeared in the Red Eye,The Checking Line,Gapers Block,ChicagoSide,Extra Bilingual Newspaper, Chicago Now, Time Out Chicago. He resides in Chicago.